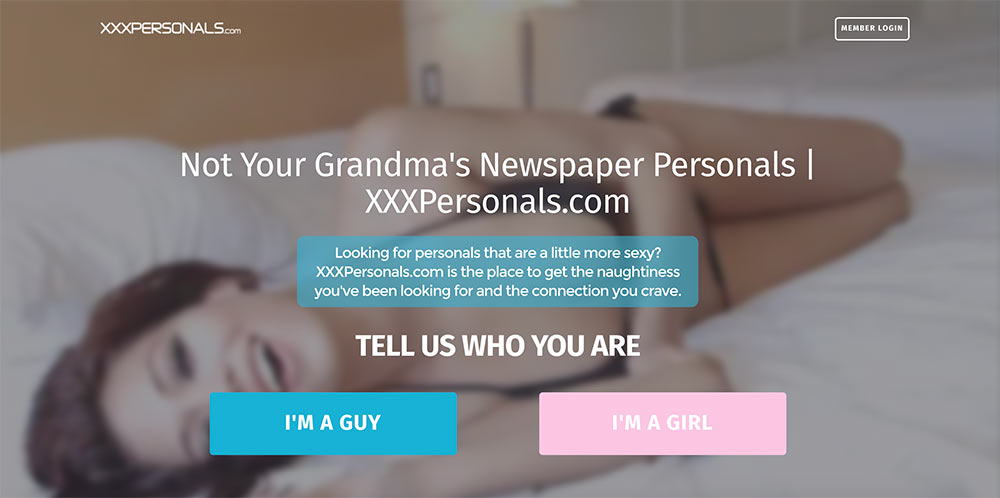 User Rating:
XXXPersonals is a paid adult dating website that caters to users looking for casual sexual relationships. Similar in nature to other personals websites such as AdultFriendFinder, XXXPersonals aims to connect adults looking for casual, no-strings-attached encounters in similar areas with each other. While XXXPersonals claims to have a large user base of sexy members looking for easy hookups, in practice, the experience of using XXXPersonals is rife with fake profiles and exorbitant membership fees that make XXXPersonals a terrible alternative to actually meeting people in real life.
XXXPersonals Overview
XXXPersonals, like most other dating websites, takes users through a sign up process that asks them basic questions about themselves and what they are looking for-- this includes location, age, sex, body type, and preferences in a potential partner. XXXPersonals then claims to filter your answers into an algorithm that matches you with hundreds of potential partners in your immediate area, no matter how small or sexually desolate your hometown may be. Inevitably, after showing you a list of suspiciously attractive matches (with a couple of beasts thrown in there for good measure), XXXPersonals redirects you to its paid premium subscription page, where you are forced to put in your credit card information and pay their enormous subscription fees before you can take any kind of action or actually reach out to anyone. Since you can sign up for a profile before putting your payment information down, XXXPersonals can technically be considered a "free" adult dating website, but given the fact that you can't even message anyone or view more than another profile's thumbnails before being made to pay for a subscription, XXXPersonals, in effect, is a paid dating website.
Subscription
As mentioned above, XXXPersonals requires you to put down credit card information before you can actually do anything that the site advertises. As this website is shown to be insecure and unencrypted, putting down sensitive information like your credit card number is almost a guaranteed way to become a victim of credit card fraud or identity theft, and is NOT recommended. If XXXPersonals offered other ways to pay (such as PayPal or cryptocurrency), that would be one thing, but forcing users to pay only with credit cards reeks of a scam.
Now, onto the big question at hand: exactly how much does XXXPersonals cost? On the paid premium sign up page, a large banner ad claims "FREE ACCESS MEMBERSHIPS ARE $0.00" and that the credit card is only needed to "activate" the premium membership. However, a close look at the fine print at the bottom of the page reveals another story: the paid premium account is free for ONE DAY only, after which users will be charged $49.95 per month. This is a huge fee to gain access to a collection of what are mostly fake profiles looking to further scam users out of their money, so signing up is not recommended.
Navigating through XXXPersonals
The membership profiles themselves function much like any other dating profile or website. Users are shown a wide variety of "matches" up front, most of which have names like "preetywetpussy" and "casualm0m3nts", in addition to the users age. Most of these profiles appear to be fake, and messaging them inevitably connects you to further attempts to get more money from you, such as paid live cam sessions. In fact, much of XXXPersonals appears to be an expensive way to get users to sign up for live cam sessions, as "Who's On Cam" is a prominent feature of the sidebar on each profile. Beyond this, there's not much to see, other than a limited amount of social media-style functioning, such as a "Friends" feature, and of course, private messages. Users can also search for specific profiles with the search bar feature at the top of the web page.
Awards
Unlike the more reputable competing websites in this niche, such as AdultFriendFinder and Ashley Madison, XXXPersonals has not won any awards to speak of, as it is mostly a scam website full of fake profiles designed to steer legitimate users towards registering for more paid cam sessions.
The Money Shot
XXXPersonals, while claiming to connect users looking for casual hookups together, goes to great lengths to do much of the opposite. The website is more or less a scam website full of fake profiles, and the goal of the website itself, in practice, seems to be less about connecting legitimate users to each other than it does connecting legitimate users with fake profiles that will steer them towards paid cam girls. Really, if I wanted a cam girl, I would just go to a cam website. You'd think this logic would apply, but on XXXPersonals, logic appears to be forsaken. While competing websites offer at least a number of features for free users, while still encouraging upgrades to paid premium memberships, XXXPersonals gives the appearance of doing this while forcing users to pony up their credit card information before they can even message or view other profiles. At an exorbitant cost of $49.95 (with an auto-selected option to sign up for another crappy website for $39.95 hidden away beneath the fine print), XXXPersonals is purely in the realm of "not worth it" and is not recommended to anyone.