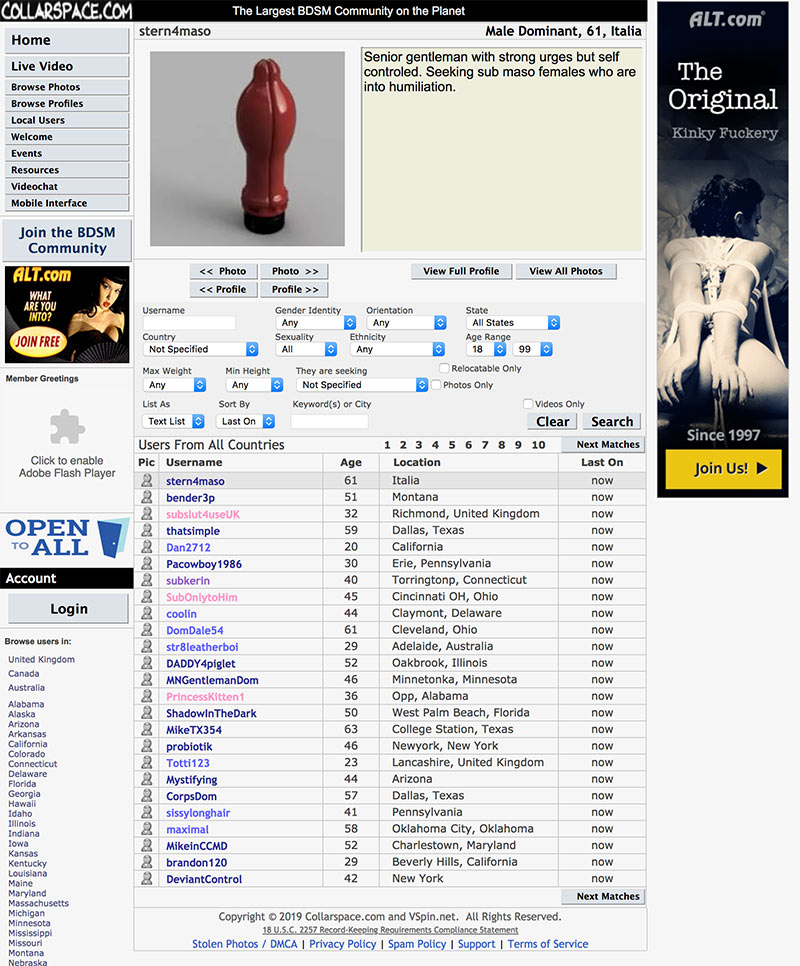 User Rating:
Collarspace is a free adult dating website for users interesting in fetishes, including BDSM, among others. Like most adult dating websites, such as AdultFriendFinder, Collarspace allows users to create profiles and find matches in their local area with the aim of meeting up for intimate encounters. Collarspace, however, focuses specifically on fetish interests, such as BDSM, although really any kind of fetish interest can likely be found here. With a global Alexa ranking of 21,903 as of March 2023 and a ranking of 6,156 in the United States, where it is the most popular, Collarspace is a surprisingly popular adult website.
Collarspace Overview
Collarspace, unlike most adult dating websites, caters exclusively to those who have niche or fetish sexual interests. On Collarspace, users can safely and discreetly connect with potential partners who share their interests, with the ultimate goal of connecting further for erotic liaisons, whether over the internet or even in person. As some of these fetishes may be potentially embarrassing to the users in question, Collarspace has very strict rules about privacy, and takes the fullest measures to ensure all discretion and consideration for its users. Those interested in signing up for Collarspace can rest assured that their data is private. As a matter of fact, unlike most dating websites (dating or otherwise) which tend to suffer from a glut of fake profiles, Collarspace makes extra effort to weed out fake profiles, in order to better protect its users. Collarspace, truly, is a dating website designed by fetishists, for fetishists.
Subscription
Collarspace, unlike many adult dating websites, is completely free to register for. After creating a profile with their basic information (such as age, location, pictures, and sexual interests), users can then search for other users with similar interests and further message them, all at no extra charge. This is a stark contrast to most adult dating websites, which tend to charge their unfortunate users a premium for the privilege to use the site, only to feature dozens of fake or low quality profiles. At Collarspace, this is hardly an issue, and this certainly serves to add extra points to Collarspace's book.
Navigating through Collarspace
The one major downside of Collarspace is its extremely outdated, ugly user interface. The website itself functions well enough, but the visuals are horrendous, and apparently haven't been updated in well over a decade. The website appears to have been designed for a standard definition computer screen, with the now-standard widescreens of most computers being too big for Collarspace web pages. Large blocks of white fill up the rest of the screen outside of the small square that comprises Collarspace, making for a somewhat awkward experience. In addition to this, the navigation bars and profiles look like something from the early MySpace years (hence the name), or perhaps even AOL Instant Messenger. While this certainly won't be a dealbreaker for those looking for a cheap and free kink dating website, it definitely makes for a cumbersome browsing experience that could be improved with some basic web design updates. On top of this, new users may have a difficult time finding the link to register for a new profile, as it is not clearly marked. This may be an intentional feature, in order to deter cyberbullies or fake bots, but it is a bit of a pain nonetheless.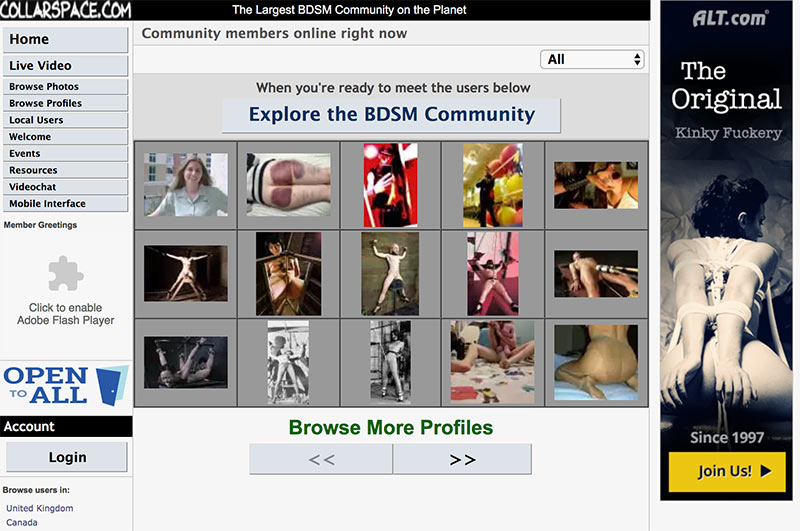 Awards
Although Collarspace appears to be a completely legit dating website, it does not appear to have won any awards or recognition outside of its small, niche community.
The Money Shot
Collarspace is a free adult dating website that caters to users with kinks and fetishes, such as BDSM. Unlike most adult dating websites, which charge an exorbitant membership fee and then leave you with nothing but low quality profiles and Russian bots, Collarspace has a dedicated community of real people looking to connect, a definite plus in a niche that is mostly filled with garbage. Collarspace places extra emphasis on security and discretion, given the nature of the website, so users can feel secure that their information and identities will be safe. No information will be displayed that users did not put up themselves, and the website takes extra measures to weed out fake profiles in order to protect their users and better serve the kink community. While the website design itself may be hideous and outdated, users who are looking for a safe and positive shame-free kink experience will likely enjoy Collarspace for its discretion, safety, and passionate user base.