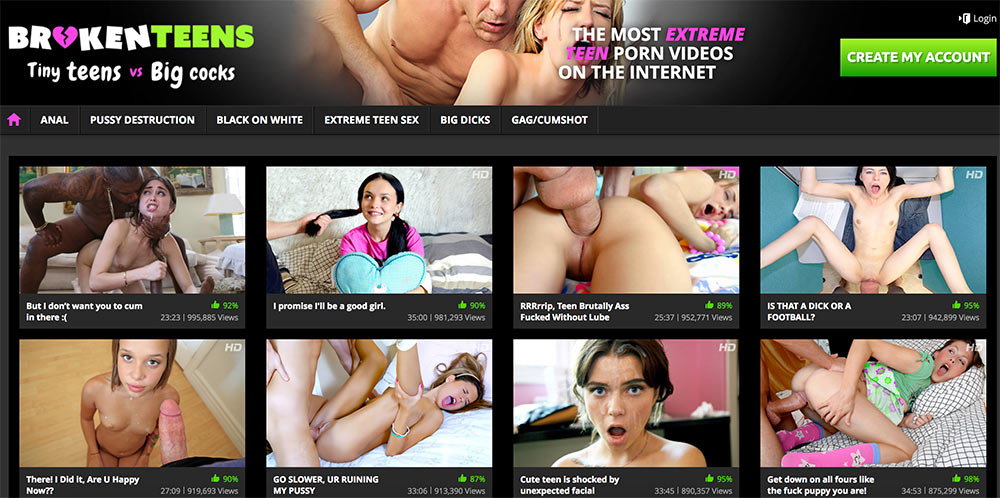 User Rating:
Broken Teens is a site featuring petite girls getting pounded by massive cocks. Video content under this "extreme" category heading is what it's all about. And, we have to admit, some of these girls are tiny, and the dicks huge enough to not only make us a bit insecure, but to wonder how the fuck they fit inside those teens' little holes.
The site is part of the Dagfs network of 10 sites, mostly focused on teen porn. That, in turn, is part of the AdultMemberZone network. It's owned by Empty Tank Ltd. of London, UK. As of April 2019, it ranks in the top 310k sites globally, and slightly higher in the US. It's possible that most people access the content through their Dagfs membership, through that site, which ranks much higher, in the top 140k globally.
Broken Teens Content
Broken Teens features rough sex and extreme video content, primarily of the "large cocks on tiny girls" variety. It is unclear how much of the content is original and/or exclusive, as opposed to licensed from other studios, though claims have been made it's 70-80% exclusive. Most of the videos are in HD, and viewable in several quality levels depending on your connection speed and preferences. At present, there are an estimated 6,000 videos across the whole network, of which a subset of 400 or so fall into the Broken Teens categories. They vary in length, from 20 minutes to 45 minutes or more, with the average being around 30 minutes.
There are some photosets as well, though often these amount to video stills only. However, what's there is relatively high quality.
The overall network of which Broken Teens is a part receives multiple updates per week. It is unclear how many of those filter down to Broken Teens, but with a large catalog of videos already present, there's probably no concern for lack of fapping material here if this is your thing.

Broken Teens Categories
There are several high-level categories represented on Broken Teens. More specific tags, filter, and search options are available for members, and through the network access portal for the AdultMemberZone network, or Dagfs network specifically. But within just the Broken Teens site itself, the main designations are in keeping with the rough and extreme sex theme. These include Anal, Pussy Destruction, Black on White, Extreme Teen Sex, Big Dicks, and Gag/Cumshot.
Almost all of the videos are guy on girl, with some guy-guy-girl threesomes making up a minority of the content. No gay, lesbian, solo female, solo male, or transsexual content is present.
Star Power
Members have access to a normal-style "Model" catalog, that lets you view the pornstars on the site and all their corresponding videos. It's a mix of well-known stars and up-and-cummers. One glance at the site, and any porn expert will immediately recognize big-name stars like Riley Reid, Dillion Harper, Leah Luv, and other petite hotties. But there are also several that go by single names, and are clearly relatively new to the industry, so there's a good mix whatever your pleasure may be.
Network
Broken Teens is part of the Dagfs network of sites, which also goes by AdultMemberZone. Regardless of what you call it, or how you access it, it consists of 10 sites with 6,000 or so videos in total. These are not all in the same style as Broken Teens – several are less rough or extreme-sex focused, and more niche sites for certain ethnicities, general teen sex, and so on. The list of network sites include Dagfs, Real GFs Exposed, Real Asian Exposed, Busty GFs Exposed, French GFs, Real Black Exposed, Real Emo Exposed, Real Latina Exposed, Real Lesbian Exposed, Real Mom Exposed, and Broken Teens. It also may include Real Moms Exposed, a MILF-themed site, though that is not listed in the details (but still exists as part of the network).
Subscription
A subscription to Broken Teens gives you access to the full Dagfs/AdultMemberZone network of sites. Likewise, signing up for Dagfs or any other sites in the network give you access to Broken Teens. There's nothing here for free, really – not even preview trailers. For any meaningful content, you have to get a subscription. You can pay with a credit or debit card, or PayPal.
We do the math so you don't have to! Below you can find a comparison of the different subscription plans available and our recommendations.
*The two day trial membership has "limited access", though the exact limitations are not specified.
Porn Explosion Advice: Like most sites, your cheapest bet is to go for the annual membership – it's about 65% less expensive than the monthly. The trial membership automatically converts to the monthly, most-expensive membership after 2 days, so it's not worth it – go for the full thing in our opinion if this kind of content is your jam.
The Money Shot
Broken Teens is a bit of a mixed bag. If you're into rough, extreme sex, especially big dicks on tiny chicks (not literally on them, this isn't a trans site), then you'll probably enjoy the content here. With the network of additional sites, and an annual membership, you're getting good value for your money. At monthly or quarterly prices, it's a bit steep given the quantity of videos and frequency of updates. It would be nice if you could watch trailers for free or get a better sense of what you're signing up for. And, fair warning, as we said – some of the guys featured in the scenes have just monster cocks that might make you feel a bit insecure about yourself. But, don't despair – just rub another one out!