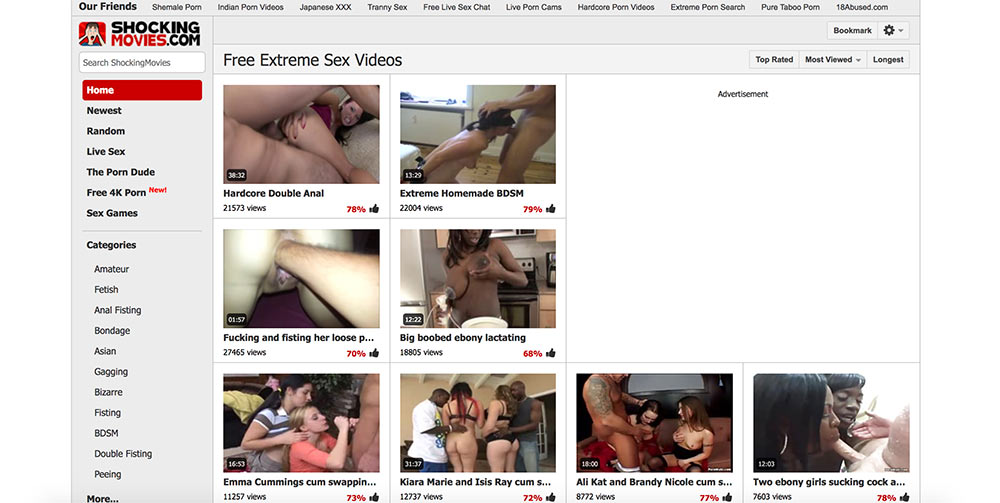 User Rating:
Shocking Movies is a tube-style porn site, that features outrageous, extreme, and shocking video content. None of the content is original to the site itself, but aggregated from other sites and studios. It's 100% free to use, though there are a bunch of ads throughout. There aren't a ton of videos here, but what's there does fit within the site theme, for sure. The site itself appears possibly to be inactive, with the latest videos having been uploaded over a year and a half ago.
It's unclear who owns and operates Shocking Movies, as no addresses or corporate information is provided anywhere throughout the site. It's currently ranked in the top 85,000 or so sites globally across all categories by traffic, and is extremely popular in Germany, ranking in the top 9,000 sites there (compared to the top 70,000 in the US).
Shocking Movies Content
All of the content on Shocking Movies is in the form of videos. They do host the videos locally, though none of the content is original to them. Rather, it's pulled from other tube sites, studios, and elsewhere. A quick count shows the video catalog is right around 5,500 – by no means very large. Some videos are rather short, whereas others are 90 minutes or more. The average seems to be in the 15 to 30 minute range, but since they come from all different sources, there's no real consistency there.
There are no filters for things like HD vs. SD, so it's unclear. There's no quality toggle within the video themselves, and most seem to be 720p or less based on a quick visual sampling.
The frequency of updates is also unclear. The "newest videos" filter shows that the most recent videos were uploaded in 2017, so it's quite possible the site is more archival than active at this time.
It's also worth noting the site if virtually impossible to navigate if you have a pop-up or ad blocker, as it doesn't seem to open anything within its own same window.
Shocking Movies Categories
There are about 50 categories of videos on Shocking Movies, with all the typical fetish and extreme site offerings. They include things like Amateur, Anal Fisting, Ballbusting, Bondage, and so on, along with more niche categories like Double Fisting, Felching, Hermaphrodite, Midget, and similar. Maybe we've just seen too much, but nothing here is particularly shocking – just more "dirty" than a lot of mainstream porn. Pissing, pregnant, BDSM, lactation, prolapses, enemas, and so on are fairly standard fare for this kind of site, and all present here in varying quantities. Many categories only have a few dozen videos, whereas others have 1,000 or more.
Star Power
Since much of the porn on Shocking Movies is generally considered outside of the mainstream, there aren't a lot of big-name stars featured. You will find some clips from some pay sites, so there are some names you'll recognize, for sure. But many of the videos don't feature star names, and there's no pornstar catalog or lookup by pornstar like there is on many sites. So it's a bit of a crapshoot here.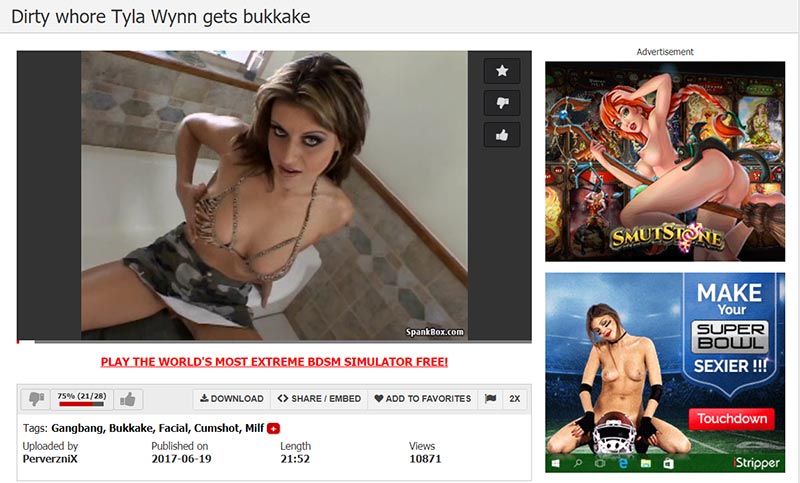 Network
As far as we can tell, Shocking Movies isn't affiliated with any studio or producer network. They have some "friends" listed on the site, but those are more affiliate marketing and backlinks rather than any kind of professional network.
Subscription
FREE CONTENT ALERT!
The site is entirely free to use. You can sign up for a free account, though the benefits of doing so aren't clear. It only requires a username, password, e-mail address, and anti-bot Captcha.
The Money Shot
It may sound like we're being harsh on Shocking Movies, and to some extent we are. But, it's not easy to find extreme porn content of any degree these days. A lot of sites and providers simply don't want to be associated with the stigma. As Shocking Movies seems possibly dead and inactive, it's hard to recommend. But if you've never visited, it can't hurt to take a look at the catalog of 5,500 or so videos, at least in a category or niche that gets you off, and see if there isn't something new. Otherwise, stick to Motherless, Heavy-R, and general tube sites, and you'll probably find just as much content, and easier ways to access it.