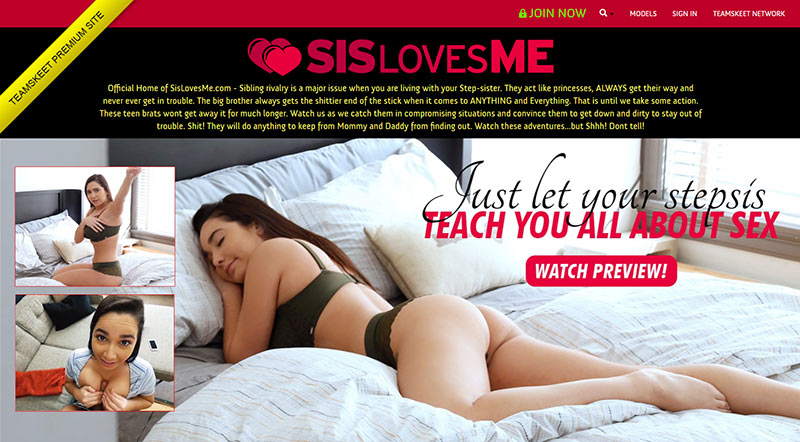 User Rating:
Sis Loves Me is a premium porn site that's all about lusting after sexy step-sisters. Incest fantasy porn is an incredibly popular genre, and the taboo aspect of it is particularly appealing to some people. The site features original and exclusive HD videos starring hot-as-fuck step-sisters getting it on with their step-brothers (and sometimes their step-sisters).
The site is owned by Paper Street Media of Miami, Florida, which also owns the TeamSkeet network of sites. It's considered a premium add-on to that network – not part of the TeamSkeet subscription, but available for a discounted price when you subscribe. Sis Loves ME currently ranks in the top 55,000 sites globally by traffic across all categories, and is in the top 35,000 in the US.
Sis Loves Me Content
On Sis Loves Me, incest may be taboo but step-sister incest is no crime. In fact, it's super hot! The main content is high-quality, HD videos, all of which are original and exclusive to the site. They're all focused on sexy step-sisters, some of whom are a bit reluctant to fuck their step-brothers, and others who are up for some fun. In the end, they always end up naked. In addition to the videos, there are trailers, screencaps, and photos for each video available. You can download them in several different sizes/qualities, or stream them online. Videos vary in length (as do we all) but are typically 35 to 45 minutes long.
There are also a links to other related services, including live webcams through TeamSkeetCams.com, a third-party dating site Fling.com, and many, many special deals and discounts on other sites, both within the Paper Street Media family and out, including Brazzers, Reality Kings, and many others.
Videos can be sorted by date, ratings, or accessed through your list of favorites. At present, there are just shy of 150 full-length videos available, with a new one being added every week.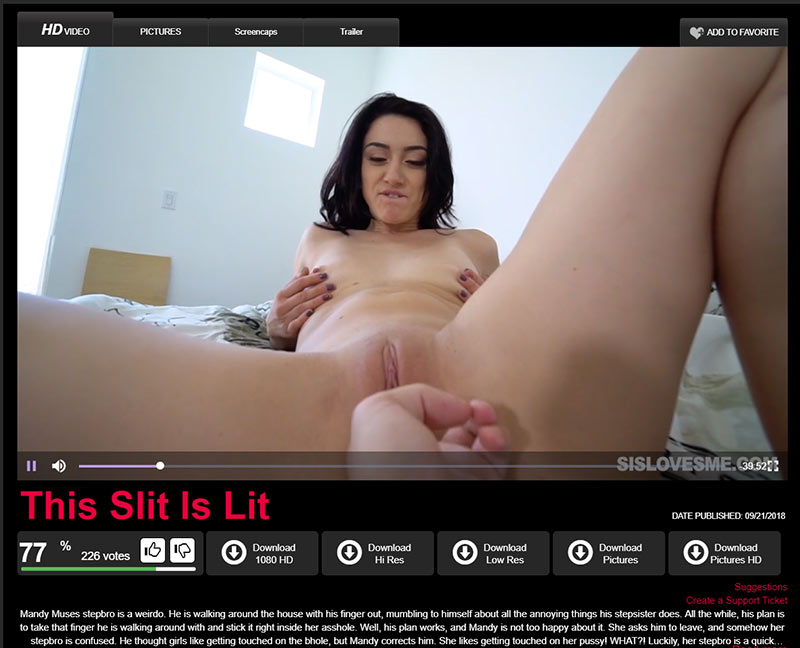 Sis Loves Me Categories
Every video on the site involves step-sibling incest. Typically they are shot from the guy's point of view, as he either seduces (or is seduced by) his sexy step-sister. In some cases, multiple step-sisters are involved, and/or oblivious others in the background. A few videos feature step-sister on step-sister lesbian action as well. Most other sex acts are well-represented, including oral, anal, cumshots, facials, creampies, and more.
Star Power
There's a good mix of famous big-name pornstars and lesser-known or newbies on the site. While amateurs don't really make up much of the content, there are plenty of up-and-cummers if you like fresh faces. Some of the well-known stars who have done videos for Sis Loves Me include Abella Danger, Mandy Muse, Zoey Foxx, Raven Reign, Ella Knox, Lily Adams, Nickey Huntsman, Shane Blair, Lana Rhoades, and many others.
Network
Sis Loves Me isn't itself part of a traditional studio network. Membership to Sis Loves Me can be augmented with several other add-on sites, most of which are owned by Paper Street Media of Miami, Florida. At the same time, users can add-on a membership to Sis Loves Me as part of their existing TeamSkeet membership, and access the content through TeamSkeet's member interface. It's effectively a premium add-on site to a TeamSkeet membership.
Subscription
High quality content isn't free, and this is a premium pay site. Accessing the content requires a subscription.
Members can pay for their subscription with a credit or debit card, or through Paypal.
We do the math so you don't have to! Below you can find a comparison of the different subscription plans available and our recommendations.
Porn Explosion Advice: If you're into step-sister incest porn, skip the monthly subscription and go with the 1 year option. Like most sites, it provides a better deal, 2 to 3 times cheaper than the other options.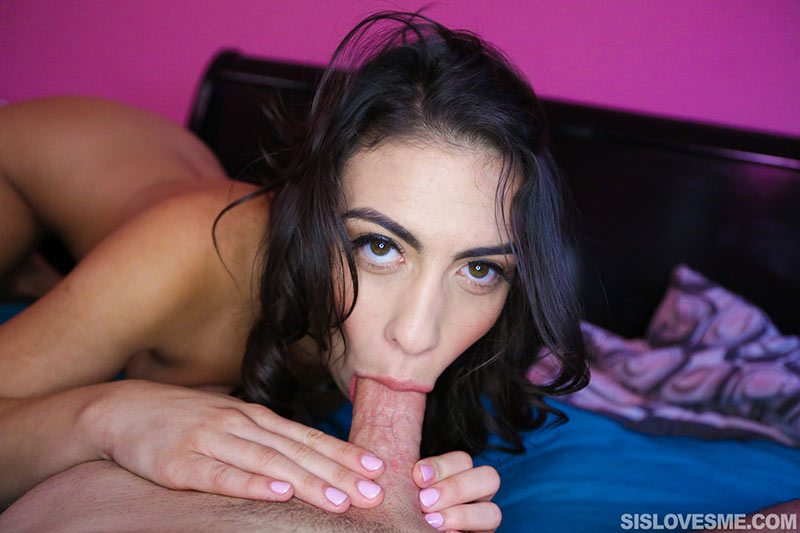 The Money Shot
PornHub, the industry giant, puts out regular blog posts highlighting the most searched videos and terms on their site. Step-family, step-mom, and, crucially, step-sister porn is among some of the most searched for content. And if you're looking for sexy step-sisters in action, look no further than Sis Loves Me. The videos have great production quality, are all HD and original, and provide a good variety within the step-sister incest porn theme. With regular weekly updates, well-known stars, and various options to download or stream the videos, Sis Loves Me should definitely be on your site list. There are a few drawbacks, like any site – in particular we'd like to see better video sorting, filtering, and search options. Fortunately, you can get those options, when you purchase a subscription to Sis Loves Me as an add-on to your TeamSkeet membership. And if you're into incest porn, you might want to check out the company's sister (pardon the pun) site, Family Strokes, which covers all forms of step-family incest with the same high-quality, exclusive, and original video content. Happy wanking!