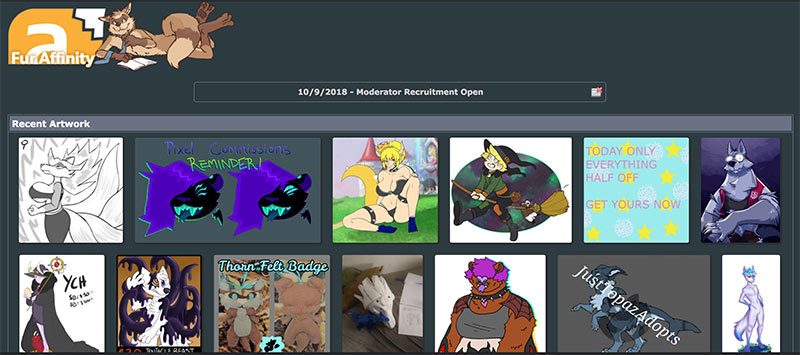 User Rating:
Fur Affinity is a community website for people who are into furries. It was registered in Chicago, Illinois in 2005, and has since become not only one of the most popular furry sites on the web, but the 4th most-popular photo site overall.
Worldwide, Furaffinity.net is the 615th most-visited website as of January, 2019. It's also the 242nd most-visited website in the US. Its Alexa ranking is 1,332nd worldwide, and 472nd in the US.
Fur Affinity Content
Strictly speaking, Fur Affinity isn't a porn site. It's a community message board where users can post a variety of furry related content. Well over half of this content is work-safe material; drawings of anthropomorphic animals, non-sexual drawings of fictional characters, furry toy collections, music, and pictures of people in furry suits at various conventions.
The front page is divided into sections for artwork, music, stories and photos, and the newest content is displayed first. To take a deeper dive, you can click the Browse button on the top left of the site. There, you can filter content into much narrower categories, or run a plain text search to find what you're looking for.
Since this is a community site that allows people under age 18 to join, adult content is filtered out by default. You'll have to create an account to view any actual porn or erotic stories. This is free, and takes only a minute. Once you've created your account, you'll want to go to your account settings and scroll down to the Content Filter section. Change the setting from "general" to "general, mature, adult" if you want to see everything Fur Affinity has to offer.
Images are stored in PNG format, and are easy to download with a single right-click. This can be useful if you're following one of the serialized manga, since the only way to find previous pages is to go to the artist's gallery and scroll through their collection.
Stories are posted directly to the site in text format, although most can be downloaded either as PDF or docx files. There are no videos, games, live cams or VR porn on Fur Affinity. Because this is a free community site, there are a lot of banner ads. These are mostly for other furry sites, and none of them are popups.
Furaffinity.net loads well on mobile, and the images and stories scale well. For some reason, they chose not to have a specific mobile version of the site, so you'll have to zoom way in at first to log in and enter your user info. Once you're in, image and story thumbnails are big enough to select without any issues.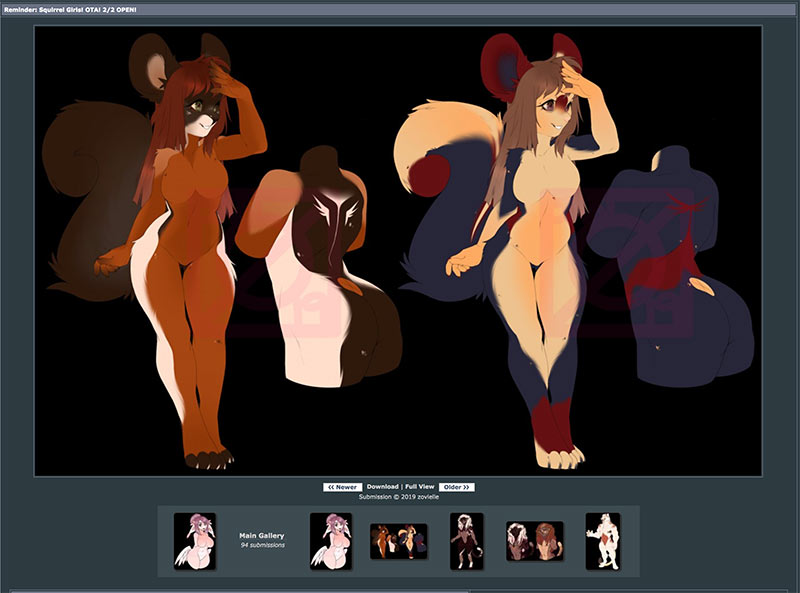 Fur Affinity Categories
If you're looking for something specific from Fur Affinity's image gallery, there are 34 different categories. These include everything from fanart to original manga, to specific fetishes like vore, inflation, fursuit, transformation, pregnancy and paw art. Some of the content is even intentionally funny, like a picture of Big Bird fucking the letter A.
From cute, work-safe drawings to pregnant dragon porn, you'll find it here. With this much variety, furry lovers of all genders and orientations will find something they like.
Star Power
Star power doesn't really apply to this site, unless you're talking about the characters involved. The most active fanart communities are for Sonic, Digimon, Pokemon and My Little Pony, which have their own categories. There are also a large number of artists who do Your Character Here (YCH) commissions, which means you or your furry avatar can be the next big star.
Network
Furaffinity.net is not part of any network. It's an independent community, with 100% user generated content.
Subscription
While no subscription is required to view Fur Affinity's work-safe content, you'll need a free account if you're going there to find porn. Everything is free, although you can optionally donate to individual creators through Patreon. Many of the site's artists and writers also accept commission work, including a huge number of YCH commissions.
The Money Shot
Fur Affinity offers much more than porn. It's a furry community with all kinds of content from the cute and cuddly to your raunchiest fetishes. Whether you want to chat about fursuits in the forum, read some sexy stories, or just find some furry porn to jerk off to, this is a great site. That's not to say it's for everybody. If you're not into furries, you're barking up the wrong tree. But for anyone who's howling for furry porn, Fur Affinity will help you answer the call of nature.