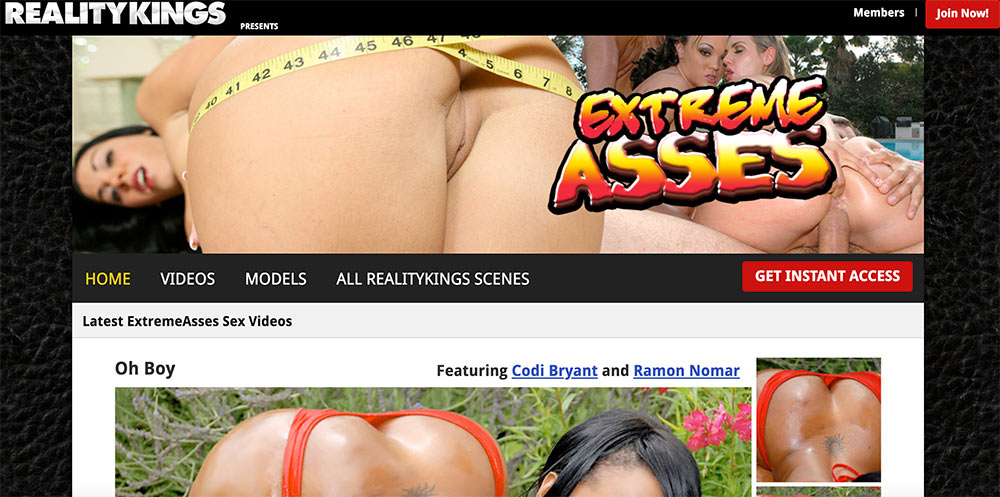 User Rating:
Extreme Asses is one of the 45+ sites included with a Reality Kings membership, which begin at $29.99 a month, which is $29.99 more than every free tube site out there, but it's for a big name studio site, so it's not the worst deal. Reality Kings saw 12.44 million hits in February 2019, making it the 3,800th most trafficked site on the internet, the 1,986th most visited site in the US, and the 324th most popular adult site on the web, as compared to freebie site PornHub, which is the #1 most popular adult site on the web, the 6th most visited site in the US and the 7th most trafficked website in the world, bringing in 3.10 Billion with a B hits in February 2019. They're both owned by adult media super conglomerate MindGeek, so I guess the competition isn't too stiff.
Extreme Asses Content
Extreme Asses is a name you might remember from the mid 2000's after internet pornography really started to take off, and is probably the first exposure most people had to Reality Kings after their earlier success like MILF Hunter and Captain Stabbin. It must not have had the same name recognition or staying power or whatever, because Extreme Asses last added its 70th and final scene on July 15th 2010. After 4 years and 70 scenes, I guess the world had had its fill of Extreme Asses.
From the title alone, I imagine you've got a good idea of what Extreme Asses has to offer – 70 studio-quality scenes featuring curvy models that the teens today would refer to as THICC, and considering how huge that is with modern audiences, I'm a bit shocked we haven't seen an Extreme Asses revival from Reality Kings.
Scenes average about 25 to 30 minutes and more or less stick to the same MF duo format, with about 1 in 10 featuring MFF performances, so it's all pretty standard vanilla content to my modern temprament. Videos are organized by release date, top rated, most viewed, and alphabetically by title.
There's full video preview on mouseover, which is the best possible type of preview on mouseover until scientists discover an even better method. The media player itself is pretty standard and is actually lacking a preview frame/still when scrubbing through the timeline, so it feels a bit like you're flying blind here. Normally, Reality Kings videos have an index of acts and performances in the clip (like Blowjob, Sex, Anal, etc) that's clickable and takes you directly to the timestamp in the video where that starts, but I guess that feature came along some time after July 2010, because none of the clips on Extreme Asses are sporting it, which really goes to show exactly how long it's been since someone maintained this page.
Extreme Asses Categories
There is no specific categories listing for Extreme Asses, the link takes you directly to a sampling of categories spanning the full site. The full listing is under a dropdown menu instead of getting its own page, which I feel robs you of some of the visual stimulation usually associated with sitting down and picking a category. The categories themselves are your usual mainstream American audience fare, with options like Big Ass, Big Tits, MILF, Lesbian, Squirt, etc. There's options for specifying whether you like your big boobs natural or enhanced, but I don't think that has too much to do with what I'm exploring in Extreme Asses.
Star Power
Extreme Asses has been a ghost town since July 2010, so don't expect to see much of anyone that's still active or popular today. There are some historically significant mid to late 2000's performers in the models listing, with recognizable names like Alexis Texas circa 2008, Alexis Breeze, Lacey Duvalle, Pinky and Misty Stone. So if you're not here for a trip down memory lane, there's not gonna be a lot of recognizable star power here for you.
Network
Currently, the Reality Kings network covers 51 sites that are all included under the Reality Kings brand. $120 a year gets access to Extreme Asses, along with other major studio names like MILF Hunter, Mike's Apartment, Big Naturals, 8th Street Latinas, Teens Love Huge Cocks, and more. All the media is lumped together when browsing and searching, which is convenient and saves you from having to back out from one site and sign into another. These brands date back to pretty much the dawn of digital adult media, so you're guaranteed to find something you like here.
Subscription
Membership to Extreme Asses requires a premium membership to Reality Kings, which is $120 a year. If you're only here for 70 scenes from 2008-2010 and very little upkeep since, you might be overpaying. However, premium subscriptions cover the entirety of Reality Kings, who has been producing content since 2002, so there's a huge library of media beyond Extreme Asses. As far as communities go, there's no facebook style streams or anything like that, profile options are basically for managing your password and payment info.
The Money Shot
Extreme Asses has been abandoned for 9 years and lacks some of the basic features other Reality Kings pages offer. The selection is pretty minimal, with a total of 70 clips featuring an assortment of performers that I've mostly never heard of and have long left the industry without making much of a mark. The saving grace for Extreme Asses is that it's included in the overall Reality Kings package, which features tons more studio-quality content. On it's own, there's nothing particularly memorable or special or, dare I say Extreme, about Extreme Asses, it's a small archive of big butt porn from back when that was a far less popular niche. Only as part of the whole of Reality Kings does Extreme Asses have much of any worthwhile value. Reality Kings is an A, Extreme Asses gets an F.