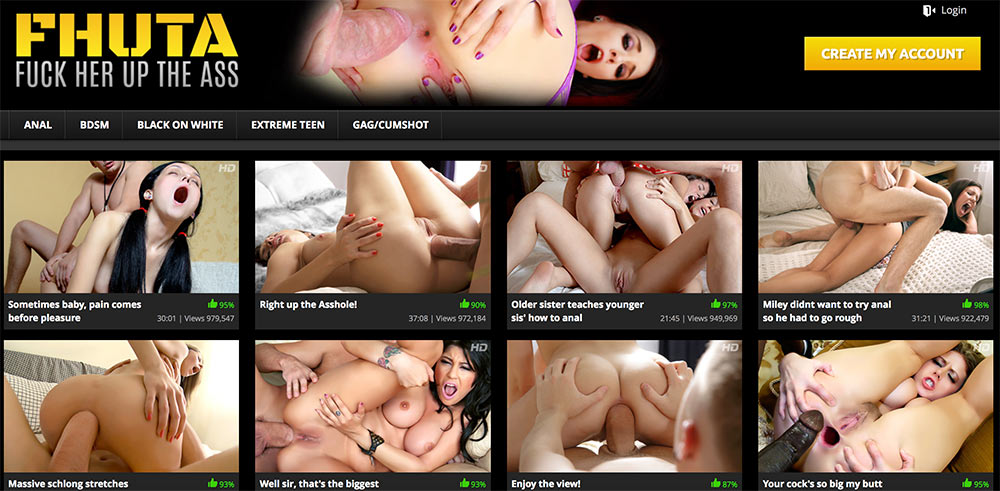 User Rating:
Fhuta isn't a bastardization of futa, meaning futanari, which is a whole separate genre of porn. Rather, it's more properly FHUTA, an acronym, meaning "Fuck Her Up the Ass". From that, you can guess what the focus of the content is at Fhuta – anal. In fact, rough anal, gaping, anal threesomes, painal, interracial sex, and DP are the main themes of the site's content. Original, full-length exclusive video scenes are available for streaming or download.
Fhuta is operated by Empty Tank Ltd., of London, and is part of their AdultMemberZone network of sites. There is an overall affiliation with Dagfs and Filf, and their elusive owners as well. The site is currently ranked only in the top 1.1 million sites globally by traffic, though it is in the top several hundred thousand in certain jurisdictions. The overall AdultMemberZone page, through which Fhuta's and other sites' content can all be viewed, typically runs much higher, and is the preferred entry point for most users.
Fhuta Content
High-definition, original video scenes of tight little teens getting massive cocks shoved up their asses are the main appeal here – and boy, are they appealing! The majority of the videos are available in multiple resolutions, including HD, to accommodate different connections, mobile, and so on. The videos are typically male/female, or threesomes with one or two men, focused on buttfucking gorgeous girls. Videos typically run 20 to 35 minutes in length. They can be streamed or downloaded for later viewing. At present, there are just shy of 200 videos on the site, with regular updates to the overall AdultMemberZone network, including frequent updates to Fhuta (several per week in most cases).
As always, we mention that the target audience here is mostly hetero guys. There is little to no lesbian content (outside the context of threesomes), no gay content, limited solo female, no solo male, or trans content of any type on the site.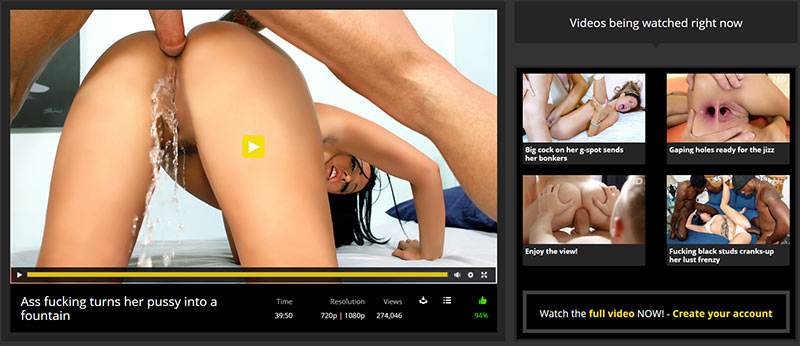 Fhuta Categories
The main categories of videos on Fhuta are all centered on rough sex, and almost entirely rough anal sex. There are sub-themes including some light BDSM, interracial sex, gagging/throat fucking, anal creampies, threesomes, DPs, blowjobs, ass to mouth, asshole gaping, squirting, anal orgasms, pain/painal, and related themes. When accessed through AdultMemberZone, you can sort content and view by site, look at one of over 20 categories of videos, and otherwise have multiple options to navigate and find the content you are looking for specifically.
Star Power
Fhuta and other network sites have a good mix of amateurs and unknowns along with mega-stars of the porn world. They don't play up the female stars as much as some other sites in their marketing, and focus more on the quality of their productions and content. Nevertheless, we spotted some big names like anal queen Asa Akira, Megan Rain, Chanel White, Aurora Snow, and others. There are also a lot of lesser-known stars, including European stars, who provide some fresh faces (and fresh holes) to get fucked.
Network
Fhuta is part of the AdultMemberZone network, run by the same company, Empty Tank, Ltd., of London. Membership to Fhuta provides membership to the whole AdultMemberZone, which features a wide variety of niche and fetish-themed sites. There are close to 3,000 HD videos and upwards of 30,000 sub-HD quality videos as part of the network.
As discussed earlier, it is also affiliated with Filf and Dagfs and their network of sites, though you do not gain access to those sites when you sign up for Fhuta – just AdultMemberZone.
Subscription
For anything more than teasers of the latest videos, you need a subscription to the site. The Fhuta site's subscription provides a full subscription to the AdultMemberZone network of sites, which then serves as the starting point for your fapping and browsing pleasure. The network as a whole offers several different niche and genre-style sites (though many are focused on rough sex or extreme sex in the similar vein as Fhuta). There are also other premium sites that you can add as additional, add-on subscriptions once you have an AdultMemberZone/Fhuta accounts set up. You can pay for your subscription with a credit or debit card, or via PayPal.
We do the math so you don't have to! Below you can find a comparison of the different subscription plans available and our recommendations.
Porn Explosion Advice: If you're a fan of the kind of content that AdultMemberZone offers, skip the lesser memberships and go for the annual option. It's the cheapest option, and saves you nearly $250 a year over paying monthly. Also, beware of the cross-sell when you sign up, and be sure to uncheck it and opt out so you don't get hit with a membership to another site for $39.99/month more.
We always recommend signing up for trials with a Visa, Amex, or MasterCard gift card, with a small balance, in case you have trouble cancelling or forget to cancel before the auto-renewal.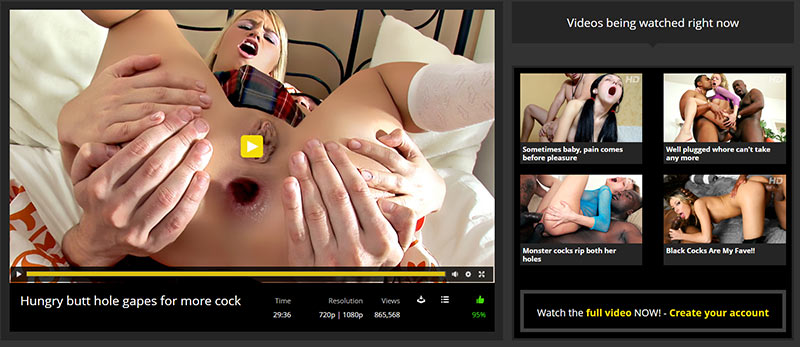 The Money Shot
Fhuta is fairly high up there in terms of quality video productions featuring rough anal sex. Combined with the other sites you gain access to as part of a subscription, via the AdultMemberZone network, there's a good amount of content, and good value for your money. If you're only interested in ass fucking, then it might be a bit costly for the amount of content that's there. But if you like rough sex in general, and the various constituent sites that make up the network, then it's well worth the cost of membership. We'd like to see a bit more of a genuine tour of the way the site looks through the network hub, to give people a clearly view of the navigation, sites that make up the network, themes, categories, and so on before you spend the money. If you're unsure, give the 2 day trial a try – just be sure to cancel or convert your membership before it auto-renews, or you'll be paying the highest possible price for membership.