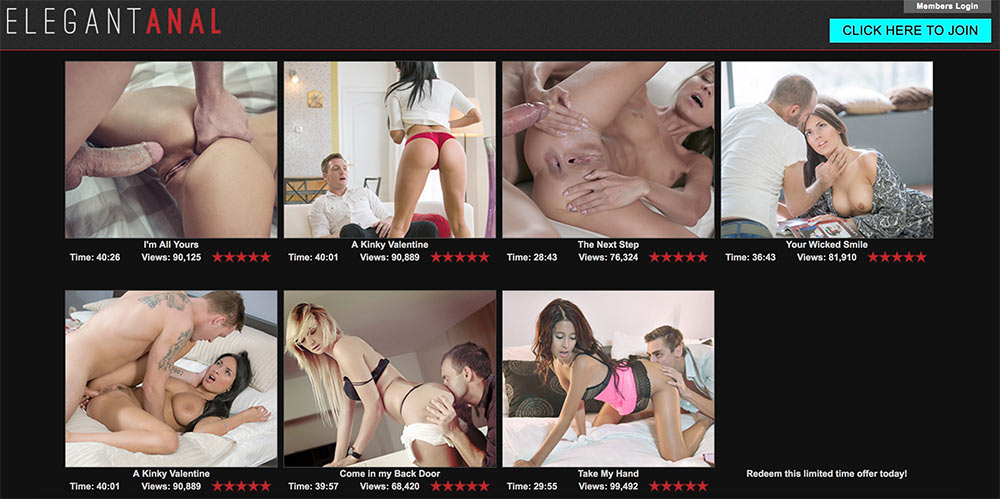 User Rating:
Elegant Anal is a network site belonging to the Babes.com network. It was created in 2014, and features passionate anal sex videos, where both partners truly enjoy anal. In keeping with the overall theme of the Babes.com network, this is a glamcore site, featuring gorgeous models, professional makeup and lighting, and expert cinematography. The site itself is merely a landing page that ultimately routes back to the Babes.com interface, where all network videos can be viewed.
For more on the Babes.com network as a whole, you can check out our separate review here.
Elegant Anal Content
Elegant Anal currently features around 100 HD videos of passion-filled anal sex, with some of the most gorgeous models from the Babes.com network. All videos are exclusive to Elegant Anal, and generally run 25 to 45 minutes in total length. At present, updates take place about twice per month.
When viewed through the Babes.com site, videos can be sorted by starring models, searched via keywords, or browsed via pre-defined categories. All Babes.com network videos are focused on hetero/bi female/lesbian content, and no solo male/gay male/transsexual content is included. All the anal action at Elegant Anal is strictly male/female.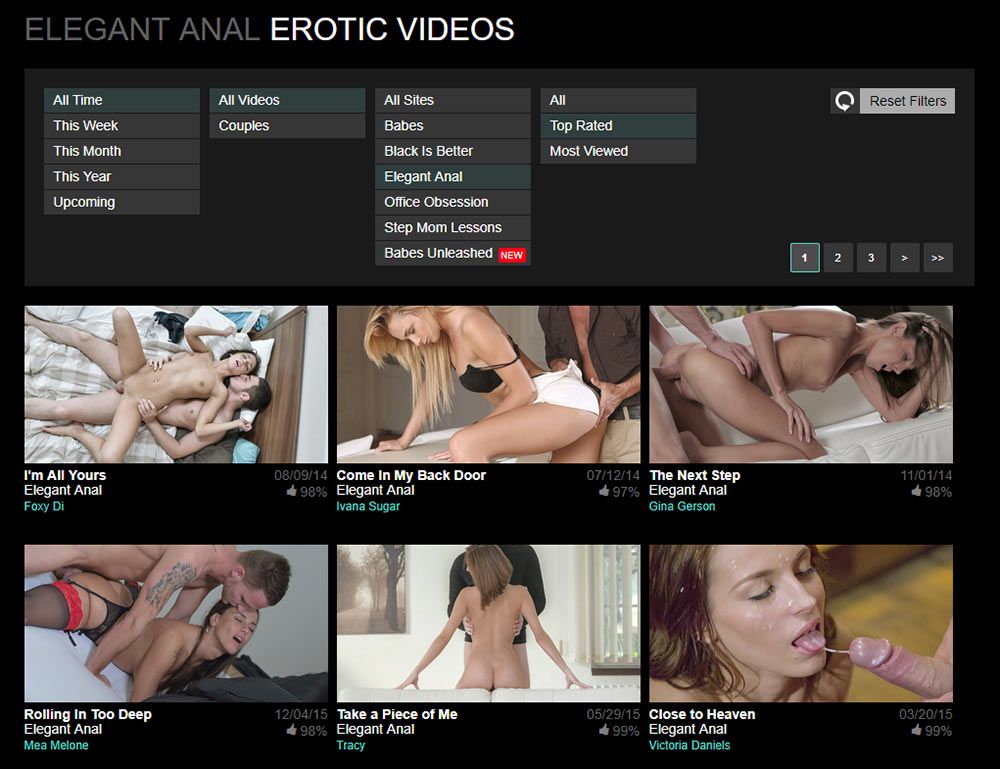 Elegant Anal Categories
The Elegant Anal video content is, not surprisingly, all about anal. There is not a huge amount of category diversity here, with all videos being focused on male/female anal sex. However, membership to Elegant Anal through the Babes.com network gives access to the other network sites as well, with a variety of other glamcore video content and categories.
Star Power
Elegant Anal has around 70 beautiful models that have starred in its videos. Some may not be household names, but are well-known to fans of glamcore porn. While merely a drop in the cum bucket in terms of the overall Babes.com network, which has 700 models to its credit, all of these women are mind-numbingly gorgeous. The most popular talent featured on Elegant Anal, based on user ranking, includes Gina Gerson, Foxy Di, Anissa Kate, Tracy, Natalia Starr, Alexa Tomas, Ivana Sugar, Stella Cox, Sharon Lee, and many more.
Network
Elegant Anal is part of the aforementioned Babes.com network. Babes.com is the top-level site, and includes all video content from the total 6 sites in the network.
Elegant Anal, through Babes.com, is owned by MindGeek, formerly known as Manwin, based primarily in Montreal, Quebec, Canada, with satellite offices in the US in Los Angeles, Houston, and Miami. Though this international parent company owns many sites and networks, they are independently managed and content remains exclusive, as do subscriptions.
Subscription
While free preview clips of videos from Elegant Anal and the rest of the sites in the Babes.com network are available, the good stuff requires a subscription. That subscription provides access to all Babes.com network content from all 6 sites, either directly by visiting the sites or through network hub Babes.com.
Like many MindGeek-owned sites, a nice feature of Elegant Anal and the Babes.com network is that you can pay for your membership using unused gift cards from hundreds of different merchants, in addition to the regular credit card or paper check payment options.
We do the math so you don't have to! Below you can find a comparison of the different subscription plans available and our recommendations.
*The 2 day trial membership has "limited access", but the exact restrictions cannot be found in the Support section of the website or in the Terms and Conditions of Membership.
Porn Explosion Advice: If you enjoy glamcore porn, and anal glamcore in particular, skip the 2 day trial and go for the full year membership. It's a massive savings compared to the other options. Butt, if you're only in it for the anal, then maybe a trial or shorter-term membership to the network is your best choice.
We always recommend signing up for trials with a Visa, Amex, or MasterCard gift card, with a small balance, in case you have trouble cancelling or forget to cancel before the auto-renewal.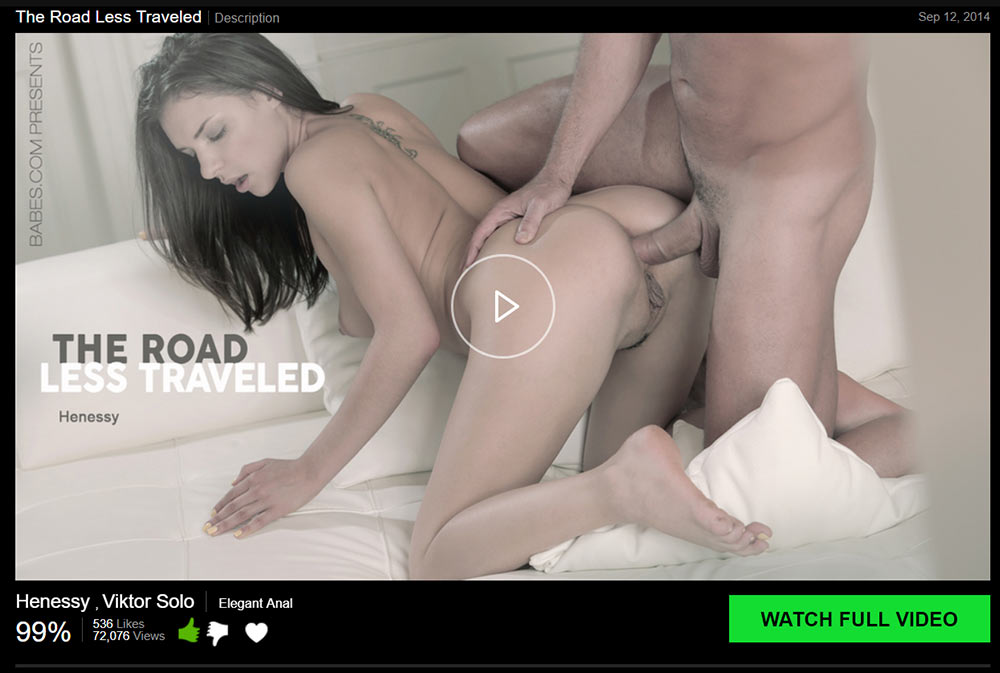 The Money Shot
The overall Babes.com network provides a lot of quality content in the glamcore genre. Elegant Anal has some great videos and models – we just wish there were more! If you're only into anal, and only intend to visit this particular site (and not the rest of the network), then maybe a short-term membership is your best option here. But if you like glamcore in general, then the Babes.com network, including Elegant Anal, offer a variety of high-quality HD videos for your pleasure, and it's worth a longer-term subscription. Just remember the lube!