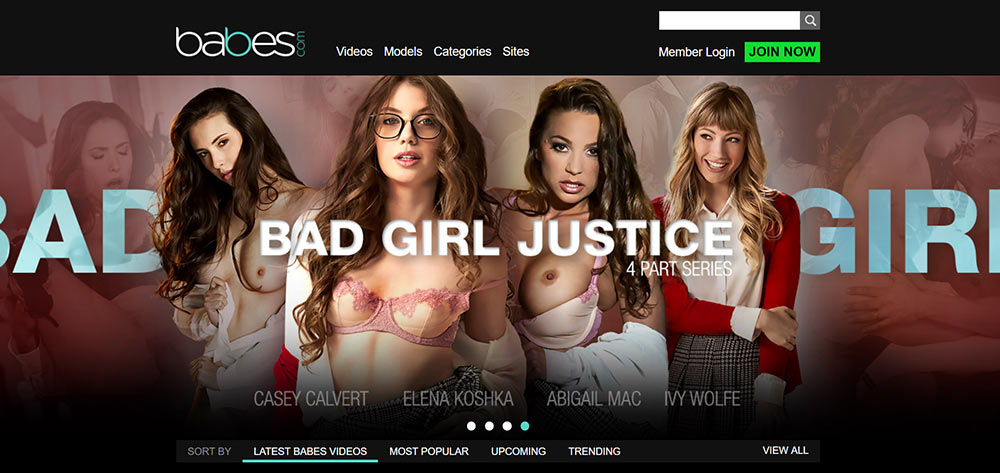 User Rating:
Launched in 2012, Babes.com is a network of websites that primarily focus on a genre known as glamcore porn. Glamcore usually features ultra-beautiful models, professional makeup, set design, and natural lighting. The scenes are shot in a cinematic style, and the production value and quality of their videos is exceptional. They tend to focus more on seduction and passion than some other sites.
While not one of the most heavily visited adult networks online today, the quality of the videos really set the Babes.com network apart. Within the glamcore genre, the Babes.com network is considered one of the best. Owned by MindGeek, formerly known as Manwin, the single largest conglomerate of adult sites and production studios in the world, Babes.com and their network has access to most of the top adult talent working today. At present, their network has nearly 700 female performers listed.
Babes Content
Babes.com is a video site, with all content being exclusive, original glamcore videos from the network's 6 sites (including Babes.com itself). All videos are available in full HD. They vary in length but are generally substantial, running from around 20 minutes to nearly an hour. The average appears to be about 30 to 40 minutes for most scenes. At present, there are close to 1,300 videos available. New videos are added about every other day on average.
Videos can be sorted by originating site, starring models, searched via keywords, or browsed via pre-defined categories. All Babes.com network videos are focused on hetero/bi female/lesbian content, and no solo male/gay male/transsexual content is included.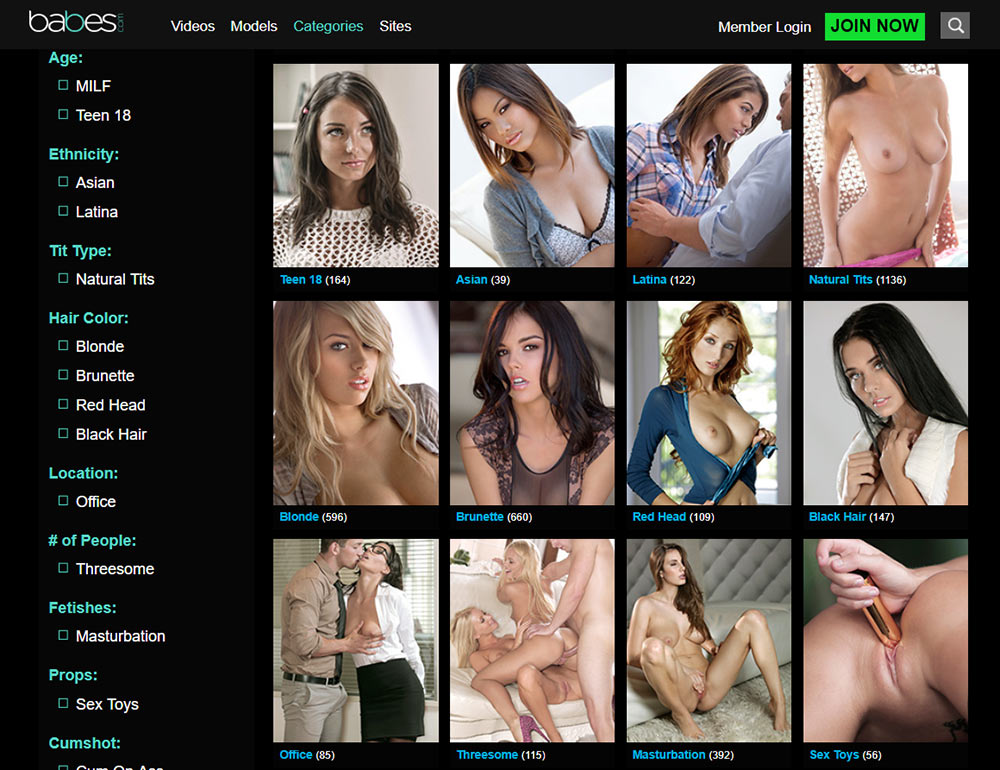 Babes Categories
The video categories on the Babes.com network are generally based on the 6 network sites' themes. These include:
Babes.com, featuring original glamcore boy/girl, girl/girl, and threesome scenes
Babes Unleashed which is their newest site, featuring more kink-type videos - At this time it does not appear to have its own separate site address
BlackIsBetter.com which highlights interracial content
ElegantAnal.com which seeks to put anal sex in a more passionate and caring light - We've reviewed ElegantAnal on its own here.
OfficeObession.com focusing on office encounters
StepMomLessons.com where step-moms teach their step-daughters, and step-daughters' boyfriends, how to fuck
In addition to browsing by website, and all the other standard search/keyword/model navigation features, Babes.com also groups their videos into standard adult content categories for browsing. These include most mainstays like Anal, Interracial, MILF, Teen, various model hair colors and ethnicities, Threesomes, Toys, Masturbation, and a few others.
Star Power
Many of the top stars active today or in the last 6 years have worked for Babes.com. As mentioned above, nearly 700 female models are currently listed among the sites' video credits, though about half are lesser-known (though amazingly beautiful) starlets. The most popular talent featured on the site, according to their rankings, includes Emma Mae, Connie Carter, Mia Malkova, Malena Morgan, Madison Ivy, Gina Gerson, Angelica, Tiffany Thompson, Dillion Harper, Nicole Aniston, Foxy Di, Janice Griffith, and many more.
Network
Babes.com is the top-level site in the network, aggregator for their network sites, with all content originating from itself and the 5 other network sites. All but one site (Babes Unleashed) can be accessed directly, or all content can be viewed through Babes.com.
Babes.com is owned by MindGeek, formerly known as Manwin, based primarily in Montreal, Quebec, Canada, with satellite offices in the US in Los Angeles, Houston, and Miami. Though this international parent company owns many sites and networks, they are independently managed and content remains exclusive, as do subscriptions.
Subscription
While free preview clips of videos in the Babes.com network are available, there is little else to do for free here. The quality content that Babes.com produces cums at a price, though – a subscription fee. That subscription provides access to all Babes.com network content from all 6 sites, either directly by visiting the sites or through aggregator Babes.com.
Like many MindGeek-owned sites, a nice feature of the Babes.com network is you can pay for your membership using unused gift cards from hundreds of different merchants, in addition to the regular credit card or paper check payment options.
We do the math so you don't have to! Below you can find a comparison of the different subscription plans available and our recommendations.
*The 2 day trial membership has "limited access", but the exact restrictions cannot be found in the Support section of the website or in the Terms and Conditions of Membership.
Porn Elxplosion Advice: If you enjoy glamcore porn, skip the 2 day trial and go for the full year membership for the best bang for your buck. It's a massive savings over the other subscription options. The quality of videos here are incredible, and you won't find this caliber and selection of models, coupled with professional-quality cinematography, anywhere else. If you're interested in the content, but not obsessed with glamcore, the limited trial membership might be worthwhile, so you can try before you buy.
We always recommend signing up for trials with a Visa, Amex, or MasterCard gift card, with a small balance, in case you have trouble cancelling or forget to cancel before the auto-renewal.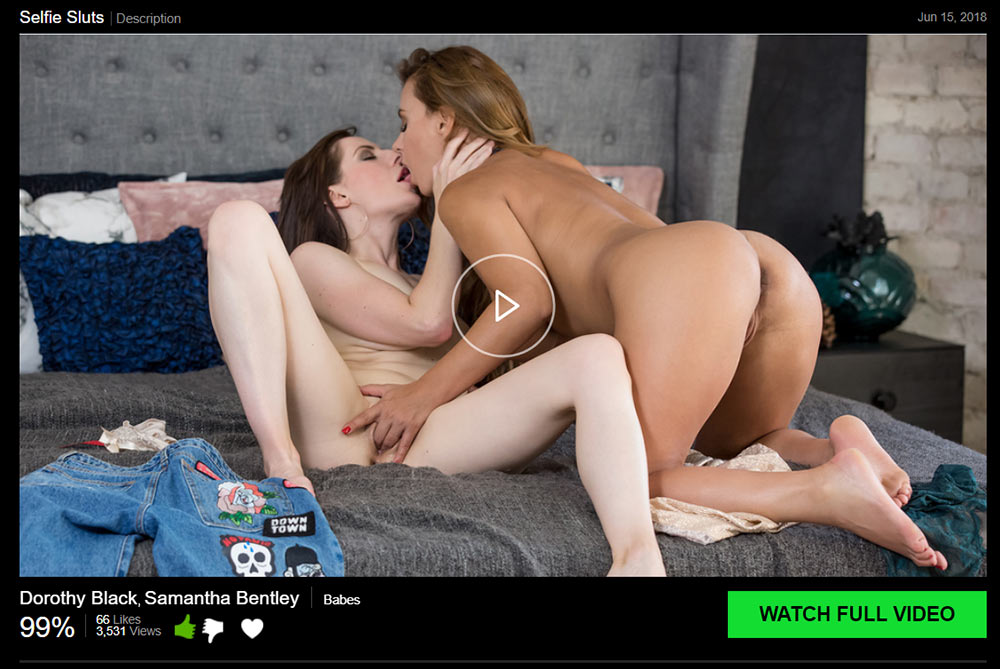 The Money Shot
If you're into glamcore, or simply a fan of high-quality, high-production value, professionally shot porn, then there's no question you need a subscription to the Babes.com network. If you like the videos but aren't crazy-obsessed with glamcore, a more cautious and measured approach is indicated. After all, while the site certainly offers quality for the price, if it's not really your thing then your money might be better spent elsewhere, on sites with larger, more diverse networks of content. But give it a try, at least, and see the difference high-quality videos make compared to your regular fapping material – you might just surprise yourself with some amazing orgasms!