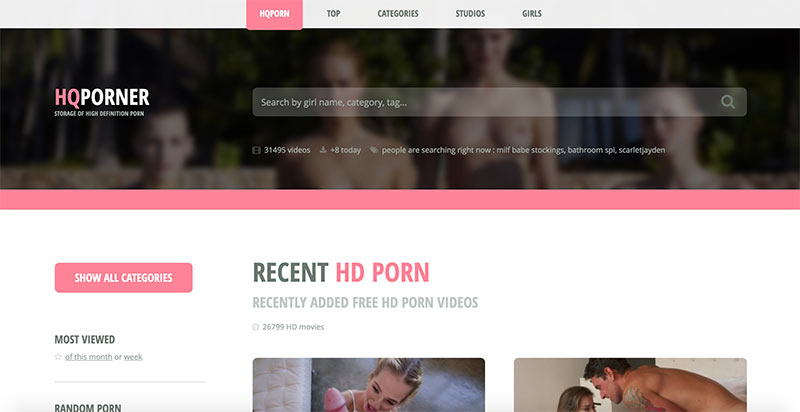 User Rating:
HQPorner is a free streaming porn tube site that bills itself as the "Storage of High Definition Porn", and that much is evident immediately, with an exact count of all HD movies in the headers, which, as of 1/2019 is at 26,913 movies.
By the numbers, HQPorner is the 1,149th most trafficked website on the internet, 1,229th in the US, and 89th in the adult category overall. They saw 36.41 million hits in 11/2019, with as many as 53.6 million views a month within the last 6 months. The US is the primary viewership base, followed by Germany and India.
HQPorner Content
HQPorner currently hosts 31,609 streaming adult videos, with 26,913 verified as HD. I appreciate their honesty here, as it's usually difficult to get a read on how much media a site offers, and HQPorner is very direct about it. It's certainly not the biggest streaming site, with competitors easily having 250,000 to 1.5 million videos, but the emphasis on HD tends to keep the quality bar higher.
The available media is the usual gamut of mainstream American tastes, with tons of stepmom and stepsister soft incest, all in glorious HD. The first two featured videos included a foot fetish one, which surprised me. I started with the first featured video, which of course was about a man and his stepmother, and he definitely said "Mom!" a troubling number of times. I scrolled down to a lesbian one featuring Ginger Banks (yes please), but that one got distressingly aggressive in the narrative. I moved on to that foot video, but the ADR'd narration was unbearable.
The header bar includes the usual tube site tabs for categories, studios and girls, but also includes a Top tab, which links you to the top browsed categories, studios and girls. Below that you get their exact number of videos, as well as the total number of videos uploaded today, as well as trending searches which currently include (god bless them) "wwwe sex", followed by "pool party" and "tits peg". Below that you get the standard featured/most recently added videos with controllable slideshow on mouseover, which isn't a primo feature, but it's also better than nothing.
The side bar offers links to the most viewed videos of the month and week, a random/shuffle feature that pulls three clips up and gives you the option to re-roll them over and over in case you're really at a loss on where to get started. The side bar also includes links to the 1080p HD video category and 60 FPS category, which is understandable since HD is their main selling point.
The media player is fast and efficient, loading up much quicker than expected and without any shitty ads or popups. Nowhere on this site have I been invited to play The Sexiest Game Ever or been forced to sit through ads including Overwatch and classic Disney characters. There's the usual animated Brazzers ad off to the side, along with a "Join Brazzers for $1 Today" link above every video, but that's pretty much it when it comes to ads, and, honestly, you can do a lot worse than a repeating clip of Brazzers highlights. Each video page also credits the performers and lists all the categories it is tagged as.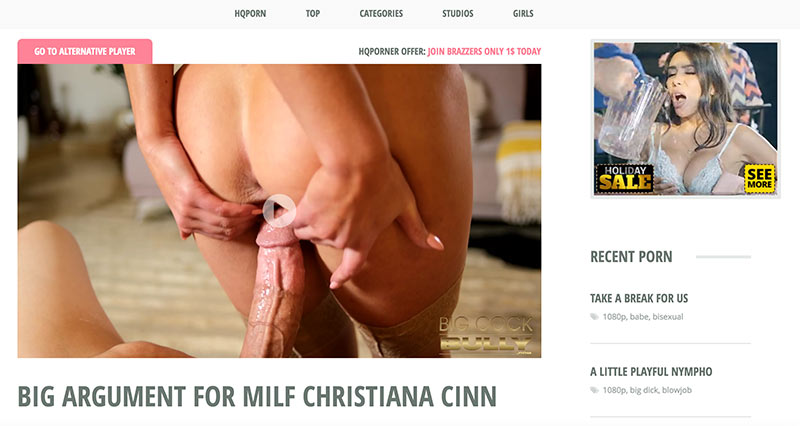 HQPorner Categories
HQPorner hosts 62 categories, included your bog standard Big Tits, MILF, Teen, Lesbians, Anal, Squirt, etc. I laughed out loud when I scrolled past the Fetish category preview image, which features a performer both giving a blowjob and eating a slice of pizza. None of these categories are particularly weird or silly, but sometimes a bit niche/very specific, with options like Long Hair, Undressing and Moaning. This is also where all the gay and transgender content is, which can be found under the Gay and Shemale categories, but I want to take this chance to point out that the transgender community considers "shemale" a slur, so be aware.
Beyond categories, they also include 35 affiliated studios, which are essentially channels, each serving as a collection of media from sponsoring pay sites. These include familiar industry studios like Kink.com, Passion HD, Joymii and Wicked.
Star Power
In a somewhat strange turn, HQPorner only lists 55 models in their "Girls" page, and the selection is a bit dated too. Lots of mid to late 2000's performers like Aletta Ocean, Sasha Grey, Jenna Haze and Tera Patrick, along with some more current actresses and performers that have been around since then, like Lisa Ann, Angel Dark and Tori Black. There's no pages for current big-name stars like Riley Reid, Abella Danger, or Janice Griffith, but searching them by name does bring up plenty of media.
Network
HQPorner is not officially part of any network, but they do have those 35 affiliated studios and a link to Brazzers above every video.
Subscription
During my time on HQPorner I could not find any sort of option to make an account. There doesn't appear to be any subscription option at all. No way to favorite or upload media or comment on videos. I definitely miss the option to save favorites, but I could more or less do without the rest.
The Money Shot
Overall, HQPorner is up front about what they offer, and it's 30,000 streaming HD videos, which is definitely nothing to sneeze at. The media player is top notch, there's barely any ads to speak of, and there's plenty of studio and category options to keep me browsing. The lack of a subscription service means there's no way to favorite videos and that there's no community to speak of, but that's definitely not the deciding factor in whether a site is worthwhile. HQPorner more than likely has what you're looking for, and in HD.