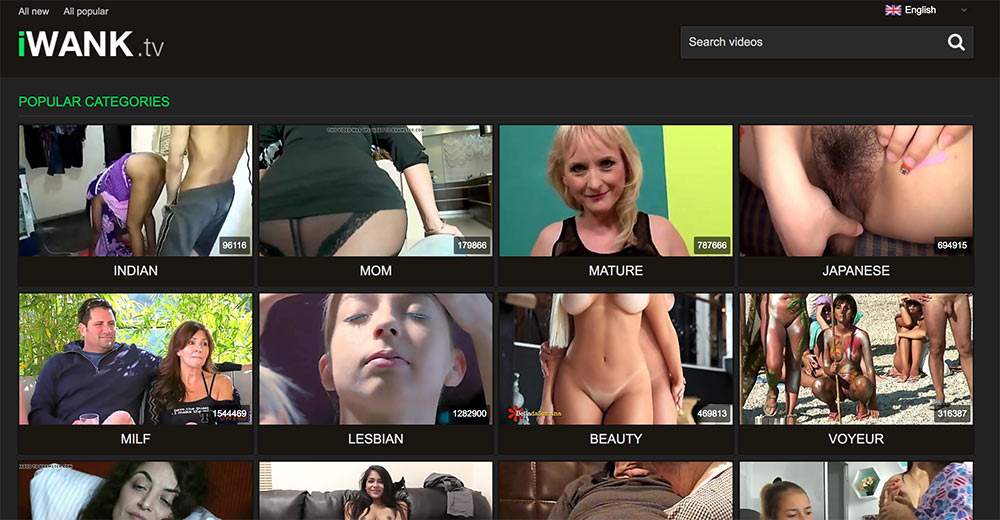 User Rating:
OK, today's site is iWankTV or, more specifically, http://www.iwank.tv/en/, which means we're a ways off the beaten path here. By the numbers, iWankTV saw 27.19 million hits in January 2019, which completely boggles the mind, until you check and see that nearly 60% of that traffic is referrals from other aggregate porn site. Germany beats out the US with 17.11% of the viewership, with it ranking 602 in most trafficked German sites and 2219 worldwide. It's also the 197th ranked adult site on the internet, so we're definitely out in the weeds this afternoon. Let's dive in.
Iwank.tv Content
The home page of iWankTV is stark and bland with a 36 point Arial font logo that in no way suggests we've arrived at a porn site. There's some links above it for All new, All popular, and Live Cams, but they don't really tell me what I'm here for. The bulk of the page is image previews for popular categories. I clicked the Lesbian one, which gives me the familiar and vague options to sort videos by popular and new, or by All and Long, followed by multiple pages of video links.
There's no preview on mouseover, but that is the only way to see what the video is actually titled. The preview image also contains data like upload date, run time, tags, and which site it redirects to. Ugh, another aggregate site. I hate these things, they're shady as hell and clutter up your windows and tabs with a bunch of popups and redirects. You choose a preview, it takes you to another page where you again click the preview to say 'Yes, I want to watch this', and then you're whisked away to some barely viewed video on PornHub if you're lucky, or some other godawful aggregate site with sleazier ads and no sign of the content you were looking for. I always feel like the purpose of these pages is just to farm clicks, like I'm here doing a bot's work, or to lead the unwary deeper and deeper into the wilderness of shitty, untrustworthy websites.
The video counts for each of the category listings indicate hundreds of thousands to potentially millions of video clips, but can they really claim all this media when they don't host any of it? There's no option to register or submit content or links, so who knows what's generating these links. The ones that go to legit sites link to videos with a couple thousand views and generally a lackluster like/dislike ratio, so we're not getting anything considered particularly good by its consumers. Are we just the suckers giving them the extra views they bought to inflate popularity? Maybe, I don't know.
There's one saving grace to pages like this though, you can actually find the clip that's the source of the preview image for the category. These places are so robotically curated that you can at least count on whatever video got grabbed to generate the preview image is somewhere on the first page. So if something catches your eye, you can usually find it with a little digging. There's also no glaring animated ads for anime sex doll games or grandma hookup sites, but that just makes these places feel quiet and dead, and it also suggests that we're at a skeezy site that farms clicks and sends you to pages with ads that make your grandpa think he won a contest.
To further compound my frustration, I clicked one link and got sent to some other junk aggregate site with no sign of the media I was looking for. I went back and clicked it again to satisfy my curiosity and got sent to ANOTHER, DIFFERENT aggregate site. Fuck this place.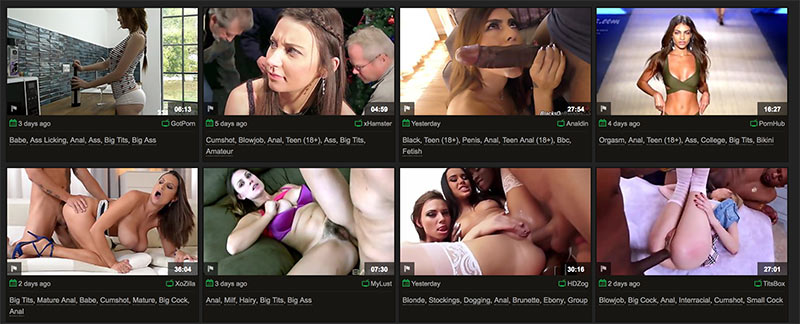 Iwank.tv Categories
There's a couple hundred categories on iWankTV, but that's only because they don't separate categories from tags, which means you've got about 300 niche terms to choose from. This results in a lot of overlap and helps to inflate the advertised video count, since each video has 3-8 tags. There's the usual Big Tits, MILF, Teen, Lesbian, Anal, Big Ass, Deepthroat, etc with their own semi-organized pages and links to outside websites no one has any business going to. There's a ton of overlap, and since a human being isn't involved in running this page, you'll get a random smattering of categories each time you load the page and can sometimes find goofy stuff like Mom, Mature, MILF and StepMom practically adjacent to each other. One category is just called Money. What the fuck?
Star Power
There's no model or porn star listing here on iWankTV, if you want to find someone in particular, you'll have to run a search manually. I found who I was looking for without any trouble, since this place is basically a spiderweb of outside links I found dozens of links for models like Lisa Ann, Jay Taylor, Alex Harper and Mercedes Carrera (who is currently in the news for HORRIFIC reasons and I had to satisfy my curiosity). You're pretty much stuck with whatever comes up the first time since there's no coherent way to organize things or model profiles, so good luck finding what you came here for.
Network
I wouldn't count iWankTV as part of any sort of network since all of its media is basically second-hand links. At the bottom of the page there is a listing of 100 sites billed as Other Free Porn Sites, and they're all called things like Wanker Lab, Big Porn and Cum Guru, and they're all the same aggregate site like this one. No thanks.
Subscription
I don't see any way to subscribe or make a profile here at iWankTV, which doesn't feel like a big loss in this case. It means there's no way to save favorites or make uploads or anything like that, so there's one less thing keeping you here, making the whole experience even more transient and lacking.
The Money Shot
There's nothing particularly likable or appealing about iWankTV. Half of it is spam and junk links to suspicious sites, the other half links to low view videos on bigger network and tube sites like PornHub. It doesn't host any of its own media and barely makes an effort with presentation. At least Spicy Big Butt had a funny name. There's no personal touch to set it aside from its very uniform Junk Site layout and the content isn't worth sticking around for. This one gets an F.