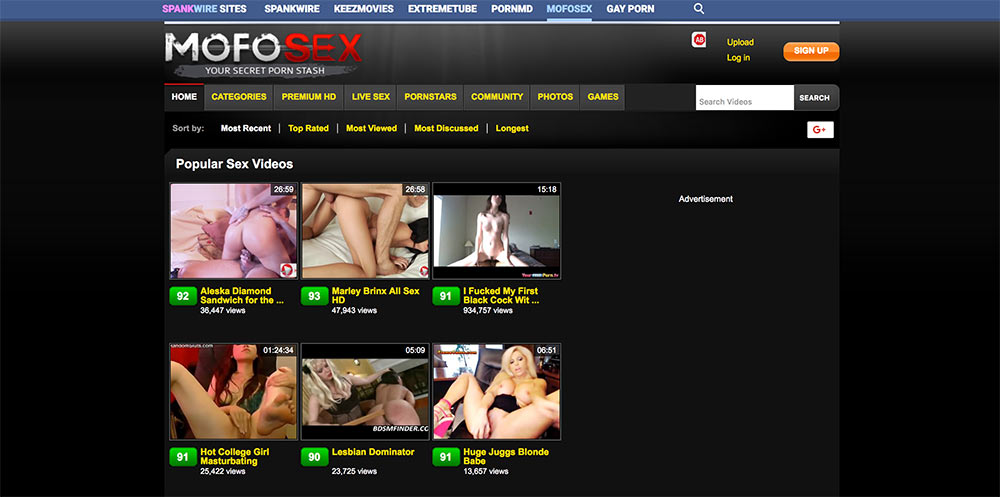 User Rating:
Mofosex.com is a free streaming porn site which offers a wide variety of user submitted content.  They have streaming XXX videos, photo collections, pornstars rankings, and connect to an associated cam site as part of the Spankwire network.  They are a smaller, independently owned site, with no significant affiliation with major brand sites like Brazzers.com or Pornhub.com, which are owned by industry giant MindGeek, although a link to PornHub is included in the footer text.  The name is clearly meant to evoke the MindGeek brand site MOFOs.com and features similar logo and design work. 


By the numbers, Mofosex is the 16,167 most trafficked site on the Internet, ranked 9430 in the US. As of September 2023 they are registering 5.21 million visitors a month. They are part of the Spankwire Network which includes Spankwire.com, KeezMovies.com, ExtremeTube.com, XXXselected.com, PornXS.com, PornMD.com and their affiliated gay channels. Since it exists outside of the major brand sites, Mofosex is able to offer more varied niche, amateur and fetish content at the cost of some mainstream material.
Mofosex Content
Mofosex offers the standard porn tube site options of streaming videos, organized categories, pornstars listings, a link to their affiliated cam site network, community options, and XXX photo galleries. They also offer some unique options, including free porn games and a link to their own review site MrPornGeek.com.
As a streaming tube site, Mofosex offers, by rough estimate, just under 250,000 streaming XXX videos submitted by users, consisting of a mix of videos from mainstream pay sites like Brazzers.com and Tushy.com, along with clips and recordings from cam girl sites like MyFreeCams.com and Chaturbate.com, amateur scenes from all over the web, and some pay clips from sites like Clips4Sale.com. Videos range from standard to HD quality, with HD clips tagged with a watermark in the video preview image. Mouse over will flash previews of the video, but as still images like a slideshow.
Videos are tagged and categorized by content and performer, allowing for detailed searches for your personal preferences. Videos can be arranged by category, most recent, top rated, most viewed, most discussed and longest. New videos are added on a daily basis, but the overall library is noticeably smaller than competing tube sites, so you may only see a couple new additions a day.
Mofosex also hosts a catalog of XXX photo albums, but the interface really struggles here. The main page arranges albums by most recently added, but apparently does not require an image to start an album. This has resulted in the entire photo home screen advertising 40 albums, each with 0 images and the same preview image showing the logo and a message of 'No photos in album'. They start to fill in once you reach the second page, but there's 50+ gallery doldrums to scroll past first. There's no option to sort galleries in any way other than "Most Recent", photos have no discernible tags and the search bar only runs your search through the video database. I know high speed internet and streaming video are the main appeal online these days, but for those of you that still enjoy some nice sexy images, this section is pretty much a dead end.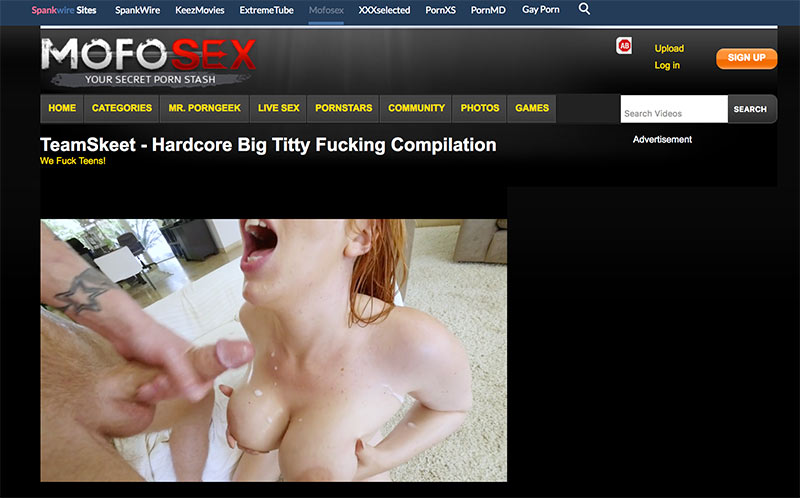 Mofosex Categories
Mofosex offers 31 streaming video categories, including the traditional options like Amateur, Anal, Big Tits, Celebrity. Fetish, Gay, Lesbian, MILF, Transsexual, etc. The categories page includes an alphabetized sidebar for quick access, but also shows an arrangement of video samples for each category, so you can jump straight in if you see something you like. These are all pretty much the industry-standard categories with nothing particularly strange or silly, so you'll need to look somewhere else for the more niche material.
Star Power
Mofosex offers a full alphabetical pornstars listing, showcasing approximately 2000 performers. There are no preview images, only an alphabetical listing, and there is no way to organize them by popularity or amount of content. Much like the photo section, the pornstars listings are deceptively empty, with many names reporting they have no videos or images and basically serving as an empty profile page. Even the huge name starlets have little to no tagged media, Lisa Ann has 2 videos, Lexi Belle has none, Alexis Texas has 1. Even yesteryear legends like Hyapatia Lee, Chelsea Charms and Asia Carrera are listed, but without a single video to any of their names. The listings also appear to have not been updated for quite some time, as most all of the big names of the last decade, like Riley Reid, Mia Khalifa and Angela White are missing in action. You can still find some of their content by searching directly by name, but that doesn't take away from the overall barrenness of the section.
Network
mofosex.com is part of the Spankwire network, which includes SpankWire.com, KeezMovies.com, ExtremeTube.com, XXXselected.com, PornXS.com, PornMD.com and their affiliated gay channels, and with links to all of these sites included on the header of the main page, each with a slightly different layout or color scheme, but overall similar presentation with similar content.
Subscription
Mofosex offers free member subscriptions which allow users to favorite videos, leave comments, submit content and download media. The community page displays the most recently active users, which can be sorted by male and female accounts, but again lacks the opportunity to arrange by popularity or amount of media and is not searchable. I've twice attempted to make a profile, the original appears to have been deleted or lost in some sort of internet limbo, and the second received an activation email with a defective link. However, considering that the majority of the accounts appear to be ads for cam models or spam, and nearly every comment on popular videos is a bot message with a suspicious link, it does not strike me as a particularly big loss.
The Money Shot
Overall, Mofosex is a decent quality streaming porn tube site, but it lacks a lot of the work and polish its competitors offer. The video media options are pretty bog-standard SD and HD clips ripped from larger sites and the categories are the definition of standard. Both the photo album and pornstars pages are barren wastelands of mostly empty galleries with no real convenient way to search or organize them. The only areas Mofosex truly stands out are where it is most lacking. You've seen all of this before on better free sites.