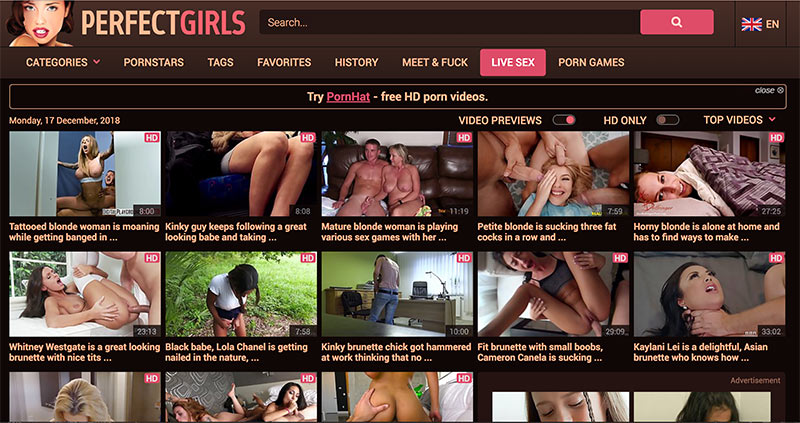 User Rating:
Perfectgirls.net is a free porn video website. As with most free porn video website, Perfectgirls offers a wide variety of free videos for users to stream, most of which are edited clips of less than ten minutes in length edited down from longer, full-length movies. In addition to videos, Perfectgirls also has a wide range of still images available to download.
Perfectgirls is privately owned and not affiliated with any other porn studio or network. With a library of over 300,000 videos available to stream, Pornhost offers an extremely large amount of content, although certainly not the largest of all the free porn video websites out there. With a global Alexa ranking of 1,921 and a United States ranking of 2,664 as of January 2019, Perfectgirls is an extremely popular porn streaming website.
Perfectgirls Content
Like its competitors, Perfectgirls primarily offers a variety of free porn clips which users can both stream and download. Downloading video, unlike many porn websites, does not require users to sign up for an account.
Although independently owned and operated, Perfectgirls does not appear to produce any of its own content. Rather, it strictly hosts content produced by other studios and producers. As a result, much of the content hosted on Perfectgirls is fairly high quality, featuring name-brand stars and studios. Unlike most porn websites which allow users to upload their own videos to the website, however, Perfectgirls offers no such feature allowing users to do so.
The website itself doesn't feature too many ads and provides a generally unobtrusive experience for users. The site design, however, is rather outdated. This won't be an issue for users who don't particularly care about the look of the website they use, but for those who are more particular in their choice of video streaming websites, this will be a definite downside for them.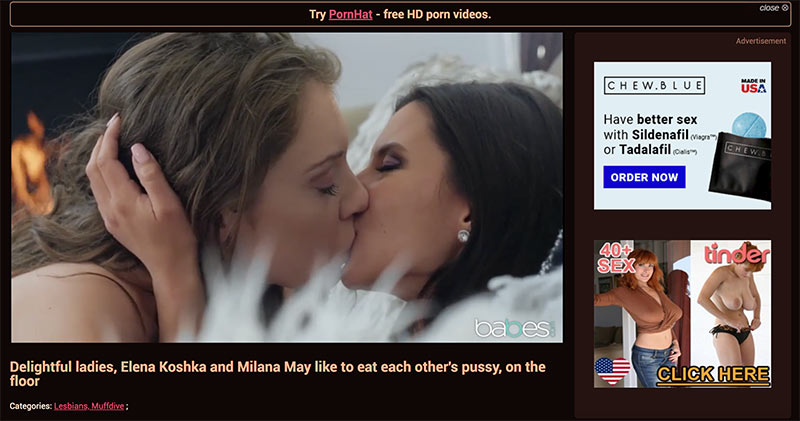 Perfectgirls Categories
In terms of categories, Perfectgirls has a wide range available to users. The typical popular choices are available, such as Anal, Creampie, Lesbian, and Interracial, although more niche categories are featured as well. Users looking for more niche content will not be disappointed by the available selection.
Star Power
Perfectgirls features a large amount of content that features popular pornstars, such as Lisa Ann, Sara Jay, Alina West, Asa Akira, and James Deen, among others. This is largely due to the fact that most of the website's material is sourced from third party studios which often have the budgets to feature popular performers as those mentioned above. In addition, the large video library available means that many lesser known and niche pornstars are available to view as well. Perfectgirls' lack of a submission feature, however, means that all amateur content available is sourced from other websites that have had such content submitted.
Network
Perfectgirls is independently owned and operated and is not affiliated with any other adult entertainment network or studio.
Subscription
Perfectgirls is completely free to use, and users need not sign up for an account to access the content available.
The Money Shot
Perfectgirls is a popular porn video website with a very large content library that allows users to find any kind of content they could possibly want. The website is not the most attractive to look at, and is somewhat bare bones in its design. There are no user accounts to speak of, free or paid, meaning that users looking for a more interactive or social experience will have to look elsewhere. However, for the average user, Perfectgirls offers a wide range of content that will satisfy even the pickiest among its viewers, provided they don't mind a less-than-glamorous browsing experience.