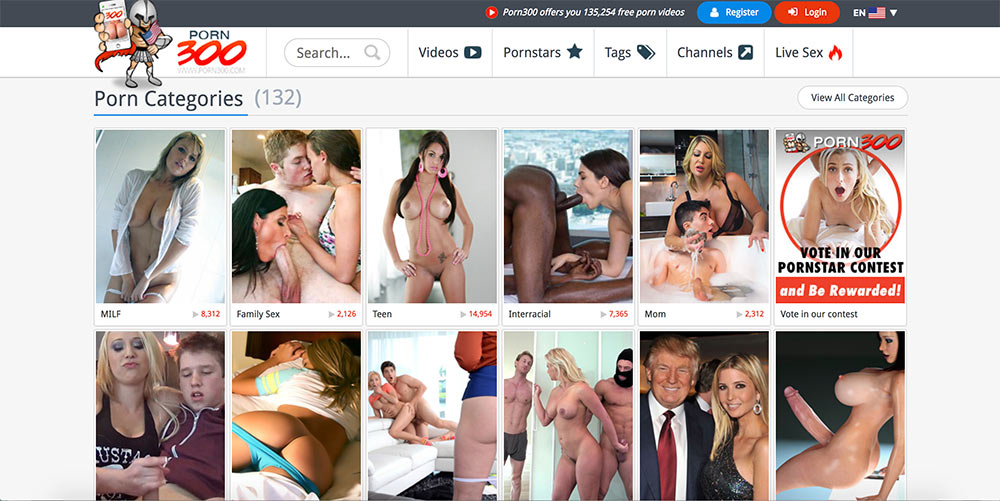 User Rating:
Porn300.com is a small, free tube site boasting more than 180,000 amateur and professional porn videos. Though smaller than many of its larger competitors, we've often heard it's not the size that matters, but how you use it. And perhaps the girth of its content or its kinky features make up for a smaller than average library. Perhaps we find out now, that's why you're here, right?
Porn300 Content
Though comparatively small, Porn300.com offers a solid variety of content to choose from, both in the professional and amateur arenas. The site is very cleanly and clearly divided into thematic sections (think "anal" or "teens"), and you'll find that it's pretty easy to get what you're looking for.
Upon arriving at the site, you'll immediately see what categories of porn video they offer, which both load quickly and are accurate. You'll also find a variety of options to look into, including creating your own account.
Oh, worry not. In addition to a decent selection of categories, the site also has "channels" of videos that you're able to subscribe to. Most of these channels are from the professional groups (think BangBros), but it's a nice touch to keep up with your favorite brand of smut.
The site has no paywalls, which is always a welcome surprise. Ads are largely non-intrusive, though we did get a browser hijack when looking at the site on a mobile device. The site is completely free, including the option to create a free account, which allows you to upload, save favorite videos, and subscribe to your favorite channels. Unfortunately, there are no options to download videos.
Aside from that, Porn300.com doesn't offer anything extraordinary, but, especially for being a small site, it offers quite a bit in terms of content and experience.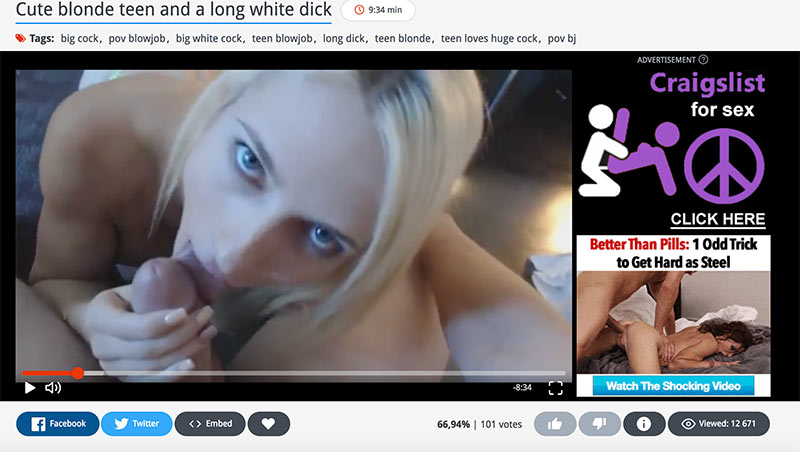 Porn300 Categories
For the most part, the categories offered aren't anything out of the ordinary from what you would see from a standard tube site, except for one thing: Porn300.com leans hard into the taboo of incest. Among the prominent categories displayed when you arrive at the site, you'll quickly see the following: daughter father, aunt, family sex, mom, son and mom, and brother and sister. So if that's what gets ya goin', you'll feel right at home. If it's not, we ask that you stop being so judgy.
The site also has videos tagged with even the most remotely related thing, so if you're searching for that absolute niche jerk-off, say, "clothed female naked male," then you can search that tag and see if any videos come up.
And for the record, that is an actual tag with 20,000 videos. Enjoy your new fetish. As always, tags can be a double-edged sword. It's nice to be able to find niche videos, but there's so much clutter it's hard to browse to find anything new. It's much easier to browse by category or channel.
Videos can also be sorted by most viewed and most favorited, just in case you want to see the site's champion of wank. Spoiler alert, it's an amateur video from PornHub.
Star Power
Porn300.com allows the user to browse and search by the name of their favorite sexual fantasy. You'll find new actresses and seasoned actresses alike. From a convenient tab at the top of the website, you'll immediately see an alphabetical list of actors and actresses (with accompanying picture, if available), that makes browsing easy.
Once you find the performer in question, you can read a short biography about them, including where they're from, a brief story of their introduction to porn and their relative success in porn, as well as a "where are they now" snippet if the performer is no longer making movies.
Under the biography, all videos tagged with the performer are conveniently compiled for you, so you can immediately indulge in a cornucopia of fantasy. Already know exactly who you're looking for? You can search by name, or click on the first letter of their name and hop to it!
Network
Porn300.com is part of the TechPump network, which owns other porn sites such as CumLouder, ServiPorno, and Porn Droids. The idea of those sites are relatively the same (seemingly high quality, free tube sites), with slightly different focuses (ServiPorno, for example, is a Spanish site.)
Subscription
No subscription options are available at all. The site is completely free. Account creation is purely for the benefit of the user to favorite videos, upload videos, and keep track of their spank.
The Money Shot
Though small, Porn300.com is willing to make up for it by metaphorically eating pussy. What it does it does well. Account creation was no frills hassle and completely free, and the features offered by the free account make the site experience very pleasing.
The content is absolutely solid. Sure, there's a slight focal point on incest, but there's also a variety of content to keep your hands busy if that's not your thing. There are literally dozens of professional porn channels that you can browse and subscribe to, easy tag searching options, and easily searchable categories. Porn stars are organized extremely well, so it's easy to find your favorite or find a new favorite. You may even accidentally learn something about a performer (like Mia Khalifa only made 26 porn movies. Who knew?)
The site itself feels very smooth and well done, there are almost no intrusive ads (save that one brief browser pop-up). Videos load quickly and easily and are well organized. We'd love to see an option to be able to search by video quality, but it's definitely not a deal breaker.
Porn300.com definitely deserves at least a brief look and a quick wank. As the site grows in content, we're sure that you'll do some growing of your own.