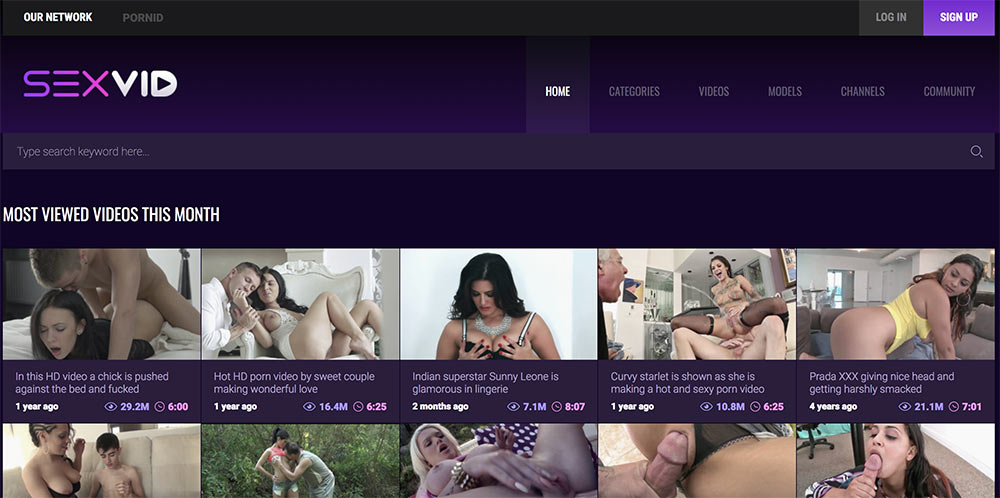 User Rating:
Sexvid.xxx is a free streaming porn site with an offering of popular American-made content we all know and love. They don't offer an enormous library, but they do have just about everything represented to some degree. Sexvid offers the familiar tube site layout with mostly sponsored videos from well-known studios.
By the numbers, Sexvid.xxx is pulling down 13.49 million hits per month since October 2019, but site data also shows it is down by nearly 10 million users since May, which is an enormous drop and completely different from the progressively climbing numbers for most of these sites. Again, your discretion. It is the 4,619th most trafficked site on the internet, 357th in the adult category. Highest usership is, as almost always, in the US at 12.68%, but followed this time very closely by at 12.46% by Germany, and very popular in India with 10.13%
Sexvid Content
Sexvid.xxx has your usual tube site layout of search bar and tab headers for categories, videos, models, channels and community. With video previews you can mouseover for a slideshow. You also get "favorite" and "watch later" buttons (very nice). On mouseover, videos show a preview slideshow you control with your mouse, which I actually kind of find annoying. In total, Sexvid features roughly 35,658 videos, which is not a huge catalog. There is, however, a pretty wide selection. They've got 135 Affiliated Channels with a lot of content from top brand sites like Brazzers, Evil Angel, and Babes.com as well as some bananas stuff like "Watch Me Fuck" to KFNM Teens (figure that one out for yourself). They're affiliated to the point that every video has a link in the top left corner reading "This video sponsored by [link]". Also, sorry Bridget B Brazzers Star, the skip button works on this site, it's not a suspicious link like on half of these sites. That's a fuckin blessing.
Surprisingly, the ads aren't terrible on this site. On the home page there is not a single ad until you scroll to the very bottom of the page, past pretty much all the content on the page. You still get ads before videos that are mostly for that porn game that promises a bunch of sex with Overwatch ladies that I definitely will never touch. You also get the basic sidebar ads on video pages selling the usual pay and hookup sites that I also will never touch.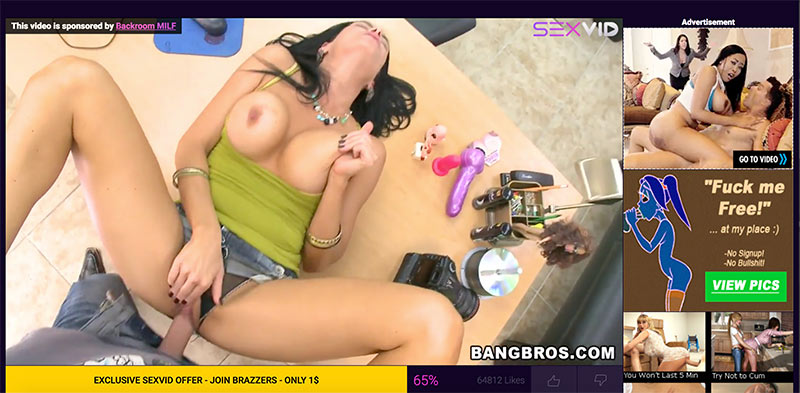 Sexvid Categories
Sexvid.xxx has 105 categories, which is actually pretty large when compared to most other competing sites that usually have between 30 and less than 50, and without a ton of overlap too. They have categories arranged by popularity and I see Redheads at number 2 (nice) along with the usual Big Boobs (1554 videos), Big Ass (5201), Teen (3240) and Lesbian (3162) pantheon of mainstream sites. You also get a lot of niche and oddly specific categories like Boots (What?? It has 2 videos) and tan lines (hot, 23 videos).
Star Power
Sexvid.xxx's models page is definitely a porn star listing, beginning with names like Keiran Lee (most videos with 657), Mercedes Lynn (I have absolutely no idea who this is and I feel this is my fault as a researcher and I'll have to rectify one day), Abella Danger (Oh I know her), Phoenix Marie and Alexis Fawx with a grand total of 7,169. They can be further sorted by rating, popularity and alphabetically. Roster-wise, they also have a pretty up to date selection, with plenty of material from newer and rising starlets like Alex Harper.
Network
Sexvid.xxx lists itself as being in a network, but it's only with one sister site, PornID.xxx, which looks exactly like Sexvid.xxx only red. That's it. Let's move on.
Subscription
There are 31,344 registered user profiles on Sexvid.xxx and I know this because there is a complete searchable database of them and I don't think that's common. Subscribers get a whole Facebook-style profile page with all the friends and wall posts and favorites, but it's on the 357th most visited adult site on the web, so whatever. Also, there's a profile section called EVENTS and I legit thought it was, like, swinger hookup stuff, but it's actually just your user activity. The community page is not without its perks, because it also gives a running log of the latest comments. One is "My beck pain syetica my leg" and that is an A-fuckin-plus. I can't re-read it without laughing. I hope other sites catch on and start broadcasting a ticker-tape of comments because it was a joy to find that.
The Money Shot
To finish things off, Sexvid.xxx is on the small side, but it's got all the basic mainstream content you could want along with a pretty wide and strangely specific selection of niches and fetishes, and I think that's pretty cool. Content-wise, there's nothing particularly weird or silly, it's almost exclusively studio-sponsored content and that tends to favor the mainstream. It comes with a familiar layout and all the usual membership perks and has a tiny community that did not immediately strike me as bots. It's a decent enough site, but the implied shadiness of its background is enough to put me off on it. I really like some of their ideas and their interface is smooth, but I doubt that's going to keep me coming here.