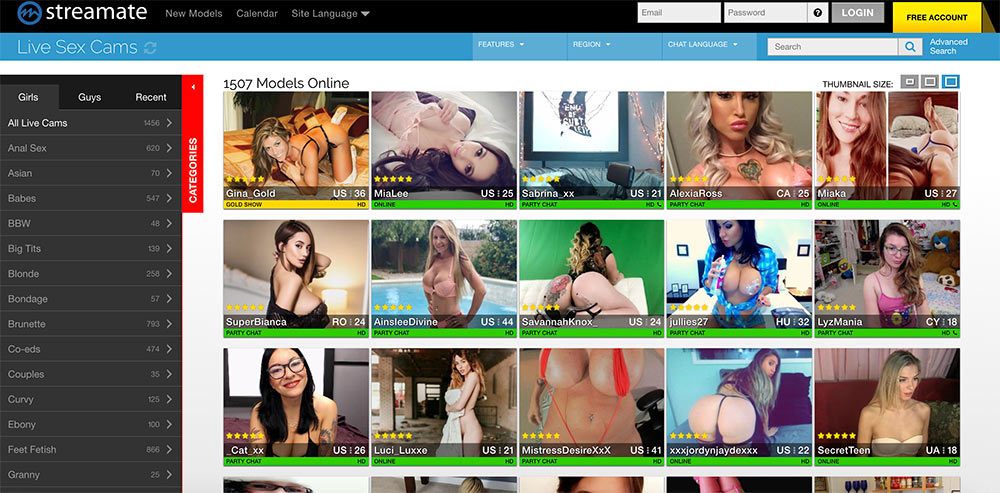 User Rating:
Streamate is a live adult webcam site that was registered in 2006. They're hosted by Flying Croc Web Services, which operates dozens of cam sites, including Cams.com and Cam4Ultimate.net.
As of February, 2019, Streamate.com is the 4,925th most-visited website in the world, the 413th most-visited adult site, and the 1,478th most-visited website in the US. Its Alexa ranking is 10,476th worldwide, and 3,710th in the US.
Streamate Content
Streamate provides live, streaming video of thousands of steaming hot models. This is a mixture of free and paid content. While some models will masturbate for tips or use an interactive toy, others will only get naked in group or private chats.
The main page takes you straight to the action; it displays a grid of thumbnail pictures of all models, with the most popular active models on top. Clicking on a thumbnail will take you to the model's chatroom. For models who are performing a paid show, there will be a prominent banner across their thumbnail image. Even if you somehow miss this, you won't miss the giant popup that shows up when you click on a paid show. This will warn you that you're about to be charged, and you'll have to click OK to proceed.
The video quality on this site is generally excellent, although it does vary by model. Most of the streams are in HD, and the sound is usually pretty good, although there's a smattering of models who have their mics turned up way too high.
Inside models' profiles, you'll find their kinks, schedule, rates, and any premium videos or image galleries. Users can purchase these videos at rates set by the individual models. These videos range from short clips that cost $1 or $2, all the way up to full-length videos for $20 or $30 apiece. Make sure to check the resolution before you buy; a lot of these videos are old and low resolution.
This is a cam site, so you won't find any VR porn, games or erotic stories. There is no advertising, except for some unobtrusive ads on the free site encouraging you to sign up.
The mobile site is clean and well designed, with tiles instead of thumbnails. This makes it easy to navigate, and hard to fat finger.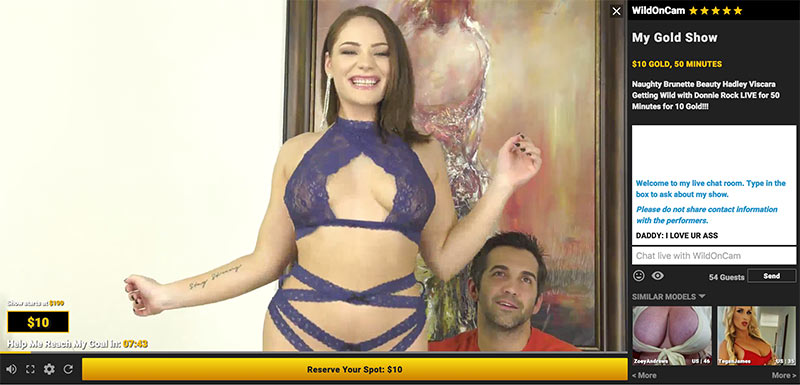 Streamate Categories
At this time, there are over 300,000 registered models on Streamate. By default, you'll see all of them, ranked by popularity. If you'd rather see only girls — or only guys — there's an easy to use filter on the left side of the page.
On the same left menu, you can also fine-tune your results by filtering models by body type, age, ethnicity, hair color, and fetishes. For even more options, you can do an advanced search and combine multiple categories to find that perfect model. For example, you could search for a petite redhead with small boobs who speaks French and likes to roleplay. There are apparently seven of them.
At the time of this writing, there were 1,520 cams streaming. Of these, 1,261 were solo females, 113 were solo males, 73 were trans models, 43 were straight couples, and 30 were lesbian couples. Straight people, gay people and everyone in between will find a show that gets them off.
Star Power
Streamate doesn't quite have the star power of newer, top-tier cam sites. That said, they still have a number of models who will be familiar to people who watch a lot of cams. Their most popular performers include ShayFox, RachelStarr, AVN Award-winner Devon, and famous BBW dominatrix Marilyn_Manson.
Network
Streamate.com is owned by Flying Croc Web Services. While it's technically an independent site, all of Flying Croc's sites are basically mirrors of each other. Cams.com and Cam4ultimate.net have the exact same models, with only a few minor tweaks to the user interface.
Subscription
There's no subscription required to watch free shows on Streamate. Just find a model you like and start stroking. There are plenty of free shows available if you're into interactive toys. That said, these are about the only free shows you'll find. Streamate models only get paid when users pay, so it's understandable that a lot of them aren't going to show off all their goods in public.

Rates for paid shows will depend on whether it's a private show or a group show. Private rates range from $1 a minute up to $10 a minute for top stars, although most of them are in the $2-$4 range.
Group shows work on a pledge system. The model sets a goal and a minimum tip. Let's say the goal is $50 and the minimum tip is $2. What this means is that anyone who tips $2 gets access to the show, as long as there are at least $50 in total tips. If the model meets their goal, the show begins, and anyone who didn't tip gets kicked out of the room. If the model doesn't meet the goal, all tips are refunded. Like private shows, group show rates are set by individual models.
Autobill warning: If you're in a paid show and you run out of money in your account, your card will automatically be billed $20 to refill your site balance. There will be no notification that you're being billed. Keep an eye on how much you spend here.
The Money Shot
Streamate is an easy to use cam site with thousands of hot models. They cost less than most competitors, and most of their streams are in HD. You'll find bigger stars and more models on top-tier sites, but there's more than enough variety here to go through several boxes of tissues. How much you spend is up to you; while the automatic billing can get expensive, there's plenty of free content.