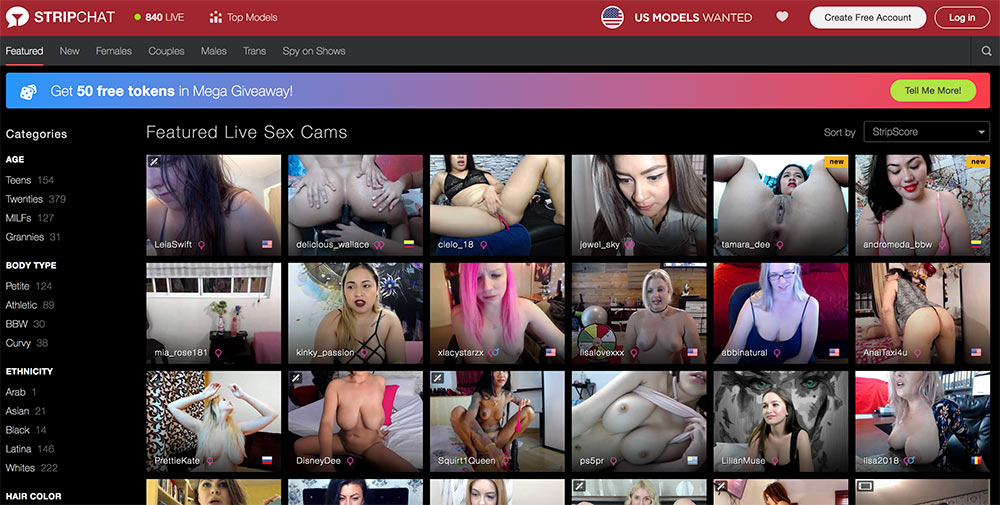 User Rating:
Stripchat is a webcam site, featuring a full range of models representing all genders, orientations, and pairings, as well as a good variety of fetishes as well. Like most cam sites, there are various levels of paid, private shows that are available. In addition, there are a lot of free, fully nude and explicit tip-based shows available, that don't cost a thing (though tipping the models is expected and appreciated). Other mainstays of cam sites such as interactive toys, private messaging, and so on are all present in varying degrees, depending on your membership tier.
The site is run by Technius Ltd., which also runs several other cam sites based on the same platform (white labels). These other sites have the same style of interface and model catalog, but usernames, passwords, and token balances are not interchangeable. The most popular of these "sister sites" of Stripchat is XhamsterLive, affiliated with the well-known porn tube-style site Xhamster. Stripchat is currently ranked just around 1,000 in the Alexa list of top websites globally across all categories based on traffic, which is quite impressive.
Stripchat Content
Like most cam sites, Stripchat's main appeal is the ability to view and engage in video chats, either public or private, with a wide range of cam models. With a robust interface to allow for browsing, filtering, and searching, and a large model catalog, users can access public chats, as well as start private chats of various types, that are as explicit and erotic as the model and the customer want them to be. While most of the main cam site features are present, Stripchat foregoes the "pre-recorded videos available for purchase" option that some sites push, in favor of focusing entirely on live sex chats. The full list of features includes:
Fully nude and explicit free chats that models perform for tips
Tipping models in any chat mode with tokens
Private chats, which can be "spied" on by users in spy/voyeur mode
Full private chats (where no one can spy on your chat), in the form of Cam2Cam chats
Spy/voyeur mode, where you can head the model and see the chat, but not interact
Fully-functional mobile version of the site
Interactive toys are fully supported and used by around 60% of the model base, which is a fairly high rate compared to many competitor sites
Private messaging to any model is available for gold members (and lesser members can respond, just not initiate, private messages)
All registered users can use full-screen video in chats
Multi-tiered membership option, with more features reserved for gold members who pay a monthly subscription fee
Model profiles that often feature working schedules and other information about the models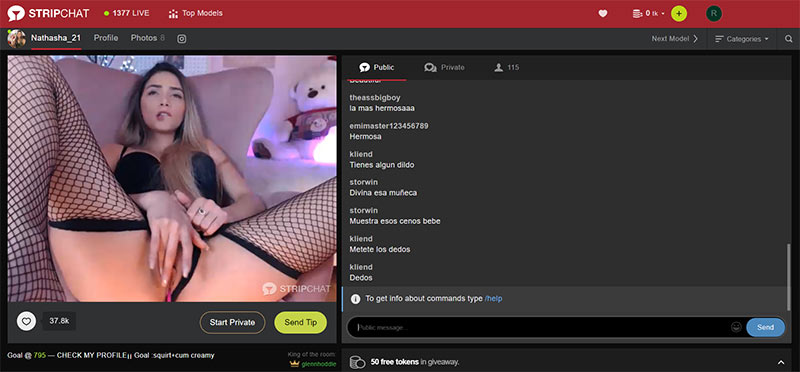 Stripchat Categories
There are many descriptive tags and category options to filter, sort, and find models and shows that suit your tastes on Stripchat. Of course, like most sites, the main divisions are based on gender – female, male, couples, and transsexuals. But within those main divisions there are a variety of options available, including age, ethnicity, hair color, body type, and so on. Likewise, with over 100 different pre-defined descriptive tags that models can use to tag their shows, there's quite a good deal of diversity. Tags range from the rather tame, like Asian, Fingering, and Sex Toys, to more fetish and extreme options like Pregnant, Squirting, Cosplay, and Fucking Machines, to name just a few. You're almost always guaranteed to be able to find guys, girls, and transsexuals solo or together getting off, as well as various couples, threesomes, and groups engaged in full-on hardcore fucking – often for free in tip-based shows. And then really, the sky's the limit in terms of what models will do in private chats – you can even engage in intimate Cam2Cam, fully private chats and get off together.
Star Power
Stripchat doesn't really feature any well-known pornstars in their lineup – it's mostly a mix of amateur or independent performers, and some studios focused on camming, primarily based in South America and Eastern Europe. The population of cam models on the site are around 80% female, with the rest about evenly split between males, couples, and transsexual performers. While the company doesn't publicly release their catalog data, it's estimated at that least 50,000 models are registered on the site. Notable is the high number of couples, especially lesbian couples, and groups/threesomes, which are much more numerous than you'll find on the vast majority of other cam sites. At any given time, there are about 1300 models online, so you're sure to be able to find someone who turns you on.
Network
Stripchat isn't part of any traditional porn or studio network, but is a standalone site. As mentioned above, however, there are sister sites, including XhamsterLive, that are also run by Technius.
Subscription
Stripchat is entirely free to use, though you can't initiate or access private shows of any kind without buying some tokens. Like most cam sites, private shows require a pay-per-minute rate (in this case, there are defaults for each kind of show, but they can be adjusted upward by the models as they see fit). Having a token balance upgrades your account to "Green", enabling most features, with the highest tier being "Gold", based on a paid subscription of $20/month (slightly more if you choose to pay with Paypal instead of a credit card).
Tokens can be purchased with a number of different payment options – credit/debit card, Paypal, over 100 different retailer gift cards, or numerous cryptocurrencies. The prices and number of tokens per package that you get with each of these different payment methods varies slightly, as outlined in our table below. Keep in mind, if you want to tip or engage in private chats, you'll need tokens. The subscription is entirely optional, though does provides added perks – access to private messaging with models, special emoticons in chat, the ability to join chats invisibly and remain invisible, and the ability to be promoted to Knight by a model (like a favorite customer who can serve as a moderator in the chats).
We do the math so you don't have to! Below, find a comparison of current token package prices.
Porn Explosion Advice: For our money, unless you intend or enjoy private messaging with the models, we say forego the subscription for a Gold membership. Instead, use the $20 you save each month to purchase more tokens, allowing you to engage in one of the private chat options, or tip models in the numerous and varied, fully nude and explicit free, tip-based chats that are available.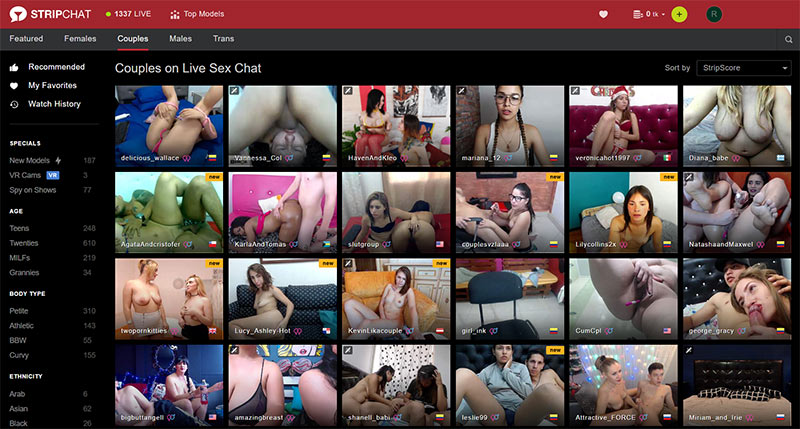 The Money Shot
Stripchat is a good-quality cam site, offering a good-sized catalog of models of all sizes, shapes, colors, and types. There are lots of search and filter options to find your ideal cam hosts, and a full range of typical cam site features to enhance your video chat experience. Stripchat earns bonus points for offering fully nude and explicit free shows for tips (many sites prohibit full nudity or sex acts in free chats), as well as the large number of couples, groups, and lesbian couples in particular that are on the site compared to many other cam sites. Like all cam sites, though, the token costs for shows can add up very fast, meaning using the site regularly can be quite expensive. Token prices are fair, though, and variable-priced shows, at several price points, meaning you can get some good value here compared to many other major cam sites. Stripchat is definitely worth spending some time exploring – at the very least, the explicit nude shows, which are free, will give you a little taste of what's available, and may entice you to spend some money on tokens.