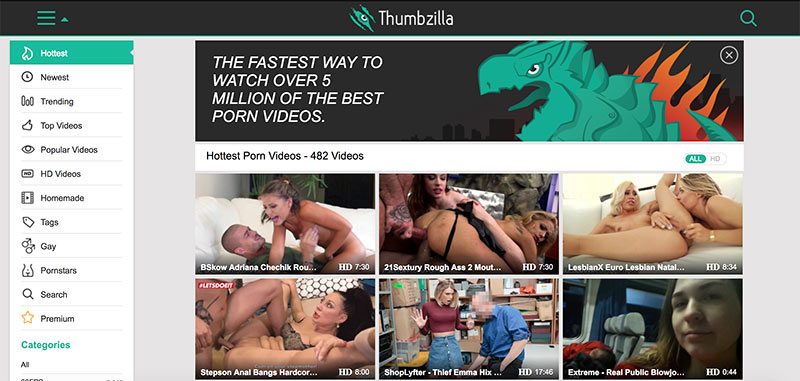 User Rating:
Thumbzilla is a free streaming tube site that offers pretty much exactly what Pornhub has to offer, including the Pornhub media player and Pornhub Premium connection. That means it has access to millions of videos from affiliated studio sites, Pornhub member content, and other media submitted by users.
By the numbers, Thumbzilla pulled 71.81 million views in 11/2019, which is enormous. They are ranked 406 in overall global web traffic, 388 in the US and 33 in the Adult Category. The majority of the traffic comes from the US, followed distantly by India and the UK. For essentially being a Pornhub mirror site, it's pulling a substantial amount of US viewership. It is owned by media giant MindGeek, which owns the top 20+ porn sites on the web, and shares links with all of them, likely accounting for the high viewership.
Thumbzilla Content
The color scheme is an ocean green that I find almost relaxing, but it also throws a ton of information at you at once – you get the network bar, you get a minimalist banner with search bar on the right and nondescript icon drop down button (which throws up a sidebar full of even more information!) and a quarter-page sized box of the Top Tags before you even get a glimpse of the good stuff. There's no ads at all on the homepage of Thumbzilla.com! I repeat, there are NO ADS at all on this website, not even the animated Brazzers banner ads that add just the right amount of sleazy to the porn site viewing experience.
The Top Tags banner is a nice touch, and offers a plethora of the most searched terms of the day, thought they mostly seem to be the most popular categories currently, with rather generic labels like Kink, Young, Big Boobs, etc, rather than anything silly like a ticker tape of search tags. Videos on the main page can be sorted by Hottest, Newest, Trending, Top Videos, Popular Videos, HD Videos and Homemade, each page has a slider which you can click to show only HD videos. The Top and Popular videos can be further organized by daily, weekly, monthly and all time scores.
Mouseover gives a slideshow preview along with stats on views, like percentage and video duration, which is basically the tube site industry standard with the added perks of more stats. There's not even an ad before videos, which is frankly shocking in this day and age. The only ad I saw the entire time was a text-only line that offers $1 membership to sponsoring site. I shit you not, there are no other ads at all on this website and that blows my mind. Video pages include all of the major details on a clip, including the performers, categories, tags, views and user likes. Below each clip are 9 more similar clips with the option to load more.
That being said, the variety of content is basically the same as Pornhub, featuring preview and sample videos from mainstream studio sites like FakeTaxi, Tushy and Vixen. Some videos start with a "To See The Full Scene..." title card, which can be annoying, but this is a free streaming tube site we're talking about. Thumbzilla offers such a dearth of content that you can't hold much against them.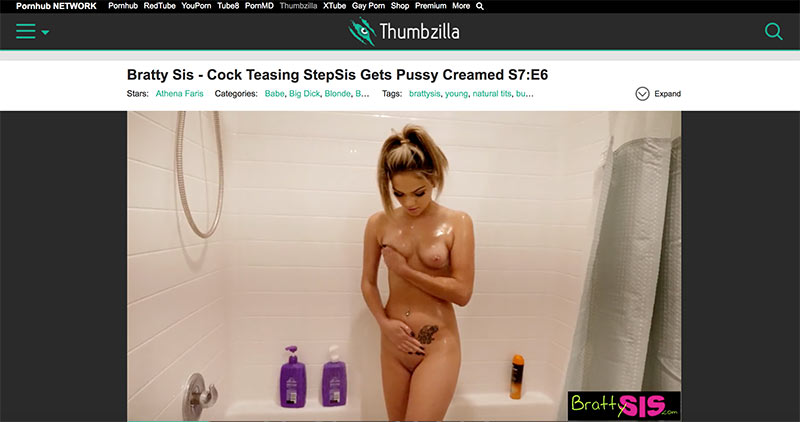 Thumbzilla Categories
Thumbzilla currently hosts 103 categories, including the standard selection of Amateur, Big Ass, Big Tits, Blowjob, Fetish, Lesbian, Porn star, Popular With Women and Transgender Content. There's a lot of categories for European, South American and Asian nationalities, along with some very specific ones like Muscular Men, Closed Captions and SFW. I find it interesting that there are separate categories for transgender with cis male partner and transgender with cis female partner. All in all? The usual stuff.
Star Power
Thumbzilla has exactly the same pornstar selection and ranking system as Pornhub does since this is basically a Pornhub clone site. Top Five are Riley Reid, Mia Khalifa, Lana Rhoades, Mia Malkova and Brandi Love, followed immediately by Jordi El Nino Polla at number 6. All the big name stars, like Lisa Ann, Adriana Chechik, and Angela White are here, with hundreds, to sometimes thousands of tagged videos. All the major models and performers of yesteryear like Asia Carrera, Letha Weapons and Hyapatia Lee are represented, along with plenty of new and rising stars in the industry. There's 18,078 pornstars on Pornhub, so that's probably how many are on here.
Network
Thumbzilla is part of the Pornhub network, owned by the MindGeek conglomerate. It's probably the largest streaming tube site network on the internet, and links to similar giant affiliates RedTube, YouPorn, Tube8, PornMD, XTube, GayTube, and a More drop down that only has one item and it is Peeperz and I laughed when I saw this.
Subscription
There's no subscription system at all. Clicking the Premium button just takes you to the registration page for Pornhub Premium. That means there's no way for users to save videos to favorites (boo) and no way to leave comments (probably a good thing), along with no way to subscribe or have a customized feed.
The Money Shot
Overall, Thumbzilla is one of the better free tube sites I've ever been to. It gives you a lot of options and selections right off the bat and sends you to pretty much every video in the Pornhub library. There's all the content you could ever ask for and not a single ad in sight, which still blows my mind. The only drawback is the lack of a subscription, which locks off the finer customization options like favorites and feeds. So it's one of the better sites, but that one handicap can hold it back a bit.