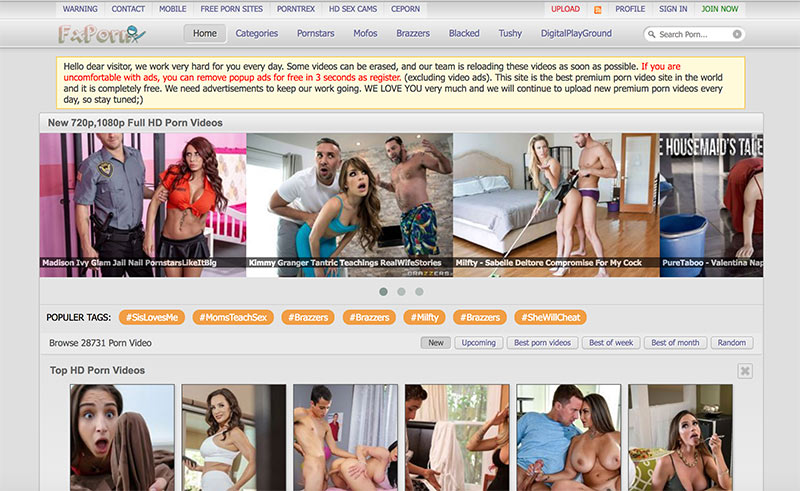 User Rating:
Veporns.com, which also goes by the name FxPorn, is a free porn video website. Veporn, like many other free porn websites, offers a wide variety of videos available to stream, including high-definition videos offered in both 720 and 1080p. Additionally, many of the videos appear to be longer than the typical 5-10 minute clips offered on most porn websites, ranging in length from 30 minutes to a full hour and more for certain videos. However, with a listed collection of just under 30,000 videos, Veporn offers a much smaller library to choose from than most other free porn websites.
Veporn appears to be associated with the Brazzers Network, one of the largest porn distributors and producers in the world, and is likewise connected with other Brazzers-associated websites, such as Porntrex. With a global Alexa ranking of 4,520 and a United States ranking of 3,298 as of November 2019, Veporn is a very popular website.
VEporns Content
Veporn, like your typical free porn website, offers a wide range of video clips available to stream. However, unlike many typical websites which advertise a collection of videos numbering in the hundreds of thousands, Veporn offers a considerably smaller collection of content, offering just under 30,000 videos available to stream. This smaller selection doesn't appear to be particularly niche, and neither do they produce their own content, making Veporn's small library a bit of a curiosity among free porn websites that offer considerably larger selections of content.
Still, Veporn's library appears to be relatively well balanced, offering popular favorites across genres such as MILF, Teen and Anal, with a similarly impressive collection of videos featuring famous and notable pornstars. Users will not be too disappointed by the content available, even if the total collection available is much smaller than typical porn websites.
A notable downside of Veporn, however, is its primitive and unappealing user interface. The website appears poorly designed, with a shoddy layout marring its visual design and making the navigation of the website a cumbersome task. Users are likewise inundated with irritating pop-up ads, which the site claims you can get rid of by signing up for a free account. Doing so only takes a few minutes, but considering that many other competitors don't include such annoying features in their user experience in the first place, this only adds to the already frustrating experience of navigating Veporn's clunky and unprofessional website.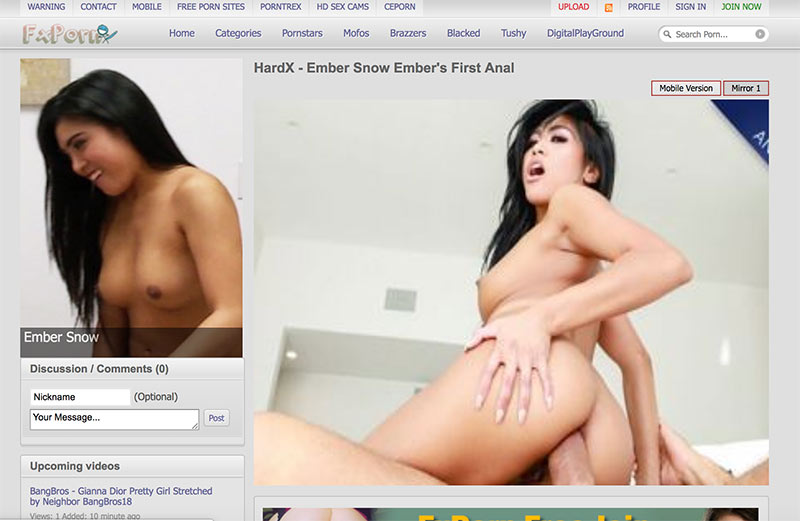 VEporns Categories
Veporn offers your typical selection of categories, with a number of niche interests included for good measure. A strange addition to this, however, is the categorization of many videos by studio, rather than genre, which makes discovery of new videos a bit of a challenge. Likewise, there are over two dozen categories specifically dedicated to different Czech videos, a feature which crowds the already poorly designed category search feature. A redo of this section would greatly improve usability, but as for now, the category page design is only barely passable.
Star Power
All of the content on Veporn, as with most other free porn sites, is sourced from other websites, meaning there is a typically large presence of many popular and well-established pornstars, such as Dolly Leigh and Alina West. Like most other porn websites, too, there is an option for users to submit their own amateur videos. However, given the small size of Veporn's library, an overwhelming majority of the content features big name and other relatively well-known performers in professionally-produced videos. If it's amateur content you're looking for, there are definitely better options out there than Veporn.
Network
Although it is difficult to determine who exactly owns Veporn, it is apparent that they are associated with many other better-known websites with larger collections and superior functionality, such as Brazzers and Porntrex. It is unknown whether Veporn is part of the same network as these websites, or simply associated with them.
Subscription
Veporn is completely free to use, although users are able to sign up for free accounts, which is necessary to leave comments on videos and save favorites. Additionally, signing up for a free account is necessary to get rid of the irritating pop-up ads which appear on the website. Doing so, however, will not remove the banner ads which appear on the website. This "benefit" seems a bit redundant, and is more of a drag on the user experience than anything else, as there are many users who have no interest in signing up for accounts, free or not. There doesn't appear to be much other benefit for signing up for an account.
The Money Shot
Veporn is a passable but mostly unimpressive porn website that has a number of considerable downsides, which is surprising, given its popularity. Notably, the poorly designed user interface and the relatively small collection of videos (less than 30,000) make Veporn a poor option for users with so many other better sites readily available. In addition to this, users are inundated with intrusive pop-up ads which can only be disabled by signing up for a free account, an annoying feature which Veporn attempts to pass off as a "benefit". While Veporn is certainly not the worst free porn site on the market, there are far better options available that offer users a superior experience.