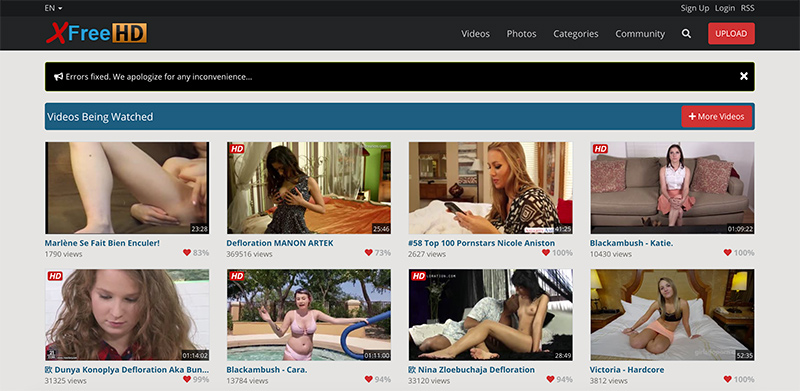 User Rating:
XFreeHD is a free porn video website specializing in high definition video clips. Unlike most free porn streaming websites, XFreeHD offers high-definition video, much of which is in its full-length, unedited form. XFreeHD offers a modest library of content for users to browse, with about 38,000 total videos available for users to stream. While this number is much lower than most other competing websites, the quality of the video is typically much higher.
XFreeHD is independently owned and is not associated with any other studio or adult entertainment network. While XFreeHD hosts all of its available video content on its website, none of the content available is produced by XFreeHD itself, with all available videos being produced by third party studios. With a global Alexa ranking of 20,400 and a United States ranking of 17,384 as of December 2019, XFreeHD is a fairly popular porn website.
XFreeHD Content
In contrast with most competing free porn websites, which typically offer low and standard quality clips ranging from 5-10 minutes in length, the videos offered on XFreeHD are almost entirely high-definition, and many are full-length. While this unique offering is a plus in terms of video quality, it also limits the amount of content available to stream. XFreeHD only offers about 40,000 videos, a much lower number than typical competing porn websites. However, given that the quality of the video is much higher, this shouldn't be too much of a problem for most users.
In addition to its library of free high-definition video, XFreeHD also offers a fairly large library of user-uploaded still photos. This helps give XFreeHD a more varied amount of content for users to enjoy.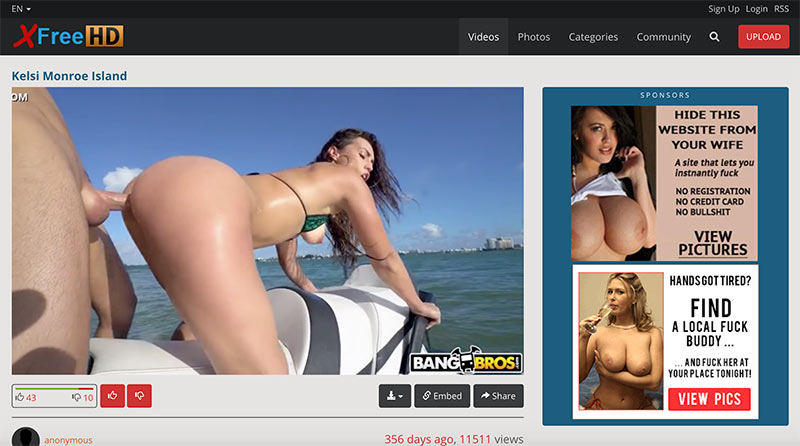 XFreeHD Categories
XFreeHD offers a limited yet fairly varied number of categories for users to browse by. Popular mainstays, such as Teen, MILF, Blonde, and Threesome all well-represented. In addition to this, XFreeHD offers a couple surprisingly niche categories, such as Turkish, Vintage, and Toys. However, due to the relative lack of total videos offered on XFreeHD, many of the video categories available offer very limited numbers of videos available to stream. Russian, for example, only has 342 videos available, and Striptease only has 85. For users who are accustomed to massive video libraries with tens of thousands of videos available, these smaller numbers may be disappointing.
Star Power
As with most free porn websites that source all of their content from third party, professional studios, XFreeHD features a large number of videos with well-known porn performers. Fan favorites such as Lisa Ann, Asa Akira and Mia Khalifa are all well-represented on the site, and many more are available as well. However, specific porn performers are not the focus of the website, and unlike most free porn websites which offer a "Star of the Week" feature, XFreeHD doesn't give preference to any particular stars. In addition to this, many of the featured performers are either unknown or amateur, meaning that those looking for a more performer-centered experience would likely be better off looking somewhere else.
Network
XFreeHD is a completely independent website that is not affiliated with any other studio or adult entertainment network.
Subscription
While XFreeHD is completely free to use, users may sign up for a free account, which enables them to access a number of features. These include uploading videos and pictures, creating playlists of videos, bookmarking favorite videos, and making "friends" in a manner similar to social networking websites. XFreeHD encourages its users to be an active part of the community, and adding friends on XFreeHD may enable users to access certain privileges, such as private photo albums.
The Money Shot
XFreeHD is a well-made website that, despite not having the greatest amount of content available, offers a decently curated selection of high quality video for users to enjoy. The videos available are typically high-definition, and often full-length, putting them a step above most other free porn videos, and the functionality of the website is greater than that of many competitors. However, the relative lack of content takes away from the experience, and may prove frustrating for users looking for a wider variety, especially considering the availability of so many other kinds of video on competing websites. Additionally, the emphasis placed on community interaction is a nice touch that most other websites don't have. XFreeHD may not be the perfect choice, but you could certainly do worse.