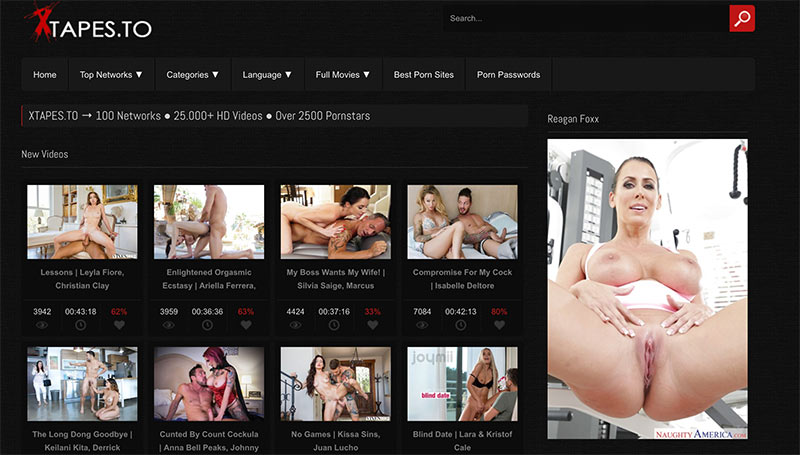 User Rating:
Xtapes.to is a free porn video website. Like many free porn websites, Xtapes offers a wide range of free video content for users to stream. This includes a wide variety of HD porn videos and full-length movies. Advertising a library of approximately 25,000 videos, the Xtapes library may seem smaller than many typical competing porn websites, but the silver lining that comes from the smaller number of videos available on Xtapes is the fact that most of them are, unlike many other porn sites, high-definition and full-length.
Xtapes appears to be independently owned, although it markets itself as being part of "over 100 networks", including well-known names such as BangBros, NaughtyAmerica, and DigitalPlayGround. With a global Alexa ranking of 8,843 and a United States ranking of 11,402 as of November 2019, Xtapes is a fairly popular website.
Xtapes Content
Xtapes offers your typical type of content for a free porn website, although unlike most other competitors, Xtapes specializes in high-definition and full-length videos, offering a smaller number of total offerings but of a higher quality on average. Indeed, no video featured on the front page of Xtapes falls under 30 minutes in length. Most are considerably longer, at an hour and a half or even more, which is unusual for a free porn website, considering most others offer edited clips of anywhere from three to ten minutes in length. Xtapes is ideal for someone looking to appreciate longer videos, rather than just highlights in a short clip.
The content featured ranges in genre, from popular standbys such as MILF, Teen, and Interracial, as well as a significant selection of gay porn placed in a separate category. As Xtapes is independently owned, they produce none of their own content, meaning that all the hosted video is sourced from third party studios which may or may not have given their permission to Xtapes to host such video. While this may raise the risk of removals due to copyright claims, it means that the vast majority of content featured on Xtapes is of very high quality.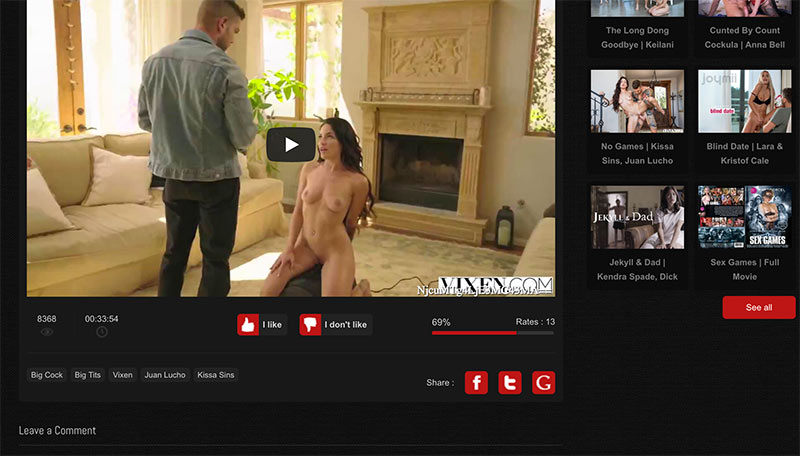 Xtapes Categories
The content featured on Xtapes is organized similarly to most other free porn sites, with popular genres such as Teen, MILF, Orgy and others featured prominently in a drop down menu at the top of each page. An interesting addition to this, however, is the ability to search for full-length movies by the studio that produced them. This is a unique feature that Xtapes offers, one that most other porn sites of a similar nature don't typically offer.
In addition to these useful features, Xtapes enables its users to search for videos by language as well, featuring categories in English, German, and Russian, among others. Despite this unique features, Xtapes lacks a number of niche categories, given their small library size and dedication to longer videos and full-length movies. Users looking for very niche interests might want to make use of another website. However, if it's full-length movies you're looking for, Xtapes is an excellent option.
Star Power
As most of its content comes from notable third party studios, the videos and movies offered on Xtapes frequently feature well-known stars. In fact, Xtapes features one well-known star on its front page, exposing users to performers they may not otherwise be familiar with. Despite this, there is a lack of more niche performers on Xtapes, given their narrower selection of content, and amateur content seems to be absent, given the fact that they focus on full-length, professionally produced videos. There is no option for users to submit their own content, keeping with Xtapes specialization in full-length and high-definition video.
Network
The front page of Xtapes boasts that it is part of over "100 networks", many of which are very well known. These include BangBros, NaughtyAmerica, PornFidelity, DigitalPlayGround, and Mofos. This would explain Xtapes' access to so many full-length movies. This access is a convenient feature of Xtapes that is not often found in other websites of a similar nature.
Subscription
Xtapes is completely free to use and there are no registration fees required to view the videos offered. There are neither any accounts that users can sign up for.
The Money Shot
Xtapes is a unique website in that it offers a fairly small selection of high-definition and full-length porn movies, completely for free. This is very unusual for most porn sites, which typically offer poor quality clips ranging from 5-10 minutes in length. Xtapes is excellent for anyone who cares about the quality of their content, or who may be looking for longer, full-length movies for free. However, this specialization means that there is a lack of niche content, and a complete absence of any true amateur content. Users looking for video in those genres would be better suited with another website. Despite this, Xtapes remains a unique gem in a market that often focuses on quantity over quality.