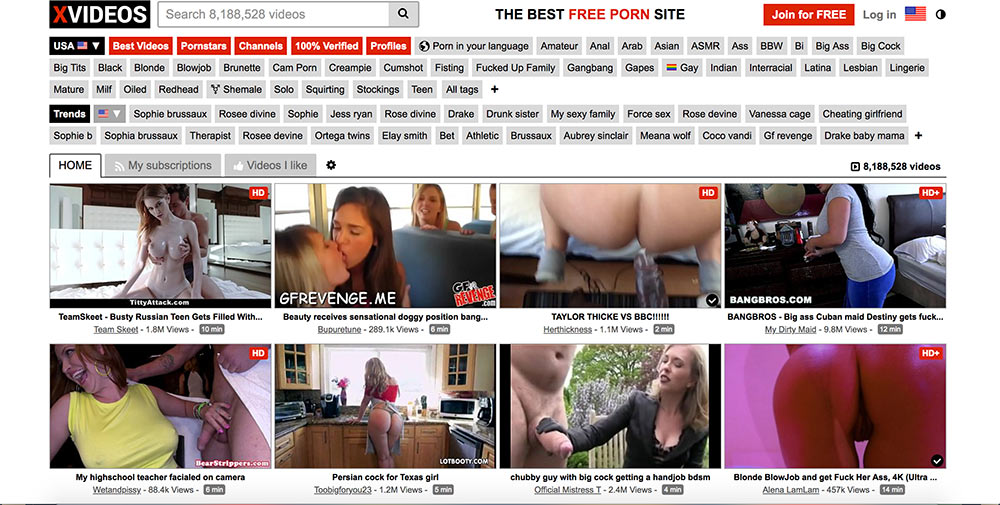 User Rating:
XVideos is a popular tube site with both free and paid options. The free version of the site features over 8 million videos, which can be searched via a search bar or sorted by category. Users with an optional free account can save favorite videos and get better personalized recommendations than someone who isn't logged in. There's also a premium account option, which unlocks an additional 20 million videos. But why would you even bother? There is no sock big enough to contain all the loads you'll blow just watching their free content.
XVideos is owned and operated by WGCZ Holding, a Czech Republic-based company which owns the BangBros network and Penthouse magazine. As of December, 2019, XVideos is the 9th most-visited website in the world, the 2nd most-visited adult site, and the 7th most-visited website in the US. Its Alexa ranking is 48th worldwide, and 46th in the US.
XVideos Content
Like other tube sites, XVideos features a mix of amateur videos, videos from individual porn stars, and both full and "freemium" videos from pay sites. Some of the freemium content is not clearly marked, but these videos tend to be three minutes in length or less, which gives you a pretty good idea of what you're getting into. XVideos requires uploaders to grant the site an exclusive license for any content hosted, so there is less premium content than you'll find on some sites, but XVideos makes up for this with the ridiculous number of videos available. Advertising is minimal, with some banner ads and pre-roll ads on some videos. There are no pop-ups, audio ads, or ads with obnoxious, boner-killing images.


XVideos is tailored to an international audience, and tries to provide results that are relevant to its users' home country. The site defaults to your location and will primarily feature videos from that country. You can easily change your location by clicking a small flag icon on the top left of the page, which allows you to switch countries. Changing your location to France, for example, will cause French-language videos to be featured on the front page and listed higher in search results.
XVideos is strictly a hosting site for adult videos, so there are no image galleries or games, and there is no affiliated cam site.
The user interface is intuitive, with thumbnail previews of each video. When you mouse over a thumbnail, a series of short, one to two second preview clips is displayed. Each video also has a comments section and a user rating, although the user rating is not shown on the thumbnail preview, only on the video page itself. With an optional free membership, users can also save favorites and message other users. XVideos also allows users to embed videos on other sites.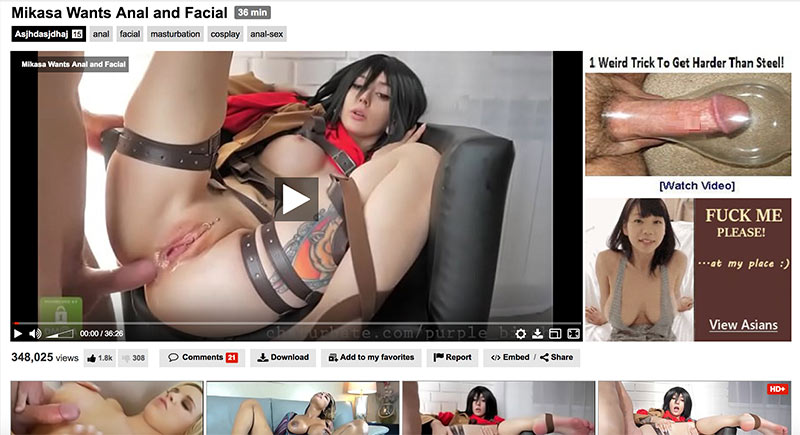 XVideos Categories
XVideos has over two-thousand categories, or "tags" for their videos. Many of these are redundant versions of standard categories, like "sloppy blow-job" and "sloppy blowjob" or "teen", "teenager", "teenage girl", "teen porn", "teenager porn" and "teen fucking". However, there are also some pretty specific tags like "blowjob contest", "stranded", "van" and "ink" in addition to the more common fetishes. There also seems to be a large selection of vintage porn dating back to silent film era.
Running a standard search from the search bar displays a page of thumbnail video previews, as well as a list of related suggestions. For example, if you searched for "blowjob", you'd see the top rated blowjob videos, with links to filter results for "blowjob cumshot", "blowjob threesome", etc.

Gay and transgender videos are filtered out of standard search results, but can be found in their specific categories. There are over a million gay videos available, so there's something for everybody.
Star Power
XVideos has almost eighteen thousand porn stars listed, and features current top names such as Mia Khalifa, Alexis Texas, Riley Reid and Dillion Harper. Sadly, because XVideos requires an exclusive license to any content they host, many porn stars only post freemium preview videos. Still, there are many who post full videos, and their channels are current with new videos being added periodically.
Network
XVideos is owned by WGCZ Holding, the Czech Republic-based company which owns the BangBros network and Penthouse magazine. Despite this, they don't seem to be part of any network, and they don't link directly to any sites in the BangBros network.
Subscription
XVideos has a subscription program called XVideos.red, which unlocks over 20 million new videos, allows you to download videos in 1080p, and provides an ad-free experience. Since there are 8 million free videos available and the ads are unobtrusive, this is a purely optional add-on, and seems a bit excessive.
You also have the option to set up a free account. This does not unlock any additional content, but it does allow you to save your favorite clips, upload videos, comment on videos, and message other users.
The Money Shot
There's a reason XVideos is the second-most-visited adult site in the world. The interface is tried-and-true, similar to other tube sites, and it works. While there's a lot of freemium content to sort through, XVideos compensates with its virtually inexhaustible catalogue of red-hot clips. Thanks to this selection, there's no need to blow your wad on the paid version of the site, but a free account can be useful for saving favorites. On the jizz-o-meter scale, we rate it four and a half tissues.