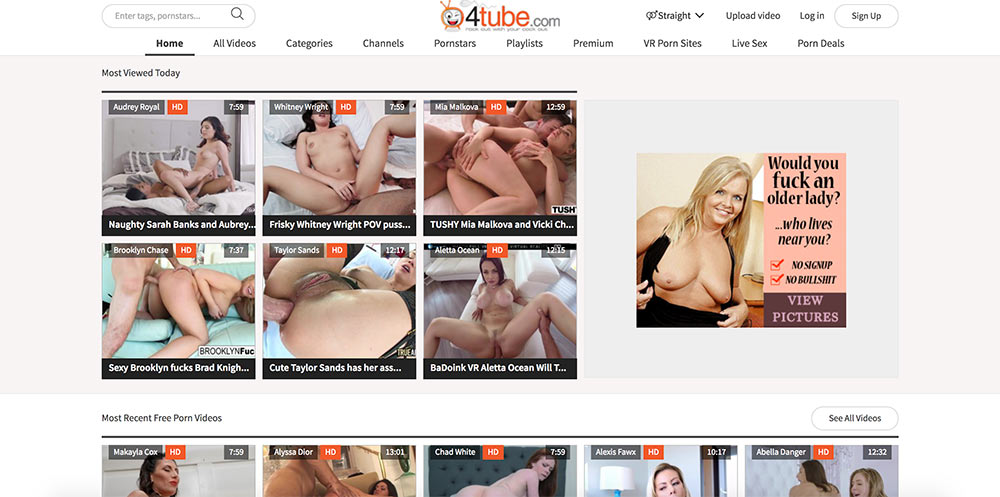 User Rating:
4Tube is a free streaming porn tube site, offering 500,000+ adult videos from all across the spectrum of mainstream studio site content. It's a decently sized site with a healthy library of media and performers that benefits from the usual PornHub-esque business and site model. By the numbers - 4Tube saw 34.63 million hits in December 2019 and is the 1,046th most trafficked website on the internet, ranked 96th in the Adult category.
4Tube Content
The main page is your usual selection of most viewed and recently uploaded videos. The right third of the screen is for ads, and they're the kind you see all the time offering horny local girls and design-a-sex-doll hentai games. A link below the ad promises creating a free 4Tube account will remove all ads. It works. Color me surprised.
Video links give a ton of data right off the bat, including the model (with a clickable link to their profile page), HD, duration and the first 4-5 words of the title, which basically renders them nonsensical phrases. You get controllable slideshow preview on mouseover, which isn't the best preview option, but at least it's a preview option. The media player is pretty decent, with 'theater mode' option that stretches the player across the whole middle third of the screen. Also, video quality toggle, which is cool.
The first video is a sample from Babes.com, and I know this because the rest of the page exists to redirect me to the Babes.com sponsored channel, complete with a full size banner embedded in the media player to subscribe to the site. I counted about 1500 sponsoring channels, they're big name studio and content sites like Brazzers, RealityKings, NaughtyAmerica, and the like. Surprisingly, each channel page gives the opportunity to like and subscribe and lists the top performers and tags. You don't actually get bombarded with offers until you click a video, which is a nice change of pace.
The header starts with the Straight/Gay/Transgender toggle which is nice, but uses the less progressive term 'shemale', which loses a point in my book. Then you've got a crowded PornHub style mouseover/dropdown menu with instant links to your subscriptions, favorites, playlists, uploads, view history, watch later, and your profile page. Having 'subscriptions' above everything else sends a clear message. Also, there's a My Feed link on the header! I'm excited because I have struggled to find that link even on industry giants like PornHub, and it's just the first thing on the bar here. From there, it's the standard header links we see on all these sites, with All Videos, Categories, Channels, Pornstars, Playlists, etc. There's also some Wishful Thinking options, as I like to call them, with links to Premium (steep at $30 a month for the 96th ranked porn site on the internet), VR Porn Sites (which is a link to review site, conveniently titled VR Porn Sites), Live Sex (a re-skin of CamSoda) and a link called Porn Deals, which connects to an idealgasm.com page and offers Groupon style options for big name pay sites like Brazzers, BangBros, and Tushy.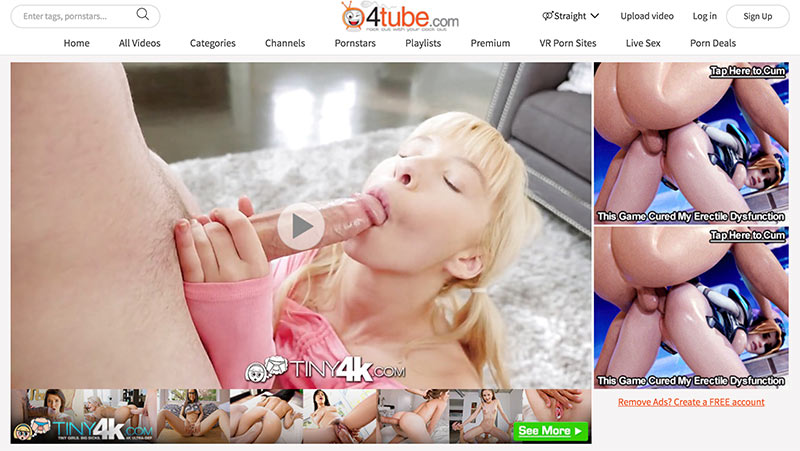 4Tube Categories
4Tube offers the standard selection of 36 categories, featuring the usual options like Amateur, Big Tits, MILF, Lesbian, Teen, Squirting, etc. Each category lists the total number of tagged videos, with the most popular ones being Blowjob (95,524), Hardcore (83,248), Babe (65,335) and Big Tits (59,730). At the other end of that list, we've got Comedy with 35 and Miscellaneous with 175. There's nothing particularly weird or silly here, but I will point out that the Miscellaneous category preview image is a closeup of a woman's vagina and butthole with three zucchinis peeking out. My wife walked in and saw it immediately, her first comment was that she refuses to be turned on unless that video starts with them vigorously cleaning those vegetables. The category itself seems to offer a hodgepodge of fetish and kink videos, including a cam girl with three breasts like that lady in Total Recall and that was pretty fun.
Star Power
4Tube's pornstar listing page includes about 6300 models and performers, which can be sorted alphabetically, breast size, age range, hair color and height, along with additional filters by popularity, including number of Twitter followers, number of videos, number of subscribers, etc. That's a ton of search customization options, but it certainly doesn't help with the whole industry image of treating women like objects. There's plenty of familiar, mainstream faces here, with big name performers like Riley Reid, Madison Ivy, August Ames and Aletta Ocean leading the top of the page. Each pornstar page gives profile and biographical information like measurements, height and date of birth, followed by a paragraph or so length bio, complete with a listing of all of their industry awards and a link to connected twitter profiles.
Network
4Tube is not part of any major network, but they do have 1500+ sponsoring channels from big name pay and studio sites, which seem to be the primary source of their content.
Subscription
4Tube does deliver on its promise that creating a free profile does remove the sidebar and banner spam ads. There's definitely less of a focus on providing a Facebook-style experience here, which is nice, because I feel like it's awfully presumptuous of free porn sites to be thinking I'm there to hang out and make friends, 4Tube has its memberships reduced down to their basic functions, which are to favorite videos and subscribe to channels and performers.
The Money Shot
Overall, 4Tube more or less plays it safe and delivers a definitively average experience. It follows the standard formula and layout of the archetypal freemium tube site with a decently sized media library supported by advertising and sponsorships. Everything works like it's supposed to here, I didn't run into any technical or graphical issues, which you can't always count on with some of these places, so it succeeds in fulfilling baseline standards. 4Tube doesn't do much of anything to set itself apart from its competitors, and that leaves it feeling a little bland in the grand scheme of things. B-