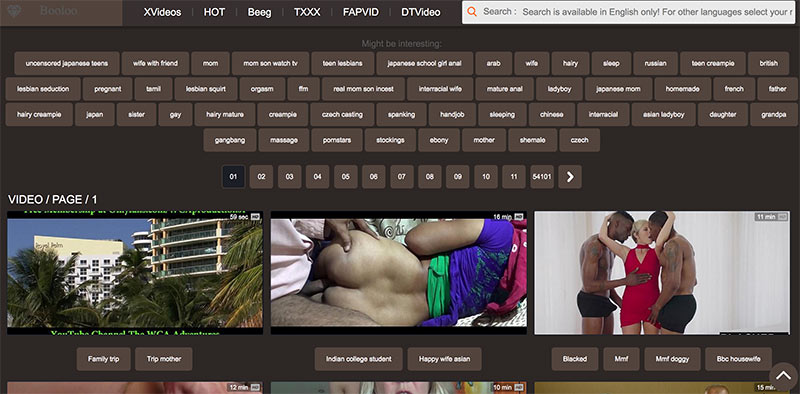 User Rating:
Booloo.com is a giant search engine that dedicates its heart and soul to seeking out and finding you the best with the most accurate search results. It's a clean, simple site that aggressively attempts to overwhelm you with choice and option, which is never a bad thing.
Booloo Content
Booloo.com's content attempts a "please all" approach. It caters to no specific niche and instead attempts to impress with a huge option of hashtags and a plethora of other specific porn sites to choose from.
Beyond what you immediately see on the homepage, you also have the option to specifically search for your particular genre of porn. Both the search and hashtag searches work well, and will quickly bring up thousands of related options to your particular search. The thumbnails of the videos give you a nice preview of what you're about to click, though it takes time for the thumbnails to load.
However, once you attempt to watch a video, you're going to notice some problems. The videos load extremely slowly if they end uploading at all. The view that we did get to load ended up being cam advertisements and a video with low picture quality. Most videos appear to be hosted on booloo.com (as opposed to being a search engine and simply providing links), or they are poorly hosted, which may explain why load time is so slow.
Aside from the specific search, there are literally dozens of other websites listed. There is a handful at the top of the home screen (however, the XXX link is dead), and then the vast majority are below the huge listing of hashtags below the search bar.
The site claims that all content is provided by third parties, so though videos are tagged with specific hashtags, there isn't any other architecture to explore content, including most popular, most viewed, or by length of video.
The site has the disclaimer that you agree to be tracked by their cookies when on the site, so if privacy is a concern, you may want to veer away. There aren't any paywalls or invasive ads on the actual site, but when clicking affiliated sites, you will be buffeted with pop-up ads. Have your ad blocker on and prepared.
Besides that, the site offers a promise of wide and varied content, but again, most videos aren't going to load. Don't get your hopes up.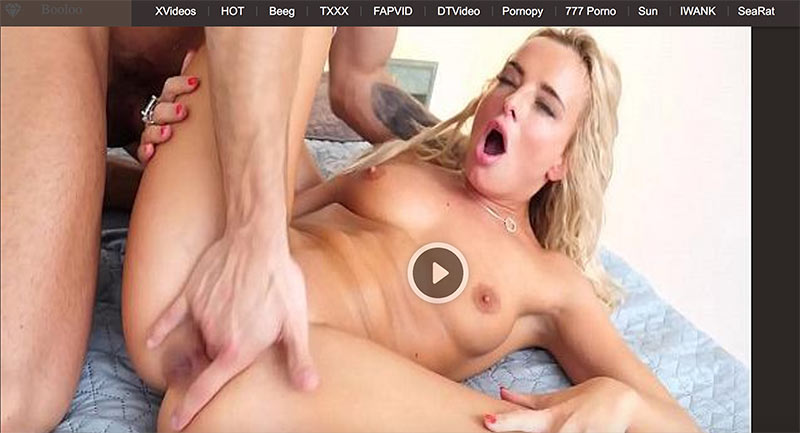 Booloo Categories
The only categorization on this site is hashtags, of which there are literally thousands. For whatever reason, they've listed an absolute ass-ton on the homepage that you have to scroll through to see the rest of the content.
However, the hashtags to pull relevant results, and most videos have multiple, accurate tags. If you're looking for a specific genre of video, you'll likely find it here. However, if you're hoping to browse and discover something new, this is simply not the place to do it. There is no real categorization on any scale, both for videos present on the site as well as for other linked sites.
Again, and it bears repeating, there is a strong likelihood that your video won't load. Try, try again will be the mantra here if you're determined to find a video to watch on this site
Star Power
Booloo.com feels mixed with its star power. On one hand, you're not going to easily stumble across an easy categorization of porn stars. It appears pretty clear that there aren't any performers associated with the site. If you're looking to discover new talent, this is not the place for you.
However, if you know the name of your favorite performer, booloo.com works pretty damn well. We searched "Riley Reid," "Sasha Grey," and "Tori Black," and we got dozens of video hits including those actresses. A great way to search to increase your library of any given favorite performer.
Of course, since most videos don't load, you may find yourself jerking off to the thumbnails.
Network
Booloo.com states that it is not affiliated with any of the videos posted, as they are all provided by third parties. In addition, the website doesn't list any other affiliations with any company or group or really any other identifying information.
Subscription
On the actual site of booloo.com, there are no subscriptions. Listed sites may offer subscription type services, but none of the content directly on booloo.com are walled by any paid service.
The Money Shot
The idea of booloo.com is fantastic. A site that is stripped down of features, offering you just a basic search that brings you a fuckton of relevant video hits. No ads, no paywalls, just good ole fashion fuckin'.
However, the site fails simply on the fact that it doesn't work. We had 3/10 videos load during our review, which is abysmal. When you click the home icon to attempt to return to the homepage, it brings you to the Spanish version of the site without a clear way to return it to English. The search says that you can choose your native language, but then doesn't give you the option to choose a language.
That doesn't even touch on the complete lack of organization on the site. Unless you are already looking for something specific, it's an absolute pain in the ass to browse. As we've mentioned, there's no way to categorize videos, and the only way to browse hashtags is to scroll through the enormous list on the homepage. Even though there are dozens of other linked sites, they also are not organized in any discernible way. In short, the site is a fucking mess.
Through the videos that don't load, dead links to other sites that don't load, and the overall carelessness of the architecture of the site, you're better off wankin' and spankin' elsewhere.