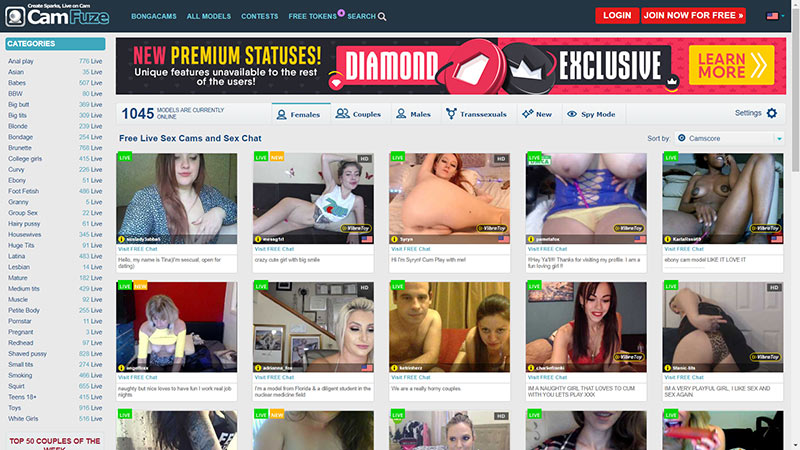 User Rating:
CamFuze is a webcam site, as you could probably guess from its name. It once was an independent site, heavy on amateur cam model content. In 2017 it was purchased by BongaCams to become part of their overall cam site offering. It now shares most features and the model catalog with BongaCams. This means there are a ton of standard webcam site features here, and a good-sized catalog of over 110,000 models registered. While it doesn't have nearly the same amount of traffic as its parent, it still sits in the top 200,000 most-visited websites globally by traffic, and cracks the top 20,000 in many countries.
CamFuze and its parent BongaCams are run by Proweb Progressive Development Ltd. out of Cyprus, though the company itself is based in the Netherlands.
Camfuze Content
As is consistent with most webcam sites, the content is made up of live model cam chat feeds. CamFuze has 4 different private chat types, in addition to fully explicit free chats, where models hope to earn tips for their performances. Also cool is the fact that CamFuze uses fixed-rate pricing per-minute for private chats, rather than leaving it to models to set their own. This helps you better budget and manage your spending. The site boasts a large number of features, including:
Free chats that include nudity, masturbation, toys, and fucking
Four private chat modes, including private, full private (where no one can spy on your chat), spy/voyeur mode (where you can spy on another private chat but not interact), and group chat mode
Support for interactive toys, as well as a mobile site optimized for all major platforms
Cam2Cam feature for two-way private chats
Private messaging to models
Access to multiple chats at once
Videos available for token purchase or for free
Model profiles that include lots of information, approximate cam schedule, free photos, and more
Regular contests and events
VIP membership option
Several tiers of rewards/membership upgrades based on your cumulative spending history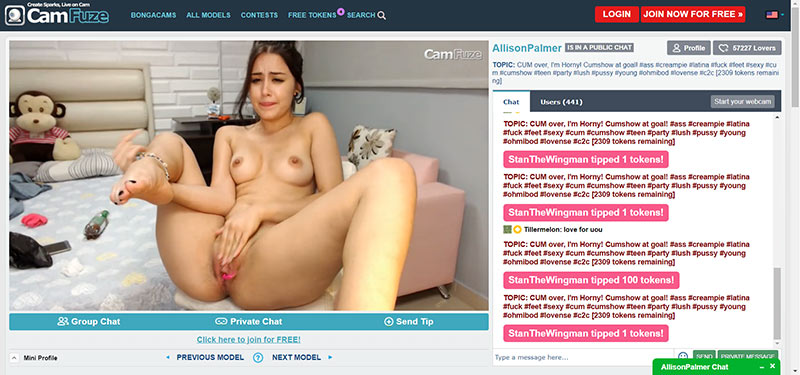 Camfuze Categories
There are over 110,000 models in the CamFuze catalog, so there's no shortage of diversity of genders, body types, ages, heights, hair colors – you name it! Of course, major divisions fall along gender lines. Within each gender, there are 10-30+ sub-categories to help refine the browsing results. At the same time, there are lots of filtering options accessible from the search button in the top navigational bar. You also can access the tagging system, which features more than 80 pre-made tags that models can use to describe their chats, sex acts, looks, kinks, fetishes, and more. This makes it really easy to find exactly what kind of models you are looking to spend time (and money) with at CamFuze.
Star Power
While CamFuze does have a Pornstar category, these models are not verified or big-name stars, at least not in the US. They may be in Europe, where the site is based. Still, they're plenty sexy, just like most of the models on the site, so we're not complaining.
There's a good mix of true amateurs, studio/professional cam models, and glamorous fashion/porn model types, with lots of different body types, ethnicities, styles, and looks that make up the CamFuze catalog. At any given time, there are around 800 models on (about 600 of them solo females, and the rest evenly split between solo males, couples of all types, and solo transsexuals).
Network
CamFuze is nominally a white label of BongaCams, with sister sites including BimboLive and RusCams. Within the BongaCams company, related sites BongaCash and BongaModels can be said to form a bit of a network, though not in the traditional porn site sense. Rather, these are utility sites, the first being an adult affiliate/referral program site, and the second being a recruiting and resource site for cam models.
BongaCams , CamFuze, the affiliated sites, and white labels are all run by Proweb Progressive Development Ltd. out of Cyprus, though the company itself is based in the Netherlands.
Subscription
FREE CONTENT ALERT!
Accessing CamFuze is free – you only need to pay for tokens if you want to tip or enjoy a private webcam chat with a model or models. There are plenty of free, fully explicit chats to check out. But, if you enjoy, you should tip the models – so don't mooch for too long. Besides, you'll want to buy at least a few tokens one time to get Gold membership status, and gain access to full screen video and most of the other core site features.
There's no subscription or requirement beyond tokens to tip, or pay for the private chats. However, you can also sign up for a VIP membership, for $20/month. It provides several perks and bonuses, which include $5 gift cards towards token purchases every 10 days. In effect, this means the VIP program only costs $5/month, and is worth considering if you plan to use the site frequently. The VIP program is separate and apart from the rewards levels of membership (Gold, Platinum, and so on).
The 4 private chat types each come with their own fixed rate attached, with the cheapest being spy/voyeur style shows, and the most expensive being full private shows. These work out to about $1 to $6 per minute, respectively, with group chats around $2-3 per minute and private chats at $4-5 per minute, depending on token costs/payment method.
We do the math so you don't have to! Below, find a comparison of current token package prices.
Porn Explosion Advice: If you're into cryptocurrency, that's a very reasonable option to choose for token purchases. For most people, however, the best bet is going to be a larger package of tokens on your credit card. You may want to make a smaller purchase first, and check the site out a bit, but if you're going to pay for private chats or tip and use the site long-term, the larger packages are the way to go.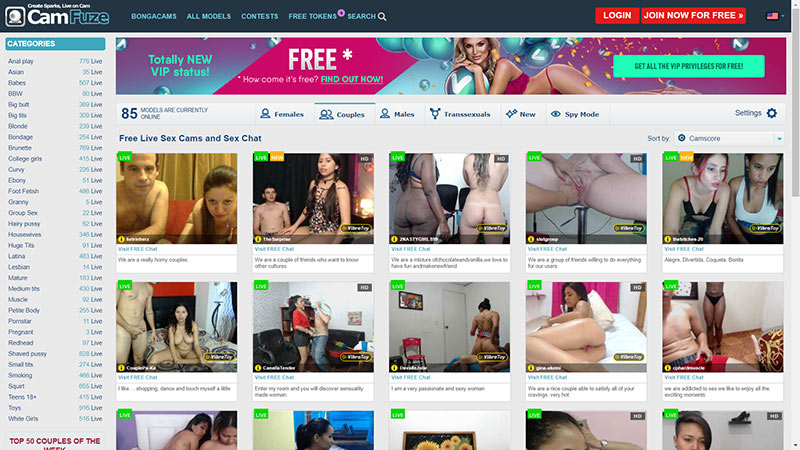 The Money Shot
CamFuze is a pretty well-rounded and accessible webcam site. With a great model catalog, lots of features to find your ideal models, and fully explicit free chats, there's a lot to love. With standard webcam site features like interactive toys and Cam2Cam, everything you need for a good and sexy time in a private chat is here and ready to go. Private chat prices are also conveniently fixed, so it's easy to manage your spending. Token purchase prices are comparable to other major cam sites, and even a bit below other cam sites, in fact, so you can definitely get your money's worth here. If webcam shows aren't your thing, then this isn't a site for you. But if you enjoy free and private live sex shows on cam, definitely give CamFuze a try, either for free or with a small token purchase, and see what 21st century cybersex is like!