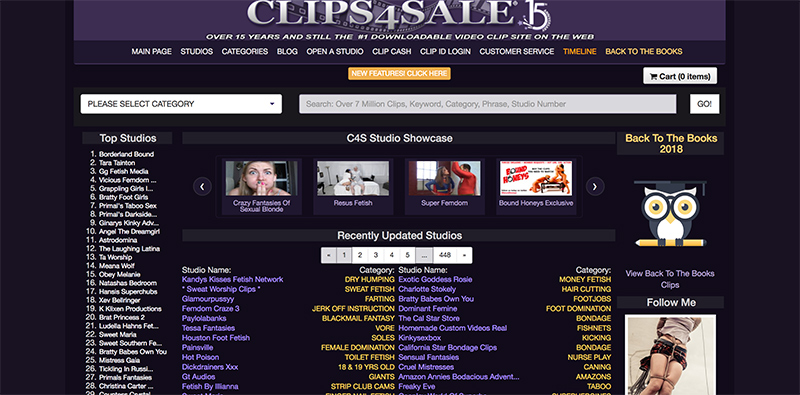 User Rating:
Clips4Sale is a premium video site that's been around since 2003. It's one of the top premium porn sites on the web, having won the 2011 Venus Award for Best Fetish Website, the 2014 XBIZ Award for Fetish Site of the Year, the 2015 AVN Award for Best Alternative Website, and the 2016 Fetish Award for Innovator of the Year. While their fetish content made them famous, Clips4Sale also has plenty of vanilla porn in every conceivable category.
Clips4Sale was originally owned by Images4Sale.com, and has since been purchased by Wiluna Holdings, LLC, which also owns affiliated sites Videos4Sale.com and C4SMembers.com. As of January, 2019, Clips4Sale is the 2,530th most-visited website in the world, the 221st most-visited adult site, and the 1,194th most-visited website in the US. Its Alexa ranking is 1,591st worldwide, and 717th in the US.
Clips4Sale Content
Clips4Sale does one thing, and one thing only: they sell clips. It's in the name, and man do they have the library to back it up. We're talking over 7 million videos from more than 26,800 studios. Studios range from individual models to amateur couples to smaller groups, all the way up to major players like James Deen Studios.
Since these are premium videos, you're not going to see a lot of partial clips here. Just full-length, as-advertised porn. Studio pages display a list of videos with paragraph-length descriptions. Most videos will also include brief sample clips or GIFs. If you're looking for free content, don't get excited. We're talking 60 seconds or less of video, usually from the very beginning of a clip, just so you have a good idea of the video and sound quality.
Although Clips4Sale does not stream any live videos, they do link to an affiliate site, C4SMembers.com, that offers a subscription streaming service. Similarly, they have no image galleries, but link to an affiliate image site, Images4Sale.com. They don't currently host any games. VR content is available as its own video category.
The user interface is a bit different from some other sites. Videos are sorted primarily by studio. A search using the categories page will take you to a list of studios in that category, not a list of videos. The only way to search individual videos is in the search bar. Even then, the results will be a series of text links to take you to the exact videos within their specific studio's store.
Basically, everything on this site revolves around the studios. Think of it less as a tube site, and more like an online version of an old-school adult video store. You go to the studios you like because their brand appeals to you, and see what's on offer.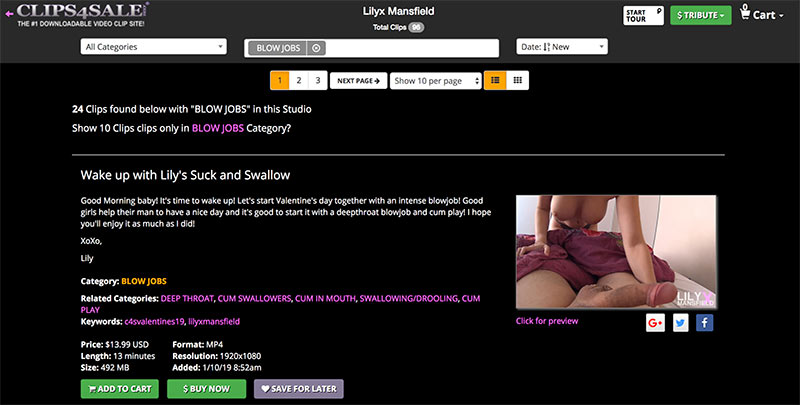 Clips4Sale Categories
Holy categories, Batman! We've never seen a site with this many. As in, more than 1,000 different categories of porn. We've had some fun with this, and listed the most unusual category for each letter of the alphabet: 1920s Porn, Armpit Fucking, Brake Failure, Crawling, Dishwashing, Eating In Car, Finger Nail Polishing, Gas Mask, Hat Fetish, Ironing, Jumping, Karate, Long Toes, Mouthsoaping, Neck Brace Fetish, One Shoe Hopping, POV Fighting, Queefing, Riding Lawn Mower, Scuba, Toothbrushing, Unaware Giantess, Vaping, Wedgies, Yawning and Zit Popping. This cornucopia of kink is probably why Clips4Sale has won so many fetish awards.
Of course, there are plenty of more vanilla categories to search through as well, with over 63,000 videos in the Lesbian category alone. Whether you're into straight sex, gay sex, blowjobs, anal, masturbation, or any fetish you can think of, there's something on this site that will turn you on.
Star Power
Most studios on Clips4Sale are small, independent studios that specialize in a particular fetish or kink. With over 26,800 studios to choose from, that's a lot of selection. That said, because of Clips4Sale's reputation as a fetish site, you won't see a lot of big name pornstars on here. James Deen Studios is probably the biggest name on the site right now.
Network
Clips4Sale is owned by Wiluna Holdings, LLC, owners of Videos4Sale.com, Images4Sale.com and affiliated cam site C4SMembers.com. These sites have different payment models and may require separate memberships.
Subscription
There are no monthly fees or membership charges for Clips4Sale.com. In fact, there's no membership of any kind. All transactions are processed individually, so you won't have to worry about surprise charges hitting you down the road. Because this is a premium site, the only advertising is a single banner ad promoting their top videos.
When you purchase a video, a download code is sent to your email. These can tend to get flagged as spam, so check your junk folder if you haven't gotten anything within a few minutes of your purchase. When you get the email, copy the download code, then go to Clips4Sale.com and click on the "Clip ID Login" button at the top of the page. From there, just paste your code in the field, and click the "Login" button. This will take you to a page where you can download your video. Make sure to hold onto your email, as well, since the download code is the only way to re-download your video if it gets deleted.
The Money Shot
Clips4Sale is one of the best premium sites on the web. Video content ranges from 640x480 up to 1080p depending on the studio, and all prices are transparent. Since there's no subscription, you only pay for what you download. One thing we would like to see is a thumbnail-based layout for keyword searches, instead of a text list. That said, this site still beats all the competition in terms of variety. If you have a fetish, Clips4Sale has a studio that specializes in it. Even if your tastes are more vanilla, there's so much porn in so many categories you'll be glad you stopped by.