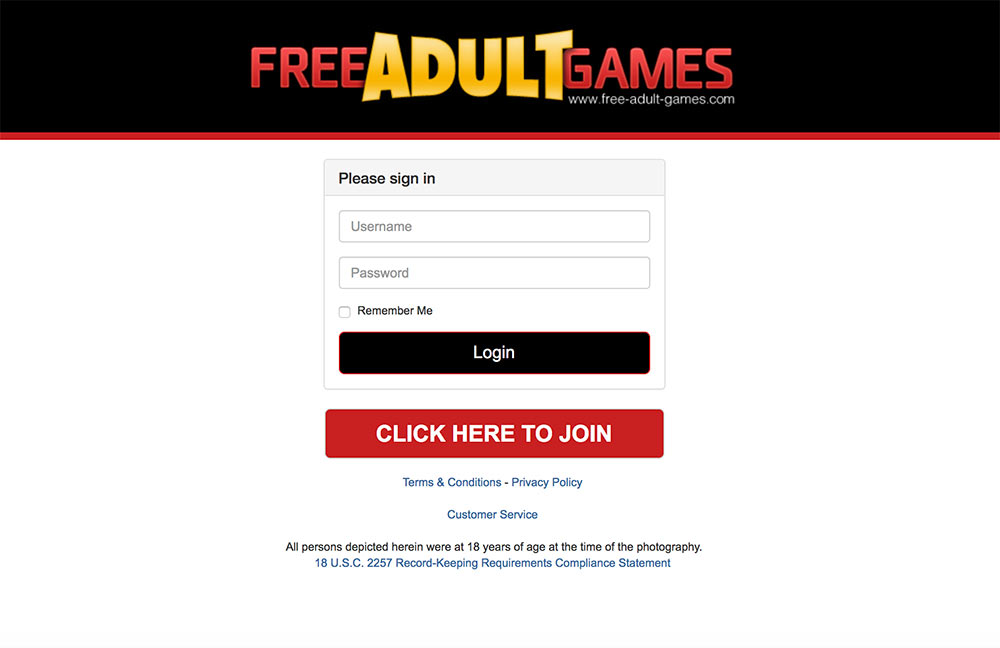 User Rating:
Free XXX Games is a site that has a ton of adult-themed games of varying qualities and types. They also offer a library of porn that cuts across multiple genres, and links to a live cam site and adult dating site. It's basically a one-stop-shop for adult gaming and fapping material. It is not, however, free, as we'll discuss in more detail in our review.
The site's ownership is, at best, unclear. No direct entity is claimed, though the site features Terms and Conditions, Privacy Policy, and other elements that are identical to several other sites maintained by an as-yet unidentified conglomerate in the adult industry. Regardless, traffic is fairly minimal, with the site only ranking in the top 4.7 million globally by traffic. It is likely this same offering is represented by several different sites and interfaces of a similar nature (for example, free-adult-games.com), and is a common back-end that's either got a bunch of front-end interfaces or white label licensing of common back-end content.
Free XXX Games Game Play, Mechanics, and Customization
In terms of content, we're primarily focused on the games and the porn offerings. While there are links to live cams, it takes you to an exterior site (liveadultchat.com), which requires its own customary payment for private shows and the like, and is therefore not, strictly speaking, part of your Free XXX Games membership. Dating is also a limited, proprietary affair, and is unlikely the focus of most people's activities on the site.
Once you're a member and login, you're re-directed to the mygamervault.com portal, which is where all the content is hosted. There's videos, photos, a pornstar directory, full movies section, and the games, which we'll tackle last.
The videos and photos aren't top studio releases in most cases, though a few here and there are. Likewise, many of the stars are first-name only starlets who you wouldn't necessarily recognize. Some videos and photosets with mainstream, big-name stars are present, but those seem to be in the minority. Quality and production value is quite high, however, with most videos being in HD quality. There are roughly 100k videos or so based on a quick survey of the category totals that are provided on the site, covering common genres and some fetish/niche content, though the majority is more vanilla.
Full movie offerings are decent, though certainly not the most popular or current titles from any of the major studio producers. It reminds me of the kind of content you get in grab bags of adult DVDs from eBay, or, back when videos were a thing, from the discount/clearance bin. They're certainly porn, and there's a decent cross-section of categories, but it's mostly the "B" team, if you take our meaning. There are some diamonds in the rough from major labels but the majority are going to be studios and titles you've likely never heard of. In total, there are some 1,100 or so titles organized into a few key categories like Lesbian, Threesome, Amateur, and so on.
The main draw, theoretically and based on the site name, is the adult games. There are just over 800 games in total, though that's a bit misleading – many of them are not, in fact, adult titles. Games are largely in-browser, Flash-style affairs, though some are much more detailed and with more production value and effort in them than others. Only around 200 are actually tagged as adult themed. The rest wouldn't be out of place on any of a number of free, Flash game sites that exist.
So, that leaves the adult game titles. These offerings are a bit of a mixed bag. Full disclosure, we didn't evaluate each and every one, but played many (probably far too many) for the purposes of this review. Some of the most heavily advertised prior to signing up for membership include titles such as "Grand Fuck Auto", "Call of Booty", "Batballs: Hard Knight Rises The Parody" and "Adult Mutant Ninja Turtles", among others. Naturally, those seemed like a good place to start.
Put simply, they're less than impressive. Many of them are simple, 2D affairs. Some are a bit more exotic and use a 3D engine, though are buggy as hell. For example, in Call of Booty, I was repeatedly shot by invisible enemies from behind or within solid rock of a canyon. Grand Fuck Auto has about as much depth and replay value to it as a game of 52 pick-up. Most are simple shooters or limited, story-based games that don't offer much in terms of game play. There's intermixed adult content, though, again, it's not exactly something you'd get off to.
The basic Flash-style games with adult elements are, sadly, the most well-done and fun of the lot. Titris, a Tetris "parody" – and I use that term loosely – along with Strip Poker, and some slot and lottery-style games are the most complete and functional, though, again, provide minimal entertainment value over the long term.
Adult Content
In terms of porn, the major vanilla and mainstream categories are well-represented in their catalog, with some fetish content as well. For example, Teen offered 3.2k videos, MILF 2.7k, Cum Shots 5.1k, Lesbian 1.1k, and so on. More niche categories like Feet had only 200 or so videos, with middle-range fetish content like Squirting also only having a paltry 100 or so videos.
There are no indications given as to how many videos are in each category in the full movies section, though a quick count lists about 13 categories for the 1,100 or so videos, so you can figure 50-100 on average or so from there.
Game-wise, there are also a number of different category tags that are applied to the 800 or so games on the site. Some of the most populous include Arcade at 340, Action at 308, Casual at 304, Adult at 229, and so on. The fact that only around ¼ of the catalog is adult gives an indication of the overall limited nature of the content and quality here.
Star Power
You can use the pornstar tab/catalog to browse pornstars, and see the relevant content that is present on the site. It's worth noting that many of these pornstars are first-name only starlets who, on the one hand, you won't find on most other sites, but on the other hand, you won't find on most other sites. Some big names are present, but have only a small number of videos compared to free sites like Pornhub. Abella Danger has 4, for instance, Lana Rhoades (currently the top-ranked on Pornhub) isn't present, Riley Reid has 6, and Lisa Ann has none, though does have 3 full movies listed in that section. A bit anemic to say the least.
Network
Free XXX Games Villa is designed for Windows PCs, running Windows 7, 8, or 10. Both a 32-bit and 64-bit version are available. It's playable on Mac via third-party utilities like BootCamp. The system requirements are fairly basic, and while they are definitely more demanding than an in-browser Flash-style game, they're readily attainable for most home users – roughly comparable to minimum system requirements for AAA titles from 10 years ago or more.
Free XXX Games Cost
Free XXX Games is not free, and that's one of many problems we have with it. To access it, you need to provide a credit card, ostensibly for age verification. However, the fine print reveals you get a 2 day free trial, after which you will be charged for a subscription. They also check off some cross-sells to enroll you in other sites by default, which is scummy behavior that we don't condone. Subscriptions can be purchased with a credit or debit card.
The subscription price is $39.95 per month after your 2 day free trial ends, and rebills at that rate automatically. The cross-sells add even more to the total if you forget to uncheck the box or miss that little fine print. They include a 7 day free trial, then auto-rebill membership to MaxHDPorn.com at $49.61/month, and a 10 day free trial, then auto-rebill membership to ExclusiveAdultVideos.com at $49.87/month. All told, by the end of 1 month after signing up for an allegedly free XXX games site, you'll be on the hook for $139.43 a month.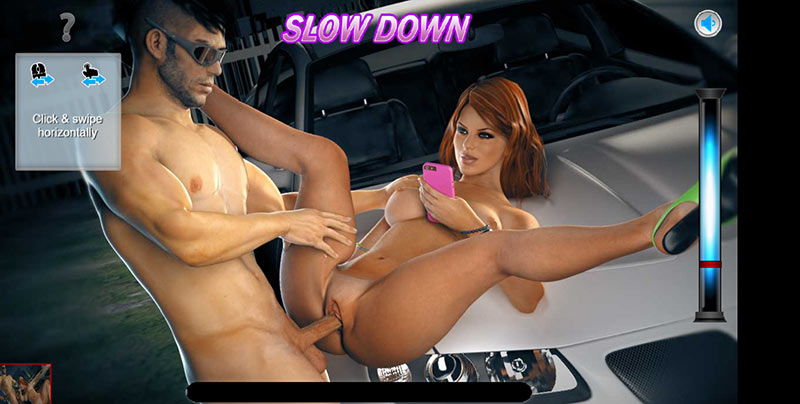 Play or Pass?
We generally try to be somewhat positive in our reviews but there's not much to say here. Yes, there are games, and yes, around 25% of them are, in some way, adult or XXX oriented. They're mostly poor with minimal game play or replay value. There is also porn, photos, and full porn movies – though this is also somewhat limited compared to what's available for free from tube sites. You also have the issue of the subscription (for something that's allegedly free) and the automatic enrollment in 2 other sites through cross-sells that you can easily miss, with the box checked by default. Even setting all that aside, $39.95 is one of the steepest monthly subscriptions of almost any site out of the hundreds we've reviewed. And the content simply doesn't justify that, or anything close to it. Visit and sign up at your own risk.