User Rating:
Hentai Heroes is a hentai-style freemium adult game played in your browser, or on Android via app (as always, adult-themed apps are disallowed from the Apple app store, so an iOS-compatible version is not available). It's similar in structure and overall game design to other hentai titles, with a bit of Pokemon and similar styles of games thrown in – but definitely with a fully adult theme and immersive storyline.
Hentai Heroes is published by Phoenix Media of Bulgaria, who is also responsible for another adult title that is similar (another web-based, animated game), Gay Harem. They distribute the game through many affiliated partners, including Nutaku, Newgrounds, and similar adult gaming sites.
Hentai Heroes Game Play, Mechanics, and Customization
At first glance, you don't necessarily know what to expect with Hentai Heroes. It doesn't clearly lay out what it is, but rather throws you right into the story. And story is the key driver in this game. There's leveling, combat, upgrades, and plenty of hot action, but it's all driven by the central narrative (which we won't spoil). It's nice to see an adult-themed game that has put a ton of time and effort into a story as more than simply a flimsy pretext for sexy fun.
Within the game, you're given a quick tutorial introduction, and set loose in a fleshed out world through the primary story of the game. Quests and areas are progressively unlocked as you level up, gain more energy, money, experience, abilities, items, and so on. The game is entirely free to play, but like most freemium and/or mobile games, you are limited in your actions and play time by "energy", which you can instantly replenish by buying coins for real-world currency (or let replenish naturally over time).
Again, without spoiling the central narrative, we will say that most of what you do in this game is based around sex, quite appropriately for the genre. While you don't have a lot of direct control over the direction of the story or choices, you can play the story mode, or participate in various other activities that are part of the game – gambling on Pachinko, where you can gain various rewards that are useful in the game, shopping in the store to buy items to use, participating in a form of combat to gain additional rewards…all while leveling up yourself and followers to become stronger, gain money, energy, experience, items, and so on. In short, it's a pretty decent freemium game in terms of game play, with indirect fighting mechanics not dissimilar to a lot of other games in the Asian anime/hentai/etc. style.
In terms of customization, you choose your character name, and can choose your followers, who to upgrade and how, and similar choices that are a staple of JRPG titles – though your actual character look, and those of other characters in the game are stock, part of the animated "pages" or scenes that make up the story and wider game world. It's quite fun and rather erotic, actually.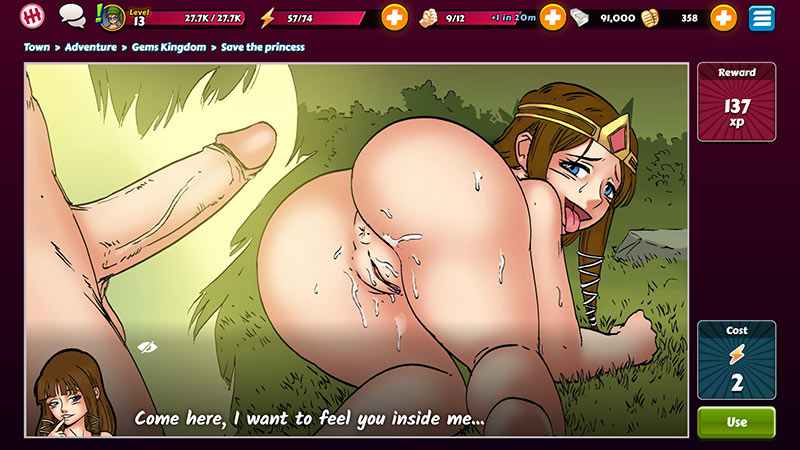 Replay and Longevity
We set out to play a bit of the game for the purposes of this review, and that somehow turned into 2 hours of playtime in the blink of an eye – with nearly a dozen "worlds" of the game left to explore, and countless quests (usually a half dozen or more per world). The main limiting factor here is energy, which replenishes slowly on its own, or instantly for a purchase in kobans, the game's real world to game world currency unit. With kobans, you can buy the fictional game currency (Yen, of course), replenish energy, buy Pachinko plays, and much more. That's where the real world expense comes into play – though you are perfectly able to play for free, you just have to wait in between time to let your energy replenish, which can take several hours.
On the whole, the game isn't nearly as long as we'd like to see, but we anticipate 12-15 hours of playtime based on what we've experienced so far to fully explore the story mode content, which is not bad at all for a freemium game. And, the company is updating all the time, and adding new features and content, so there is the potential to grow quite beyond that. There's also a fairly competitive leaderboard, with more than 8,000 active players, so there's always something to strive for and reason to keep playing, even after you exhaust a playthrough of the story mode itself. There's PVP of a sort, too, especially at high levels when you're done with story mode, and other activities and events that make this much more than a once-and-done, easy cash grab of a freemium game. It's more developed than many, many mobile games that are out there, for sure.
Adult Content
The adult content in Hentai Heroes is essentially cartoon/animated still images of the story. They are exaggerated and largely stylistic, consistent with most hentai tropes. With all of that said, it's quite erotic even if it's not photo-realistic and a bit cartoonish. The drawings are well done, and in a consistent style throughout the game, giving support to the overall "cohesive world" that the developers have endeavored to build. It's not porn, but you've never played a traditional anime or JRPG title like this before, either.
Platform, Compatibility, and Technical Stuff
Hentai Heroes works with all of the top browsers, and runs with native technology – no add-ons like Flash are required. It doesn't use much in the way of resources, and is a fairly straightforward in-browser game that should run fine on even very dated computer systems. The Android app version is also available for Android smart phones or tablets (however, we did not test the app version for this review).
Hentai Heroes Cost
Hentai Heroes is freemium, meaning it's entirely free to play, though with in-game purchases to replenish your energy and effectively allow you to continue playing without waiting. Energy refills naturally over time, or you can replenish it instantly with kobans, the currency unit that can be purchased for real cash. You also earn some kobans as you play the game. So, if you use them wisely, you can get quite a lot of playtime in without having to spend any real money.
If you do choose to purchase some kobans with real money, you get a good amount for your purchase price, as outlined in the table below. There is also a one-time Starter Offer that you are eligible for after you play through the tutorial, which provides a regular $40 value of 5,400 kobans for only $4.99 ($0.0009/coin). You can buy coins with credit or debit cards, PaySafe cards, or, for $100 or larger purchases, with various cryptocurrencies. You can also buy a "Monthly Card", which lets you collect 60 kobans daily for 30 days (1,800 in total), along with a few convenience/quality-of-life aspects that let you do more with single clicks rather than multiple, sometimes tedious harvesting efforts, for $2.99 ($0.0017/coin). As always, the lowest cost per coin/best value for your money is highlighted in green (aside from the Starter Offer mentioned above, which has the best value overall).
So, how many coins does it cost for common things in game, like refilling your energy? That costs a bit less than 3x the replenished energy in kobans (e.g. around 200 kobans for 75 or so energy). For that, you get anywhere between 10 minutes of playtime and an hour or more, depending on what part of the story you are on, and how much else you like to do in game. You also get free energy (10) every time you level up, and passively replenish one energy every few minutes.
You can also use kobans to buy more money for your character, clothes/items, upgrade yourself or followers, and similar. And of course, the more you play, and the harder things get (pun intended), the more you may rely on kobans to upgrade and advance. But, again, remember with patience, you'll get natural replenishment on your energy, so if you only want to play for 10-15 minutes per day, you may do fine with a small amount of kobans only, or even no purchase at all. But, we'll bet you'll find yourself wanting to keep playing and grab a few kobans to help out along the way.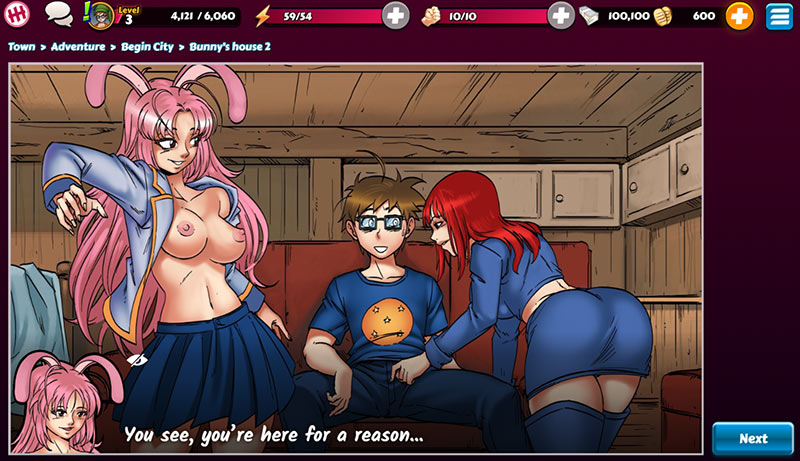 Play or Pass?
One of the best testaments to the enjoyable nature of the game is that we started playing for this review with the intent of playing a bit, just to get some screenshots and finish off the review, and ended up playing for nearly 3 hours straight. The story is compelling, the action is sexy, and there's quite a lot to do – even without buying any kobans. Whether you play for free, or at least take advantage of the Starter Offer and spend a few bucks, you can have hours of fun here, and definitely pop some wood or wet your clam in the process. And after all, that's kind of the whole point of an adult game, isn't it?