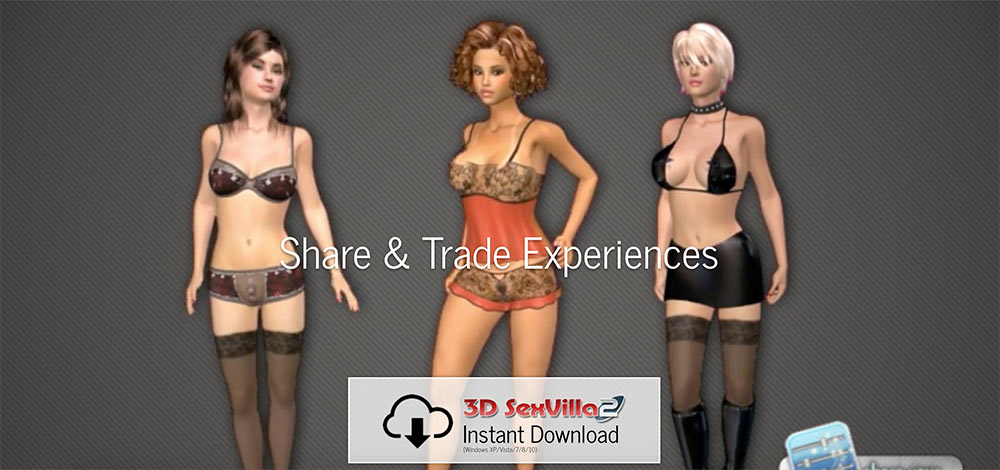 User Rating:
3D SexVilla 2 is an award-winning adult gaming title. Unlike many adult games, that are glorified in-browser Flash games, this is a fully immersive 3D title. You can download and install it for free (though there are in-game purchases to access full features later on). In many ways, 3D SexVilla 2 is a powerful machinima tool that lets you build and create your own virtual sex scenes – characters, outfits, settings, toys, and interactions. You can make videos, take photos, and even sequence full scenes of any kind of steamy action you can imagine within the virtual world.
3D SexVilla 2 is one of several 3D immersive sex games available from the same company, ThriXXX Software of Austria. Other titles include ChatHouse 3D Roulette, Hentai 3D 2, 3D Gogo 2, and 3D GayVilla 2.
3D Sex Villa Game Play, Mechanics, and Customization
The free version of 3D SexVilla 2 starts with a tutorial that gives you basic information on moving the camera and interacting with the characters and environment. Then, you can choose to either start a Quickmode game or a Freemode game. Quickmode sets some randomized properties, and starts your sex partner at 25% excitement, allowing you to get to the action quickly. Freemode, on the other hand, lets you choose all the options – your sex partner(s), location, and so on. You can customize the characters to be involved in your scene, choose the location, and so on. Of course, in the free version, the choices are limited. You can buy paid packs to access different options for characters, outfits, sex toys, poses, and more.
You can also pay to unlock other features and modes of game play, including Story Mode, the Toy Editor, Pose Editor, and Sequencer, all of which provide added control and levels of options to truly make this virtual sex romp into your own. Story Mode offers pre-written erotic adventures that you can take part in, whereas the other three editor options are just that – ways to design new toys, new poses, and sequence scenes for your own movies.
There's a helpful Wiki with a good overview of how the game works, but we prefer to dive right in to the action with a new Freemode game, using the limited free characters and options available.
To start, there's a very powerful character customization tool, that lets you change a wide range of physical attributes of your character, and the other models you want to use in a scene. It's vaguely reminiscent of non-adult titles like The Sims and similar games, and gives you quite a detailed level of control over the models, to make them look exactly how you want. This is one of the most appealing aspects of the game – it's easy to get lost in the character customization adjusting breast size, height, and other aspects of the characters for minutes or hours on end.
Now, the free version of the game has black censor bars over genitals – that's easily removed with a small purchase through the online store. Remember, the free version is just here to give you a sample of what is possible, and encourage you to buy the additional packs and other accesses for more robust features and options. You also have very limited options in the free version as far as customizing the models, but there are hundreds available for a price. In the paid version, you can access community content as well, with many thousands more custom characters and other assets available from the game's online community.
After you've customized your models and picked a location, the fun begins. You can move them around to different spots within the chosen setting, and explore all the sexy action solo, with a partner, or in a threesome (or foursome). You can use your hands, mouth, sex toys, and a myriad of foreplay and sex positions. Build the character's sexual excitement, respond to their desires and needs, and bring them to a passionate climax. Then, keep going (they've got more stamina than real people, that's for sure). That's all just a teaser, really – the real replay value and longevity are in the other modes and editors that you can unlock for coins or as part of your subscription.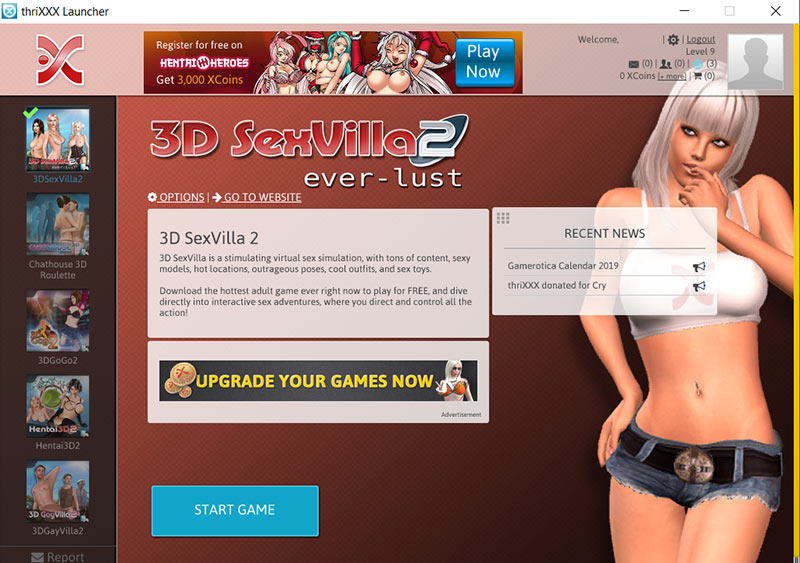 Replay and Longevity
The free version certainly has limited replay value and longevity – there just aren't a ton of options like there are with paid packs or a subscription. But the fully unlocked version has enormous variety and replay value. The game itself is quite fun, as a virtual sex simulator, and with the massive amount of options, you can fulfill your fantasies and go wild. The sequencer, pose editor, and other features provide a great toolbox to make your own custom animated porn, or just screw around and enjoy the sexy action. There are also a ton of mods and community content that's available that further enhances the game. The sky's the limit in terms of what you can do here with a full unlocked version. We have no doubt you can get hundreds of hours of sexy fun out of this game.
Adult Content
The adult content in 3D SexVilla 2 is all animated/3D, so there is no real photo or video porn. That said, the models are quite realistic, with photo-realism as the style rather than cartoonish or anime characters. And the audio voices, poses, and sex acts are, well, super hot. If you've ever wanted to be in control of a bunch of sexy avatars and make them do stuff to each other at your command, including full hardcore sex, cumshots, squirting, all sorts of toys, fondling, fingering, kissing – the list just goes on and on – then 3D SexVilla 2 has plenty of adult content for you.
Platform, Compatibility, and Technical Stuff
3D Sex Villa is designed for Windows PCs, running Windows 7, 8, or 10. Both a 32-bit and 64-bit version are available. It's playable on Mac via third-party utilities like BootCamp. The system requirements are fairly basic, and while they are definitely more demanding than an in-browser Flash-style game, they're readily attainable for most home users – roughly comparable to minimum system requirements for AAA titles from 10 years ago or more.
The minimum system requirements are:
2 GHz CPU with SSE2 support
3 GB RAM
512 MB graphics card at 1280x1024 resolution or higher
Broadband internet connection
2 GB free disk space
The installer is a lean ~30 MB, and loads the ThriXXX Software launcher, the starting point for 3D Sex Villa and the other adult games from the company. From there, you can choose to install or launch any of the games they offer, including 3D Sex Villa 2. Installation was fast in our experience, downloading and installing the 0.5 GB or so base game files in about 3 minutes.
Virus, spyware, malware, and adware scans came back clean on the installer and the game files, tested with 2 free and 2 premium products.
Full ranges of screen resolution are supported, along with various options for anti-aliasing, lightning effects, textures, and so on. There's even an Oculus VR-compatible mode for use with the Oculus Rift VR headset.
3D Sex Villa Cost
While the base game is free, as we've said above, it's very restricted. To enable full features, and to buy additional items, poses, and so on, you'll need XCoins, the currency of 3D SexVilla 2. You can purchase XCoins through the ThriXXX site (links in-game as well as in the launcher), and then browse the game store. There are multiple packs that unlock different options, as well as individual toys, poses, characters, and so on that you can purchase.
You can also choose a monthly subscription option, which gives you full access to all content, rather than the XCoins, pay-as-you-go model. The prices associated with each are listed below, along with a few converted costs, in XCoins, of some of the key feature packs that you'll want to unlock, so you can see what option makes the most economic sense for you. As always, the most affordable options in each category are highlighted in green.
So what do the coins get you? Bear in mind that with a subscription, you gain full access to everything. Compare that with buying packs and features on a pay-as-you-go basis with coins, based on some of the most common packs, poses, and so on in the list below. For the purposes of this comparison, we've used a middle-ground XCoin cost of $0.0015 per coin.
Put another way, let's say I wanted to buy the following to upgrade the base game, just to try it out a bit more – I'm not sold yet on a subscription, but want some more variety – and let's see what it would cost me.
So, I still have a fairly limited amount of choices in the game – only 2 new models in addition to the base 3 that come with the free game, the ability to customize breasts, some new poses (in addition to the very few in the free version), some anal sex toys, and 1 additional location (on top of the 1 Classroom that comes free). If I choose the XCoins payment option, I will have spent over $80 – which would have afforded me a 3 month subscription, access to everything, and still had some money left over!
Porn Explosion Advice: Our recommendation is to try the free version. If this kind of thing is up your alley, then don't hesitate to sign up for the 3 month subscription to save the most cash. That gives you plenty of time to try everything out, and see if you want to renew on an ongoing basis. The pay-as-you-go option is very, very costly by comparison – we strongly endorse the subscription choice!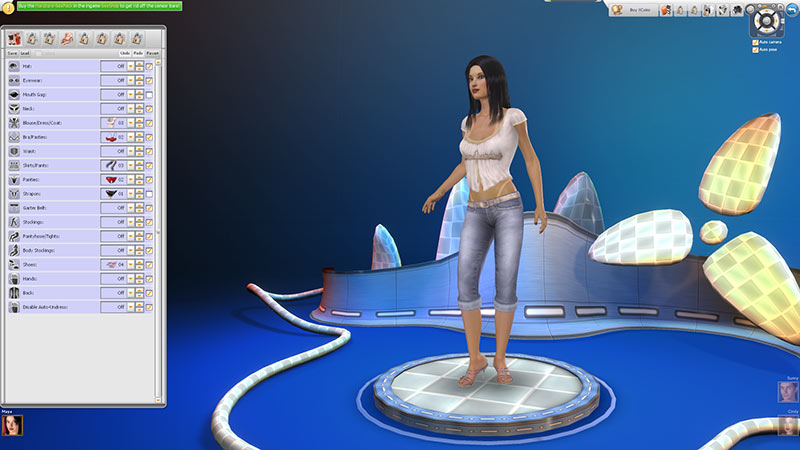 Play or Pass?
3D SexVilla 2 is totally worth checking out, even if you have no intention of signing up for a subscription or spending real money on it. For those who are into virtual sex, machinima, or just want to have fun in a virtual world that they control, there's a huge amount of potential here. You can live out your fantasies and make super-hot sex scenes where you direct the action. Customize the models to look like your favorite pornstars, your secret crush, significant other…whatever. Choose locations, outfits, toys, sex poses to suit your tastes. Our only complaint is that it's expensive – but quality costs money. Go for a subscription if this is your jam – it's well worth the price.