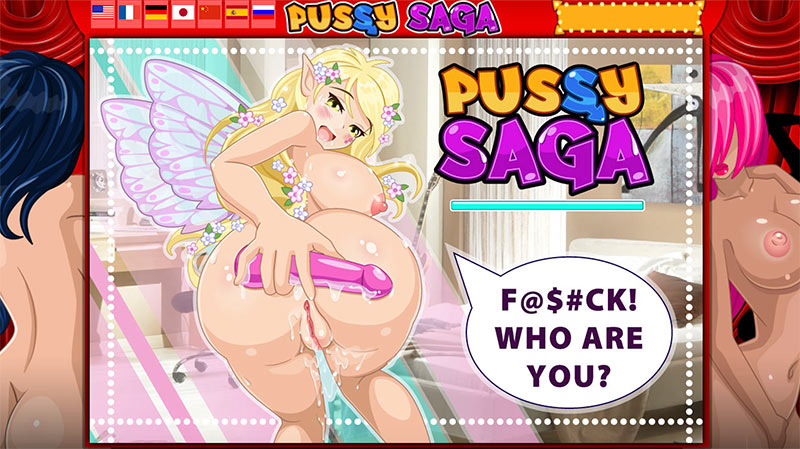 User Rating:
Pussy Saga is a browser-based freemium adult game, that's a bit of a mix between a puzzle game similar to Candy Crush and other "match X" style games, alongside an adult story wrap-around with RPG/leveling elements. And of course, there's lots of hot action, too. It's all done in an anime style that's simultaneously cute and sexy.
The game is from HooligApps, of Dublin, Ireland, who also is responsible for other popular adult browser games like Cunt Wars, Smutstone, SlotBitches, Fap Titans, Sex Gangsters, and Poker Sluts. They also have a related development arm that does mainstream/non-adult games in a similar style.
Pussy Saga Game Play, Mechanics, and Customization
From the moment you start the game, you're faced with a few choices. There are many interactions in the game where you are given 2 or 3 conversational choices, and depending on which you choose, the character interaction will vary. You're introduced to some core characters and game play mechanics as a bit of a crash-course tutorial on the game. In broad terms, you need to date several women. You have to develop relationships, buy them gifts, and take them on dates (which is where the matching, Candy Crush style games come in), and eventually, fuck their brains out. Your goal is to collect vaginal juices, to use on a demon who has imprisoned a goddess.
There's actually quite a bit of depth and a variety of activities you can complete within the game. The storyline itself involves developing relationships with and going on dates with all the different women you meet in town. But to do that, you need to manage and balance energy, money, nectar, crystals, skills, and more. You can earn items through the puzzle game during dates that are used to level yourself, the girls, adjust personalities, and generate more money from your dates. You can even go as far as setting up businesses around the town where the game is set.
All the while, you're receiving sexts on your in-game mobile phone from the girls you date, and working towards having sex with as many of them as possible. To that end, you get quests and rewards along the way, in addition to simply following the story line, going on the dates, and advancing your character's level. There are daily quests, events, and other activities as well. You can upgrade your house as you advance, too. There's really a lot to do packed into this seemingly simple game – a lot more than first meets the eye.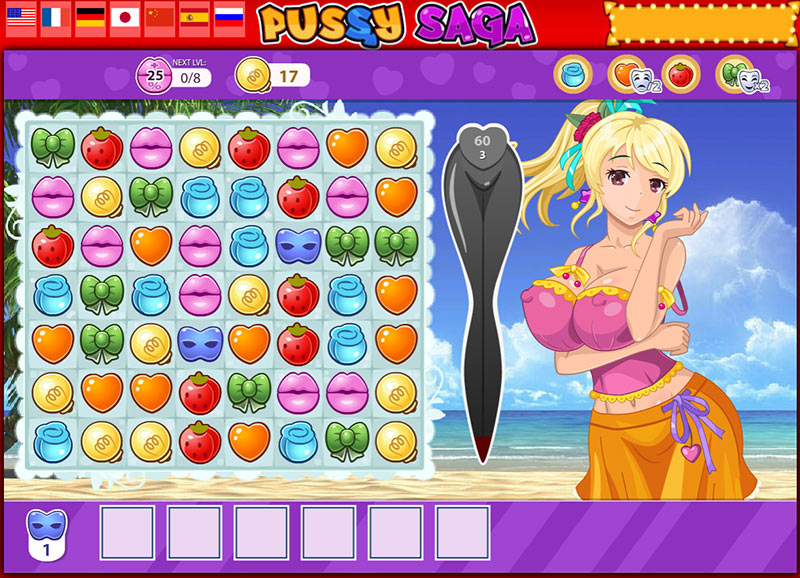 Replay and Longevity
Like most freemium games, the amount of time you can play depends on whether you're willing to wait for a limiter to refill – in this case, energy. Energy is required for your actions. They also may require "bucks" (the coins of the realm in this game), nectar, or crystals. Crystals can be redeemed for more energy, and all three currencies can be purchased for real-world money in the game's store. You can also just wait on your energy to refill naturally, which takes a few minutes per energy.
If you elect to spend no money, you'll likely have days of game play, since you are limited to only a few actions every few hours based on your energy replenishment rate. If you buy some crystals, you can convert them to energy at will. As we'll discuss under "Cost" below, there are some good deals on starter packs that are worthwhile if you find the game enjoyable. They'll decrease the longevity of the game, but you can do more in a single sitting than you could otherwise. An account is simply based on providing an e-mail address, so you can always replay or start again if you wish in the future as well.
Adult Content
Cartoon anime style illustrators are the order of the day for Pussy Saga. Nothing is really "animated" per se, in that still images are what is presented on the screen. Still, the girls are quite busty and delicious. Sex isn't incredibly explicit, given the limitations of the format. But, if you're an anime fan, or like this kind of drawn/illustrated tease and sex, then you'll love Pussy Saga. And even if it's not your thing, the voluptuously drawn girls are sure to cause some stirring in your pants.
Platform, Compatibility, and Technical Stuff
Pussy Saga is Flash-based, loaded and run by Javascript, and works on most major browsers that support Flash and Java. We didn't run into any problems testing it on a modern Windows 10 laptop with Chrome, Edge, or Opera, nor on an older Windows 7 system on the same browsers.
The game does have audio and music, which can be toggled and adjusted from the in-game controls. It's available in English, French, German, Japanese, Chinese, Spanish, and Russian.
The text in the game sometimes has some grammatical and language errors, but they are minor, and don't detract from the overall game play experience. It's just not as polished, text-wise, as some of the other titles we've reviewed. But it runs quite well, without any freezes or crashes in our testing, which is really the main consideration.
3D Sex Villa Cost
As mentioned above, like most freemium games, you can either wait for your energy to refill, and collect the other consumable resources in the game from quests and rewards, or you can help yourself along by making a purchase or two. Coins ("bucks"), nectar, and crystals are all available for purchase, both individually and as part of various packages. There are standard prices, as well as special package deals, including a Starter Package that's only available for your first 72 hours after starting the game. The Starter Package is well worth taking advantage of, as it's a much better deal on a per-item cost basis than the standard options purchased individually. We've listed both package deals and individual item purchase prices below for comparison. Purchases can be made via credit or debit card, or through PayPal. As always, the best prices are highlighted in green.
The Starter Package has two sizes – small and large. The small package costs $1.00, and offers 500 bucks, 50 crystals, and 500 nectar. That's a $10 value. The large package costs $19.95, and offers 4,000 bucks, 500 crystals, and 2,000 nectar, along with a new girl. That's a $165 value.
Other package deals and discounts are available periodically, for limited periods of time – so there's almost always some kind of promotional deal available (icons show up on the right side of the main screen in game for easy access to the deals while they are active).
Porn Explosion Advice: Grab the $19.95 large Starter Package while you can if you have any interest in playing the game long term – it's a great value and gives you plenty of consumable resources, if properly managed, to play for quite a long time.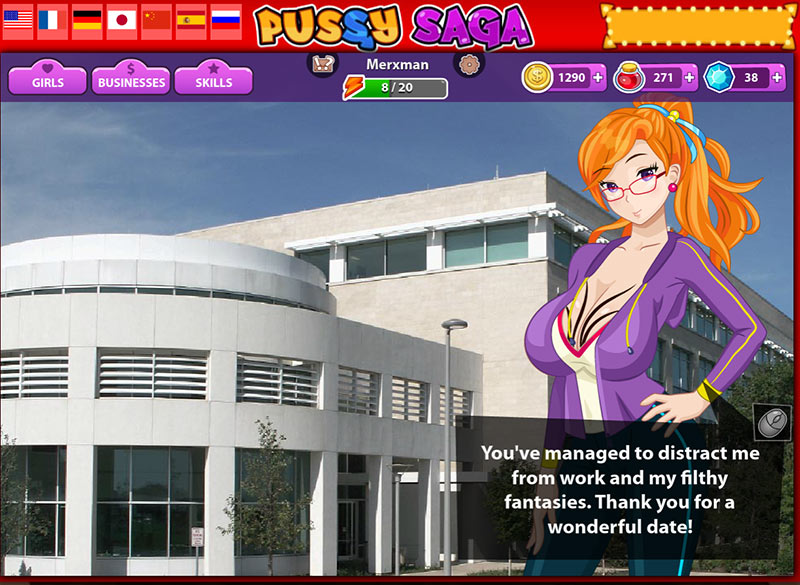 Play or Pass?
Pussy Saga is definitely a lot of fun, and an interesting mash-up of game styles. Our biggest complaints are the limitations on what you can do for free – you'll run up against the need to buy some crystals for sure in short order. With that said, the Starter Package is fairly generous and a great value, so if this seems like the kind of game you would like to play, definitely take advantage of that. The puzzles are fun and get progressively harder as you go. The story is not bad, and the drawings of the characters and settings are fairly well done, too. All in all, Pussy Saga is a solid entry in the adult gaming space. It could use a few tweaks, and the value for free play is not as high as some other games we've reviewed. But it's still worth checking out and playing – it can be a bit addicting.