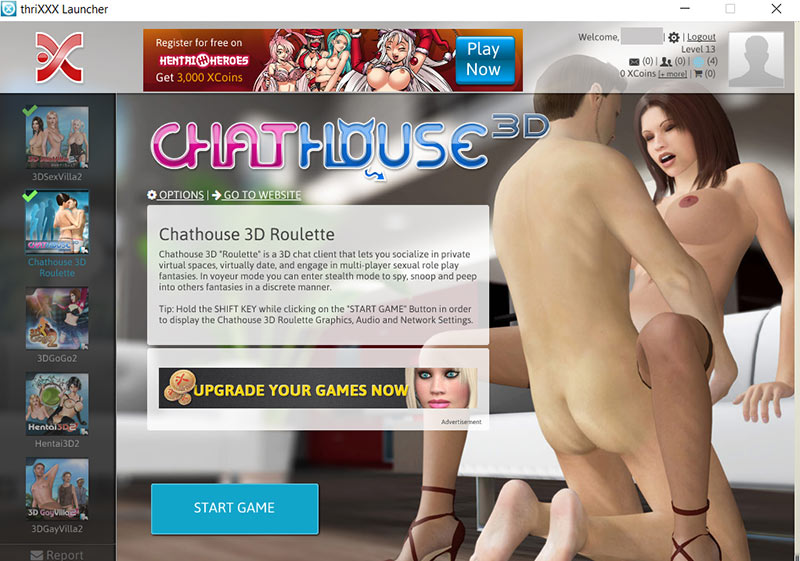 User Rating:
Chathouse 3D Roulette is a 3D adult game that's more akin to a chat program than a "game". It's effectively a virtual 3D world, where you can connect with other adults and have your avatars interact in fully-explicit and raunchy sex – any way you like it. You can customize your characters, sex toys, locations, and much more, and have truly interactive sexperiences that are 100% safe and 100% hot. There's a lot of customization possible to make this environment truly your own – not unlike popular alternative titles like Second Life, though Chathouse 3D Roulette cuts out a lot of the fluff and gets right to nudity and sexuality good stuff.
Chathouse 3D Roulette is published by ThriXXX Software of Austria, who is the company behind several other similar adult game titles, including 3D SexVilla 2. The same basic engine is used between games, though with varying interfaces, mechanics, and features. ThriXXX also publishes titles such as Hentai 3D 2, 3D Gogo 2, and 3D GayVilla 2.
Chathouse 3D Game Play, Mechanics, and Customization
After starting the game for the first time, you get to walk through the tutorial, which explains the basic game modes and features. We highly recommend you spend the time on this step, as it makes it a lot easier to know what you're doing. You create an avatar from one of the basic models that are included in the free pack, and are then given a chance to play through the tutorial. We won't spoil or harp on about what happens in the tutorial here, but once you're done, you're returned to the main menu, and ready to jump into the game properly.
First, you can customize the avatar you quickly created for the tutorial to look more like…what you look like. Or, you can play as a different look, different gender even – it's entirely up to you. Anyone who has played any kind of video game that allows for character customization will no doubt be right at home. While there are a ton of options possible in the full game, many of them aren't available in free mode, as we'll discuss in more detail later. But even with the limited range that is available, you can spend quite a good deal of time messing around customizing your avatar – we sure did. You can also make some truly hideous creations – not unlike many other video game character creation tools – which are fun if not particularly sexy.
Then, you can join a public server, set up your own server, or let the game automatically match you with someone of your stated sexual preference. Once you're together, you can chat via text (or microphone), and act out your sexual fantasies though your respective avatars. There are a number of locations available, along with a robust library of poses for everything from foreplay to pegging and BDSM. Of course, there are lots of sex toys and other implements that can be used, too. The game is really only limited by your imagination, and how much you're willing to spend on additional packs that add poses, toys, character models, and more customization options (because the base free version doesn't offer much in this regard).
By default, the free version only has the barest outline of features available to get you started and give you a taste of the game. It also has censored genitals, which is fairly standard for free versions of these kinds of games. But that is easily removed with a single purchase that opens up many of the other features of the game to you.
In terms of game modes, you have the Automatch mode and Friends mode available by default in the free version. You can also buy the Escort mode, Roomedit mode, or Single player mode through the game store. Briefly:
Automatch is like a Chat Roulette-style feature, that automatically matches you with someone else in the game world of your chosen gender preference(s).
Friends mode lets you invite or join people from your Friends list.
Escorting is just like it is in the real world – some people play the game and offer their paid services to spend time with you in the virtual world and fulfill your fantasies.
Roomedit lets you create your own custom rooms and locations.
Single player mode allows all the same features but as a local, single player game (you can control multiple avatars), bridging the gap between this entry and Chathouse 3D 2.
You can also join rooms as a voyeur, if the host has enabled it, and watch others in action. Whether or not a room supports this is up to the person who started it, and you may be limited to not hearing the audio chat version in this mode as well, at the hosts' discretion.
The real fun is in one of the chat modes – Automatch, Friends, or Escort – and spending time with other real people in the virtual world. Whether you're playing simply as an adult game, or using the game to augment your masturbation activities, it can get pretty hot. And with the wealth of customization options available in the game store, there's lots you can do, from vanilla sex to playing with sex toys and even some BDSM paddling, whipping, and roleplaying. And of course, what you get out of the game is equal to what you put in – finding quality partners with lots of options, customizations, and so on, much like in real life, takes a bit of work, time, and money. Just remember that digital sex is safe sex!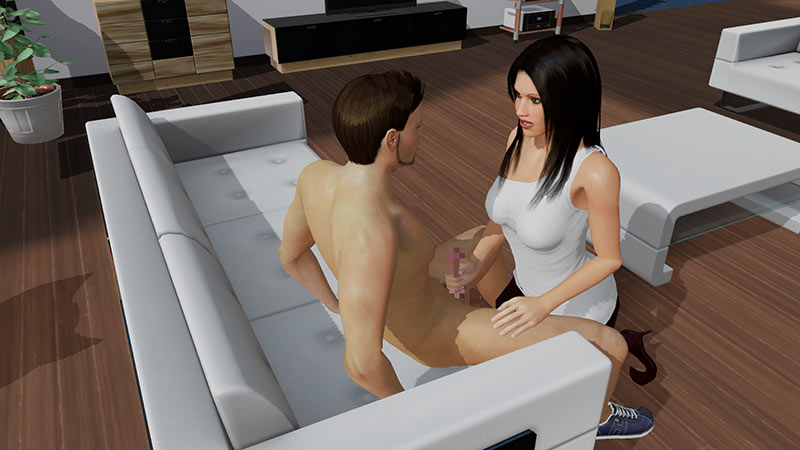 Replay and Longevity
While really not a game per se, and more of a virtual world sandbox, there's definitely a good deal of replay value here. You can meet all sorts of different people from around the world and have sexy chats and virtual fucking sessions whenever you want. And, like porn itself, that's something that doesn't get old.
There's also a very engaged community that you can access with forums and other information. Combined with a friends list in the game, and multiple play style options – and the fact that the base game itself is free – you can absolutely come back to this game over and over again and spend hours lost in sexy fun with virtual partners controlled by real people.
Adult Content
Like all of the games from ThriXXX, the nudity, sex poses, genitals, and other adult content is 3D rendered. It can best be described as The Sims-like – not cartoony, but not photo realistic, either. With that said, a well-customized avatar and a good partner to play with can present lots of erotic moments that are sure to get something stirring in your pants. The recorded audio, multiple languages for voices, and graphics are fairly well done for this genre, and you can absolutely lose yourself in the moment.
And, if you're wondering what the chances are of finding a partner in the game, you should know that there's a fairly active user base present. It's not on par with AAA game titles out there today, but even at random nighttime hours throughout Europe or North America, there are usually 30-40 people on at least, and sometimes many, many more.
Platform, Compatibility, and Technical Stuff
Chathouse 3D Villa is designed for Windows PCs, running Windows 7, 8, or 10. Both a 32-bit and 64-bit version are available. It's playable on Mac via third-party utilities like BootCamp. The system requirements are fairly basic, and while they are definitely more demanding than an in-browser Flash-style game, they're readily attainable for most home users – roughly comparable to minimum system requirements for AAA titles from 10 years ago or more.
The minimum system requirements are:
2 GHz CPU with SSE2 support
3 GB RAM
512 MB graphics card at 1280x1024 resolution or higher
Broadband internet connection
2 GB free disk space
The same installer that is used for 3D Sex Villa 2 is also used for Chathouse 3D and the other ThriXXX games. You can choose to download and install the individual games from within the installer, a process that takes just a few minute with a standard connection. In our experience, it took around 5-7 minutes to download the 1.5 GB of game files.
Virus, spyware, malware, and adware scans came back clean on the installer and the game files, tested with 2 free and 2 premium products.
The settings interface is much more robust and straightforward here than on Chathouse 3D 2, though mostly the same options are present. You can set your screen resolution, refresh rate, adjust graphics and audio settings, and so on.
You can also use an Oculus Rift VR headset with the game, along with some select interactive sex toys, to make the entire experience more convincing and arousing.
Chathouse 3D Cost
While the base game is free, as we've said above, it's very restricted. You have few poses, outfits, or customization options, genitals are censored, and, in general, it's just designed to give you a tease of what the game can be, like any good demo, really. To enable full features, and to buy additional items, poses, and so on, you'll need XCoins. They can be used for Chathouse 3D purchases, or for purchases of other upgrades for the other games in the ThriXXX library. You can purchase XCoins through the ThriXXX site (links in-game as well as in the launcher), and then browse the game store. There are multiple packs that unlock different options, as well as individual toys, poses, characters, and so on that you can purchase.
You can also choose a monthly subscription option, which gives you full access to all content, rather than the XCoins, pay-as-you-go model. The prices associated with each are listed below, along with a few converted costs, in XCoins, of some of the key packs that you'll want to unlock, so you can see what option makes the most economic sense for you. As always, the most affordable options in each category are highlighted in green.
In our opinion, if you like this kind of virtual world chat and sex program, then there's no reason not to go for a subscription. It's so much less expensive than buying features and content piecemeal for XCoins. To prove it, we've done some math, totaling the price of some key pay-as-you-go features if you buy them with coins. If you subscribe, all content and features are automatically unlocked – a savings of hundreds of dollars over the individual pack costs in the store. For the purposes of this comparison, we've used a middle-ground XCoin cost of $0.0015 per coin.
That all can add up to a lot really fast. Let's look at a hypothetical purchase, if I was a newbie who wanted to unlock some of the most common features and a few other things. There are some bundles that package a number of features together for a discounted price, so we'll definitely use that to our advantage.
So, no matter what subscription plan I choose, it would cost less than buying things with coins as I want them. And, I gain access to hundreds of thousands of coins worth of other items and features at the same time.
Porn Explosion Advice: Our recommendation is to try the free version first. If you like it, and want to get serious, then go for the subscription. A 3 month option saves you the most money, but the prices aren't bad on any subscription option here. It's just smart economics, you'll save a ton over paying as you go with coins.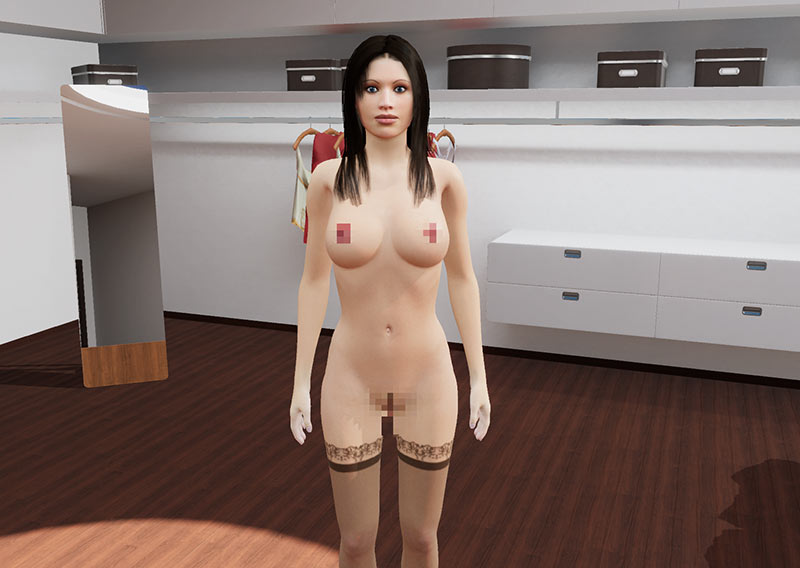 Play or Pass?
Though not a game in the traditional sense, Chathouse 3D Roulette definitely has a similarly high entertainment value. It's one of the few environments built for interactive virtual sex, that can be further augmented with voice chat, interactive sex toys, and more. You can totally customize your character avatar, choose from a library of extensive sex poses and actions, build custom dungeons or fucking suites to your tastes, and on and on. Perhaps most importantly, you can meet other real people and have interactive virtual sex experiences that can be a real turn-on. If you're looking for a human connection, even in a digital, virtual world, and are tired of beating off to porn, then Chathouse 3D Roulette may be just what you're looking for. A one month subscription is less than $10 – what do you have to lose?