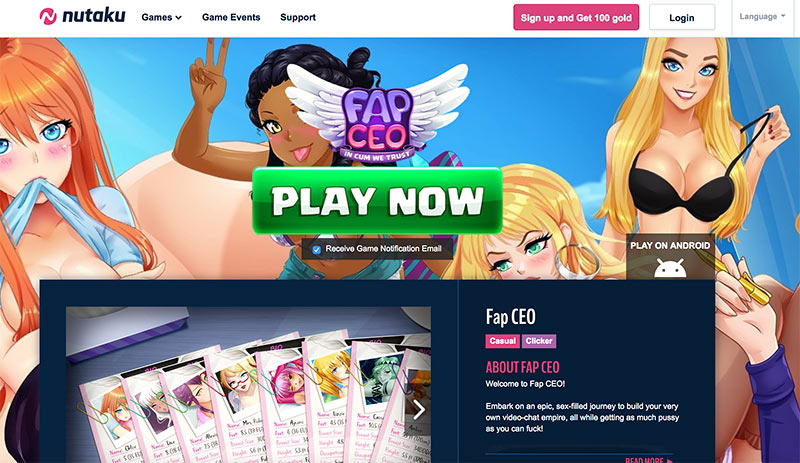 User Rating:
The adult game Fap CEO is technically classed as an idle clicker, though you can avoid most of the insane clicking and still enjoy the game immensely. It's freemium, so it's totally free to play – though you'll advance faster if you buy consumables. It can be played in your browser, or downloaded as a separate file. And there's plenty of illustrated, hentai-style nudity and adult content throughout. You're the CEO of a cam girl company. Recruit girls, learn about them while they earn you money, enjoy their naked pictures as you build relationships with them, and so much more. Read on to find out what this game is all about, and if it's worth playing.
Fap CEO was developed by BoomBox Games, and is published and available from Nutaku, which features a variety of SFW and NSFW in-browser and downloadable freemium games. Nutaku.com houses their SFW content, while Nutaku.net houses their NSFW content. All games on the network share a common currency, gold coins, that can be purchased through Nutaku, rather than directly from within the games. Nutaku is owned by MindGeek, who owns what seems like half the porn sites and adult content on the web today, including Pornhub, Brazzers, and many, many other adult sites.
Fap CEO Game Play, Mechanics, and Customization
Fap CEO is an idle-clicker game at its core, but has a lot of interesting systems and a through-line of a bit of a story to keep things interesting. And of course, there's a lot of illustrated hentai-style nudity to keep things interesting. The premise, briefly, is that you are the owner of a cam girl company. You have to hire girls, who perform shows and earn you money. As you earn money, you can level them up, which increases the rate at which they earn you money. After awhile, once you've leveled them up enough, you can sell your company. Then, you start over, but with permanent perks and bonuses. Each time you reach a certain level and sell, you start over, and gain more perks, which in theory makes leveling faster.
At the same time, there are a number of interlinked systems that provide additional game play mechanics. The overall meta-game or through-line comes in the form of getting to know the cam girls. You receive email/text messages from them and get to know about them. Many of these present you with a choice of answers or gifts to give them. The story develops further from there. You're limited in the number of replies you can send over time, and they regenerate at 1 per hour, so it keeps you from speeding through the story elements too fast.
You also gain keys throughout the game, dropped from your girls while performing private shows (when they perform private shows, you can click on them to increase your earnings, with a slim chance of a key dropping). These unlock chests, which include boosts, items you need for the storyline, and items that you (the CEO, of course) can use in your office.
The CEO's office lets you manage your skill tree, purchase items that give permanent upgrades to your business or add other game play elements, and lets you browse the gallery of sexy pics that your girls have sent you (naturally). One of these systems is a stock market that lets you buy and sell various commodities, thus supplementing your earnings.
There are daily and overall quests, and for these you earn rubies, which is the game's currency. With rubies, you can buy boosts, such as time acceleration, more keys, additional replies, and so on. Rubies can also be purchased with real-world currency via Nutaku's gold coins (see Cost section below for more).
At the same time, there is a tournament and leaderboard – a fixed duration event that happens every few days, and runs in parallel to your normal company progress. There are special holiday events and content, along with related quests. And periodically you'll get a special private show opportunity, where you interactively stimulate one of your girls, and earn rewards for making her cum. Pretty spiffy!
Thankfully, like most idle clickers, this game continues, and time passes while you are offline. Your earnings are retained and then collected, providing you a nice, lump-sum boost when you log back in. We found ourselves popping in for 10-15 minutes a few times a day. Collect earnings, upgrade girls, send a few replies, rinse and repeat. You can also sit there all day long clicking on your girls in private shows like a mad person – but be warned, your mouse won't last nearly that long. While there's no word on "legality" or appropriateness, we highly recommend getting an auto-clicker, so you don't destroy your mouse buttons.
But even if you only want to click a little bit, and are content to let the earnings roll in at the girls' natural earnings rate, there's a lot of fun to be had here. Like most of these style of games, they can be quite addictive, even if you don't get a ton of play time out of them in a given day. The desire and need to upgrade your girls, sell your business, rinse, and repeat becomes a reward loop. And, it doesn't hurt that the most you get to know your girls through the emails/texts of the story, the more sexy selfies and naked pictures you gain access to, for you to review (with a hand in your pants) in the CEO's office.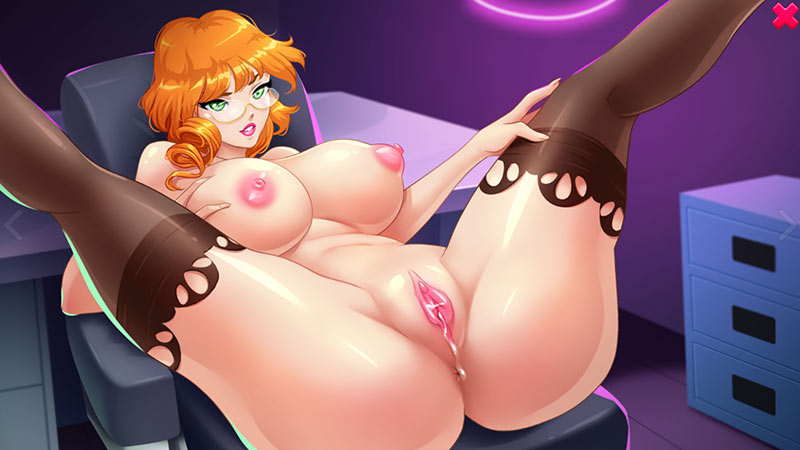 Replay and Longevity
If you play the game as a free player, and don't spend real-life money (or at least not a lot) on consumables and boosts, then there's a great deal of longevity in the game. It's an idle-clicker, so there's really no end – replay, upgrade, sell your business, replay, etc. is part of the mechanics of the game. But since you're largely limited to playing for 10-15 minutes a few times a day in practical terms, the game can last quite a long time before you get tired of it. You'll find yourself anxiously waiting to login, collect your offline earnings, and upgrade your girls and business. So there's good value here, especially for a freemium game, in terms of longevity and sustaining your interest over the long term.
Adult Content
The adult content in Fap CEO is all hentai-style illustrated, rather than photo-realistic. That said, it's pretty damn hot. From still images to more animated, interactive action, the more you play, the more that is revealed and explicitly shown to you. Again, like many of the games we've reviewed, it's less about fapping material, and more about an adult-themed game that happens to give you some visual teases and treats as you play. Animated bouncing boobs, for example, really do have a hypnotic quality about them…
Platform, Compatibility, and Technical Stuff
Fap CEO is available on Nutaku, as well as a separate downloadable for Windows PCs or Android-based devices. Online, it works with any browser, and doesn't require any special add-ons or plug-ins (though buttplugs are plentiful within the game itself). The Android version requires Android 6.0 or higher. The Windows version requires:
Windows 7 or later
Core 2 Duo 2.4 GHz processor or equivalent
2 GB RAM
GeForce 9500 GT graphics card or equivalent
300 MB disk space
In our testing on Chrome, IE/Edge, and Opera, the Nutaku-based version ran pretty well. It definitely uses a good chunk of system resources while active, though about what you'd expect for this type of game. We did run into a few freezes, however, especially on Chrome. It's only a minor nuisance, though, as the game auto-saves every 30 seconds, so you can just reload and not really lose any progress. In several hours of testing, it only froze a few times. No freezes or crashes were experienced on an Android emulator or in the Windows-based downloaded version.
The download on Windows was malware, adware, spyware, and virus free, as tested on 2 paid and 2 freeware scanner tools. The Android app version was tested on a Windows-based Android emulator (BlueStacks), and did not have any viruses or similar, either.
Fap CEO Cost
Fap CEO is a freemium game, so it's entirely free to play. However, like most freemium games, there are consumables that can be purchased, to do things like speed up time, unlock more replies in the e-mail system, get more keys to open chests, and so on. The primary currency in the game is rubies, and those, in turn, are purchased with gold coins from Nutaku. The gold coins are usable across all Nutaku games, and are essentially the platform's currency for use in their freemium game offerings. You get 100 coins free simply for registering and confirming your e-mail address. Beyond that, you can buy them with credit/debit cards, PayPal, cryptocurrencies, and unused gift cards. The prices, regardless of package size, are 1 cent per coin – except in the case of Maestro, Amex, or PayPal transactions, which cost slightly more.
Frankly, while some of the purchased boosts would be useful, especially early on in the game, we had no problem playing for free. You're just limited in how much you can do at any given time, and have to put the game aside for many hours to build up enough cash in the game to continue upgrading and leveling your girls.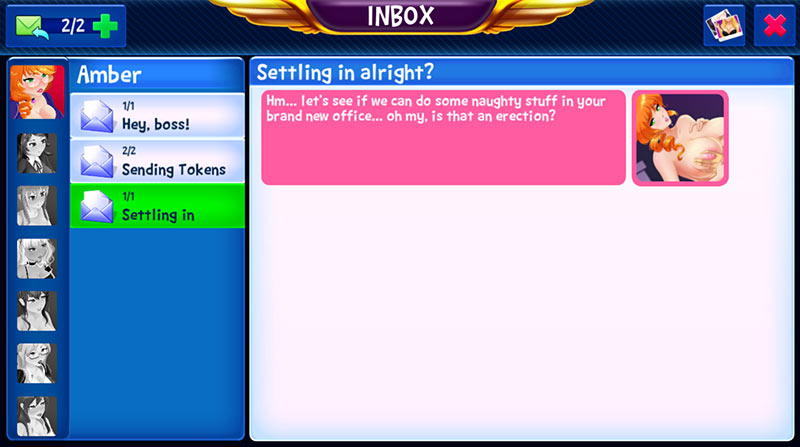 Play or Pass?
Let's get it out of the way up top here - we have a few gripes about bugs and crashes that kept recurring in Chrome with this game. It detracts from an otherwise well-built and engaging game. We recommend the downloaded Windows client, as it didn't seem to have any of the same issues. All that aside, the game is totally enjoyable as a free player, without making any purchases. If you want more action and for things to move faster, consider a purchase or two – they're not terribly expensive here at Nutaku compared to a lot of other similar adult games and sites. The adult content is decent, with hentai-style illustrated nudity that's well executed. The competitive tournament and leaderboard aspect is also a nice touch, since it gives you a drive to keep playing and logging in more and more. Unlocking the story through the email replies is also a good design element. Overall, this is a fun idle-clicker with an adult tease element to it, that's definitely worth checking out and spending some time playing.