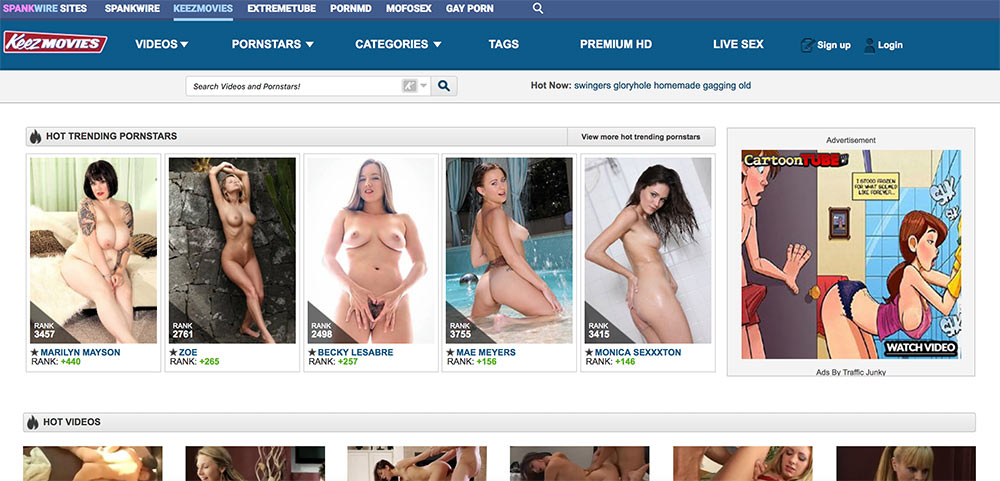 User Rating:
Keezmovies.com is a cleanly constructed tube site that attempts to garner the attention of mainstream porn users. With a clean homepage, an easily navigable site, and categories and content that porn veterans are accustomed to, keezmovies.com attempts to compete with the likes of pornhub.com and redtube.com. However, first impressions can be deceiving, so how exactly does keezmovies.com measure up with the already crowded tube site crowd?
Keezmovies Content
In terms of content, you'll find that there's practically nothing lacking. There are literally thousands of videos to choose from, and if you're looking to explore different kinds of tags or categories, they can be easily found in the top banner of the website. You'll find traditional categories, including BBW, lesbian, anal, among others. Something that you won't find on most tube sites is a little pop-up on more obscure tags (like creampie or BBW), that give a quick blurb of what exactly it is before you have to dive in dick first and if you're just curious and not wanting to scar your mind with unexpected content.
Exploring content is very easily done. Hovering over the videos tabs allows you to choose most viewed, top rated, longest, most recent, or a listing of tags. Once clicked, you're brought to a page with similar options, except thumbnails are grouped under any given listing, and you have the option to select a top video by day, week, month, or all time. The "top rated video of all time" section seems to have been manipulated, as the top videos seem to be an advertisement for a sex game site and a short video advertising hookers in Mumbai. Other than that, the categorization seems to work well.
The absolute majority of the site is not blocked by any paywalls. If you're interested in HD content, the site does offer a subscription for that (more on that later). The ad experience is largely unintrusive, as we only experienced a view browser pop-ups as we navigated the site.
Keezmovies.com also bring a bundle of useful features if you're willing to create a free account, and as far as we could tell, this was a quick, easy process. Once an account is created, you're able to upload and download videos, bookmark favorite videos for repeated viewing, as well as post comments on videos.
The site doesn't appear to attempt to serve a specific niche, as all the content is relatively mainstream, with a healthy mix of both professional and amateur videos available. If you're interested in partner sites, they are listed at the top of the webpage and appear to have more focused categories.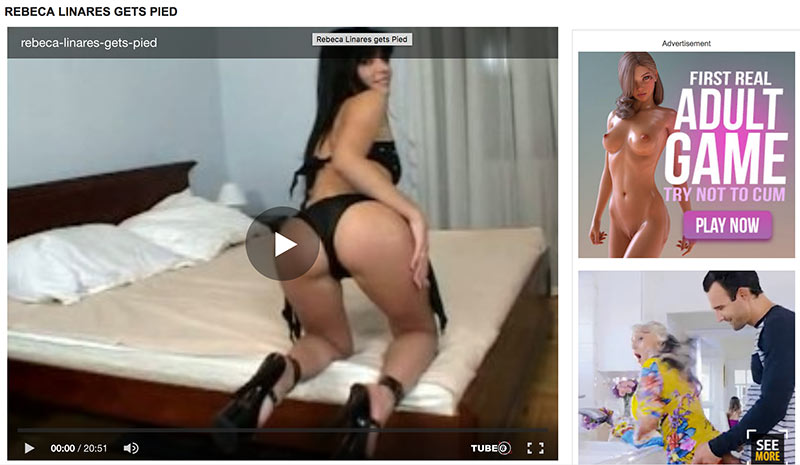 Keezmovies Categories
As you've read, the site offers an ass-ton of categories. We'd be surprised if you got bored. You'll see anal, amateur, hentai, as well as videos that are tagged with HD quality. If you're looking for more obscure/dark/soul-crushing categories, you'll likely want to look elsewhere, you freak.
The search function works extremely well and very quickly, especially when selecting premade categories and pre-listed tags. Unlike other tube sites that offer a similar scale of content, keezmovies.com never seems to feel cluttered, crowded, or messy. A very well designed site that makes finding and navigating categories a quick and easy process.
Star Power
The pornstar categories are extremely well done. There is a designated category if you want to browse models found at the top of the webpage. Hovering over that option brings up an alphabetical listing, an option to see trending models, an option to see top rated models, and an option to filter models with specific characteristics, including age, race, location, and more.
Once clicked, the porn actress page shows select trending models, as well as a list of the top 30 actresses on the site, both listed on the right side of the screen as well as down the page with accompanying profiles. You'll also be able to see the number of tagged videos with that actress, photos, and the total number of views the actresses have amassed.
Once a profile is selected, you are met with a tidal wave of information. You'll see information including height, weight, ethnicity, measurements, a listing of any piercings or tattoos, as well as a brief biography.
Network
Keezmovies.com is a part of the Spankwire family of sites, which includes spankwire.com, extremetube.com, and several others. It doesn't appear that accounts work across sites. It appears that they are partnered in content, so if you upload a video to one site, it's possible for the other sites to have access to it as well.
Subscription
The only subscription offered on keezmovies.com is the HD subscription. They advertise this in the very common, shitty way that porn sites often do. They say it's "free," prompt you to create an account, say that the account needs age verification, prompt you for your credit card, so they won't charge you, but in the fine print it says that it's a two day free trial, afterward you'll be charged $39.95 per month.
Not worth it, if you ask us. There's plenty of free HD content to be found elsewhere.
The Money Shot
Keezmovies.com offers a clean, organized experience of finding the perfect video to wank to. The option to create a free account is great for bookmarking within the site or downloading choice videos. It's easy to navigate the site, see categories offered, and explore tags and potentially new kinks.
It's honestly hard to find a solid downside, it's a very well done site. Just don't give it your credit card information, and you'll be set to cruise through the wide availability of quality content offered! Your dick will be so proud.