User Rating:
LoveHomePorn.com is an amateur porn site that has been hosting real couples' naughty videos since January, 2012. There's no publicly available information on who owns this site. It's registered in Panama, and the servers are located in France, and the site appears to be independently run.
As of March, 2019, LoveHomePorn.com is the 53,684th most-visited website in the world, the 3,452nd most-visited adult site, and the 29,961st most-visited website in the US. Its Alexa ranking is 87,476th worldwide, and 59,578th in the US.
LoveHomePorn Content
LoveHomePorn is a freemium site that hosts only real amateur porn. That's right. Professional models are banned from the site, and videos can be removed if they're posted elsewhere. Unlike some amateur sites, their team watches every clip before approving it. You won't see any 10-minute grainy cell phone videos of a guy's ass and balls, because those clips get rejected as low quality.
At the time of this writing, there are over 80,000 videos on the site, with daily updates and over 500 new uploads each month. While they do have to meet a quality standard, these are still amateur videos. As a result, you won't see a lot of HD content, but most is in 480p, which is close enough on most screens. Sound quality is variable, but LoveHomePorn does a good job of weeding out clips where the volume is cranked up so high it's clipping.
If you like porn pictures, you'll find them here as well. There are over 10,000 galleries, with an average of about 20-40 images per gallery, although there are some with only a handful of pictures, and others with more than 100.
The main page doesn't waste your time. It loads quickly, and thumbnails for the most popular recent uploads are displayed towards the top. Clicking a thumbnail takes you directly to the video player, without any annoying ads begging you to sign up.
Not all the videos are free, though. In fact, about half of the site's content is for premium members only. You can spot these clips immediately, because the thumbnails have a huge overlay that says Premium Video. No bait-and-switch tactics here.
There's a little button on the right that says "Sneak Peek". While writing our review, we clicked it, thinking it was a link for a site tour. It's actually something cool and innovative that we haven't seen before: a preview of all the videos that are going to be added tomorrow. If you're a daily visitor, this is a great way to find out what's coming up next.
There are no live cams, erotic stories, games or VR porn on this site. LoveHomePorn hosts videos and pictures only, and does not have any advertising of any kind.
The mobile site has a similar layout, with thumbnails collapsed into two columns for easy scrolling. The top search menu remains easily accessible, although the Sneak Peek button sticks out a little too far for the slimmer layout.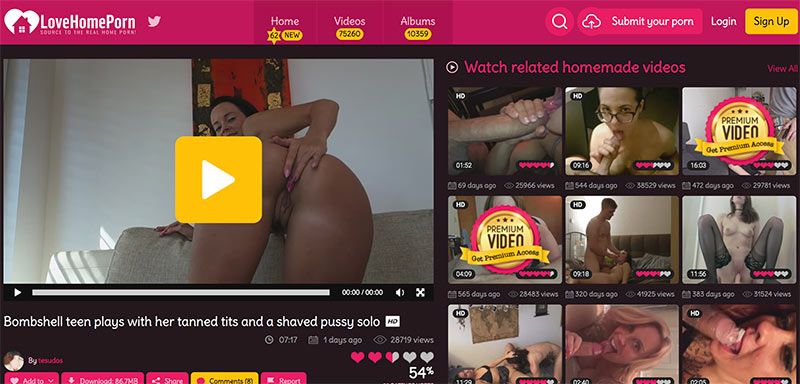 LoveHomePorn Categories
While there aren't separate sections on LoveHomePorn for different types of porn, the site's content generally falls into three categories. Blowjobs seem to be the most popular type of video. This makes sense, since they're relatively easy for an amateur to film. There's also a large selection of couples having sex, usually with the camera set up next to the bed. Finally, a lot of girls like to post solo videos. Some of these are hardcore masturbation clips, and others are just teasing in underwear.
There's a standard search field at the top of the site, so you can search for whatever terms you want. The most recently uploaded results will display first by default, although you can choose to sort by popularity and user ratings as well. This feature is broken, however. Attempting to resort your search results will clear the search terms. For example, if you search for "dildo", you'll get all dildo videos sorted by upload date. If you then click the "Most Viewed" button to sort the videos, you'll get all 80,000+ videos sorted by number of views, whether or not a dildo makes any appearance in the clip.
LoveHomePorn is primarily designed for straight men and women. Lesbians may find something worthwhile, if they enjoy watching other girls jerk off. As is common with standard porn sites, there's no gay content whatsoever.
Star Power
This isn't just an amateur porn site. This is a porn site where being an amateur is mandatory. According to LoveHomePorn's terms of service, girls who are found to have videos on other sites will immediately get banned and have their videos removed. As a result, you won't find any porn stars here. What you will find are hot, wholesome girls-next-door who have an exhibitionist streak. They're not doing this for money; they really get off on being watched!
Network
LoveHomePorn.com does not appear to be part of any network. They don't link to any other porn sites, and you won't be offered any "trial memberships" to other sites when you go to buy a subscription.
Subscription
LoveHomePorn has two tiers of membership: free and premium. While anyone, including non-members, can view free videos and images, free users can add clips to a favorites list, rate videos, and leave comments. Signing up takes just a few seconds, and you can even use a made-up email address if you don't want to get any spam.
Free members and non-members have a daily viewing limit. We're not sure what this is, since we watched several videos with a free account and didn't run into any issues. If you watch a lot of porn, though, it might be a problem.
A premium membership eliminates the viewing limit, and also unlocks all the premium videos and galleries, which is about two thirds of the site's content. Premium members can also download unlimited videos to their hard drive. The site advertises "Full Mobile Support" as a premium benefit, but we had no problem using the site on an iPhone or an older Samsung. They accept payment via credit card or PayPal, and the cost is $29.95 per month.
Autobill warning: Your subscription will automatically renew every 30 days if it's not canceled. This will be at the same $29.95 rate.
The Money Shot
LoveHomePorn is the Olympics of porn; all the participants are amateurs, but they're really good at what they do. Between the daily updates and the relatively high-quality video, there's a lot to like here. The price is a little steep, and the broken search result function can be a bit frustrating, but all-in-all this is a well-designed site that's worth a visit.