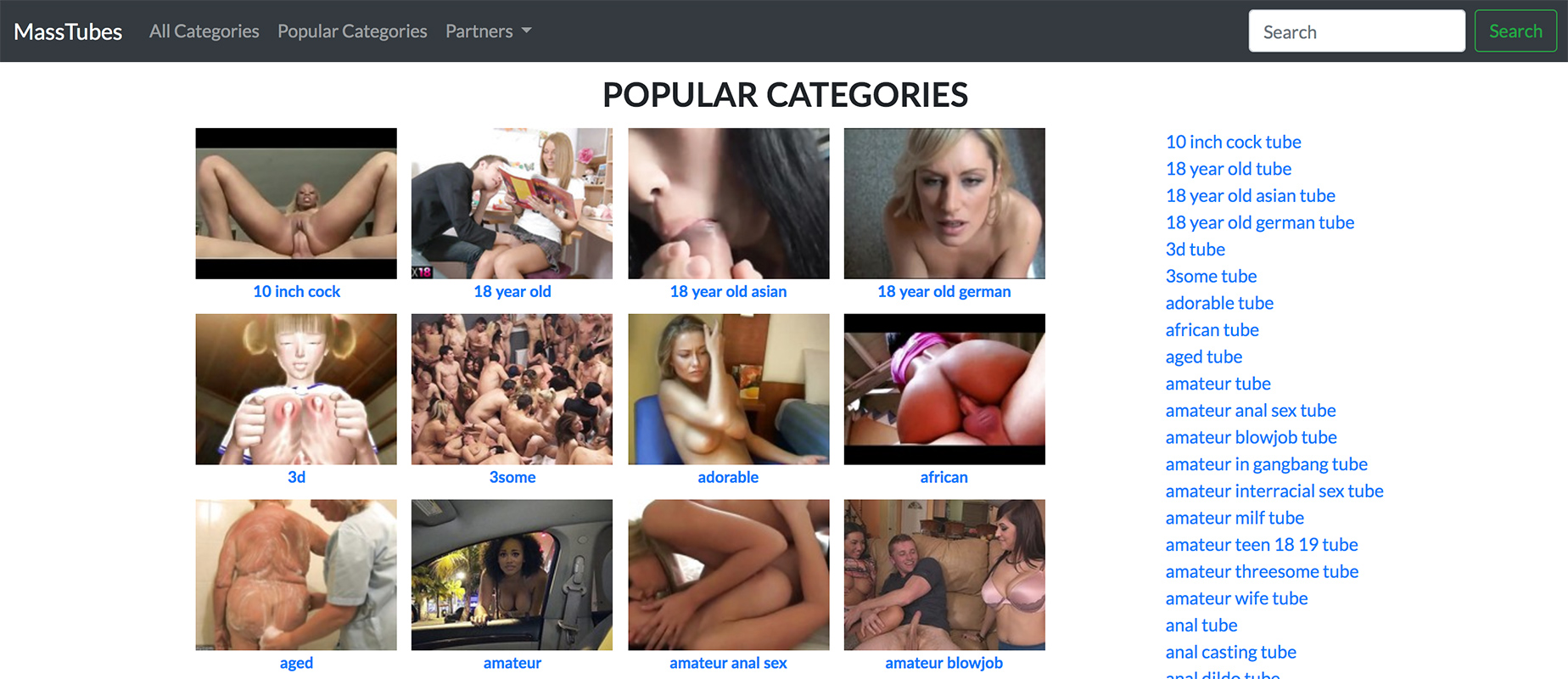 User Rating:
MassTubes.com is a brand new free porn site that was just registered in April of 2019. Since it's so new, we wanted to be the first to review it! Here's what we found.
Tits-to-Tail Overview
We've reviewed a lot of smut, and we've got to say, this site is unique because it doesn't host any content. Instead, it selects the better videos from a variety of other porn sites, divides them into categories, and makes them searchable.
Have you ever been on a tube site like XHamster or PornHub, and seen a description and a preview image that looked really hot, only to find that it's a 2-minute preview for some other site's premium stuff? We know, it's frustrating. And it gives you blue balls, which is exactly the opposite of what a porn site is supposed to do.
The idea of MassTubes is to put all of the longer, uncut videos in one place. You won't find any of that nonsense where the girl is sucking a guy off, really going at it, and it cuts away before he blows his load.
Layout and Quality
MassTubes has a barebones layout, with the most popular categories displayed on their landing page. Choose a category, and you'll see thumbnails for all the videos, along with how long the video is and what site it's from. If you'd rather not search through all their categories, you can also use the search bar at the top of the page to find what you're looking for.
Clicking a thumbnail will open a new tab and the video will play on its parent site. For example, if you open a video from XHamster, your browser will show you that video on XHamster's page, not on MassTubes.
This makes the quality of their videos hard to quantify. Some of it is in HD, and some is relatively low quality. It all depends on the hosting site, although you'll get a pretty good idea from the thumbnail preview. Most of their videos are on the longer side, half an hour to an hour or more, although there are plenty of shorter clips as well.
One thing we really liked here: no advertising. At least not on MassTubes itself. Some of the hosting sites do advertise, so your mileage may vary once you open a link.
Categories
MassTubes divides its porn into more than 1,400 categories. You'll find your standard categories like Anal, Lesbian, Threesome, and Masturbation. But you'll also find some remarkably specific categories like Thai Bareback, Japanese Big Natural Tits, Italian Vintage, and British Amateur in Threesome.
If you're into fetish content, they've got Leather, Bondage, Inflatables, and literally scores of others. There are also categories we've never heard of, like Medieval porn, where you can watch a scullery maid get it on with the prince on top of a castle wall.
Gay and trans users aren't left out, either. There are dozens of categories for these purposes.
Rule 34 is in full effect here. If someone has made porn of it, MassTubes probably links to it.
Overall Boner Rating
It's hard to quantify the overall quality of a site like this, because it links to such a wide variety of content. That said, the real attraction is that all of these videos are free, and they're all full length. If you want to find free porn without searching through a bunch of previews, MassTubes has you covered.