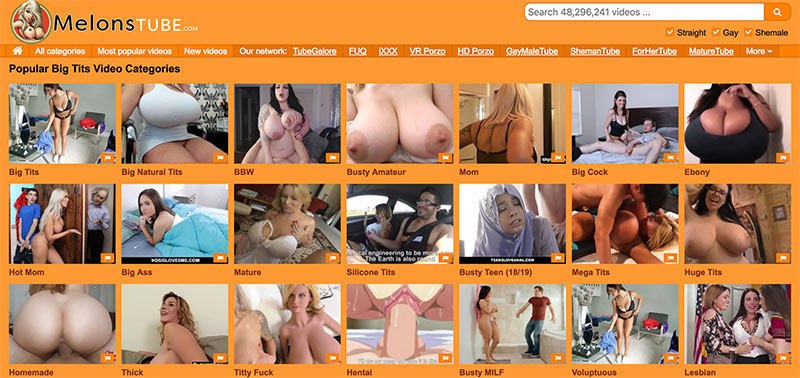 User Rating:
MelonsTube is a niche tube porn website with a focus on performers with big tits. Like many free tube sites, MelonsTube offers millions of free videos for users to browse and watch, almost all of which emphasize large, luscious breasts over all else. Although MelonsTube is focused on big breasted adult performers, numerous other niche categories are represented as well, meaning there is a large selection to choose from. Users looking for other types of content will not be disappointed by the offerings available on MelonsTube. With a global Alexa rating of 25,751 as of February 2023 and a rating of 3,547 in Germany, where it is the most popular, MelonsTube is an extremely popular porn website.
MelonsTube Content
MelonsTube offers an enormous variety of content available to view, with the search bar advertising a staggering 48,940,229 distinct videos available to watch. As the name of the website suggests, most of these videos focus on female performers with enormous boobs. However, there is a wide variety of other content not focused on this specific niche available, so users with different interests should have no trouble finding something they will like out of the millions of videos available to stream.
It should be noted, however, that none of the videos featured on MelonsTube are hosted on the website itself. Rather, MelonsTube collects various links to different free porn tube sites, such as XHamster and Spankwire. While this allows for a huge variety of content, it also leads to a greatly varying quality of experience, and may seem unnecessary to some users.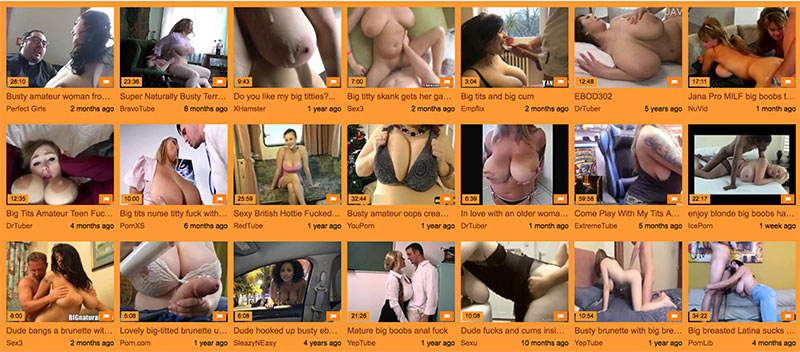 MelonsTube Categories
MelonsTube features a relatively small amount of browsable categories on its website, most of which focus on theMelonsTube focuses on the niche category of Big Tits, with many prominent videos displaying performers with enormous breasts. In addition to this mainstay, MelonsTube features hundreds of separate categories which users can browse by, including popular options such as Teen, Orgy, Creampie, and MILF, in addition to very niche categories, such as European Vintage, Flat Chested, Japanese Office, Brazilian Amateur, and Aged Arab. With such an enormous content library, it's no surprise that MelonsTube offers a likewise enormous number of categories to sort by.
Star Power
As MelonsTube sources their videos from third parties, many notable porn performers are featured in videos on the website, such as Lisa Ann, Mia Khalifa, Piper Perri, James Deen, Riley Reid, and others. However, unlike most other porn websites, MelonsTube does not have a feature that enables users to browse by performer. Neither does it feature up-and-coming performers, a notable omission for a site with such a large amount of content. In addition to this, the fact that videos are sourced by third parties means that videos featuring popular and well-known performers may be more likely to get taken down due to copyright notices.
Network
MelonsTube is a completely independent tube website and is not affiliated or associated with any other studio or adult entertainment network.
Subscription
MelonsTube, unlike many other tube websites, does not offer subscriptions or memberships. While this means that all of the content featured is free, it also limits popular functions that most porn membership sites enable, such as the ability to upload content to the website by users.
The Money Shot
MelonsTube is a serviceable website focusing on performers with big tits that offers an enormous amount of content for users to view at no charge whatsoever. With nearly 50 million videos available to stream, MelonsTube is a huge provider of free adult content. However, this large library comes with a catch: all of the videos are merely linked on the website, and not hosted. When you click on a video, it will take you to another free porn tube website to view the video in question, which may or may not be of good quality. This leads to a variable experience which some users may find cumbersome. In addition to this, the lack of features such as a membership option or the ability to upload videos to the website may be significant downsides for users looking to have a more interactive adult experience.