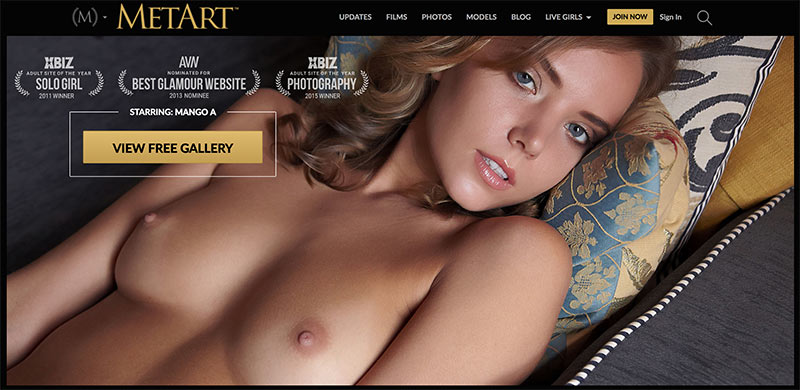 User Rating:
MetArt.com is an artistic nude site that was founded in 1997. It's the flagship site of the MetArt network, which includes the erotic porn site SexArt.
As of April, 2019, MetArt.com is the 7,467th most-visited website in the world, the 603rd most-visited adult site, and the 4,103rd most-visited website in the US. Its Alexa ranking is 11,190th worldwide, and 9,419th in the US.
MetArt Content
MetArt is a little different from most porn sites on the web. It's technically an "artistic nude" site, so you won't see anyone actually having sex, or even masturbating. What you will see are some truly stunning HD images and videos, which the site calls "films".
At the time of this writing, there are over 1,500 films on MetArt, and more than 19,000 image galleries. New galleries are added daily, and films are added every 3 to 5 days. Each gallery and video has a detailed description, so you know what to expect before you commit to it.
The main page displays a large image of the latest model, along with a link to get a free photo gallery. This requires an email address, and only unlocks the featured gallery, not the entire site.
There are plenty of other free samples, too. If you scroll down, you'll see links for models, galleries and films, with each category sorted by date. About a third of the images can be viewed for free, but the juiciest ones are behind the paywall. The videos will only display a short, 1-2 minute clip for non members. You'll have to subscribe to get the full versions.
There are no erotic stories, games or VR porn on this site. MetArt does link to a live cam site, MetCams.com, but this requires a separate membership.
There is no advertising of any kind on this site, and the mobile site has a clean, slimmed down layout.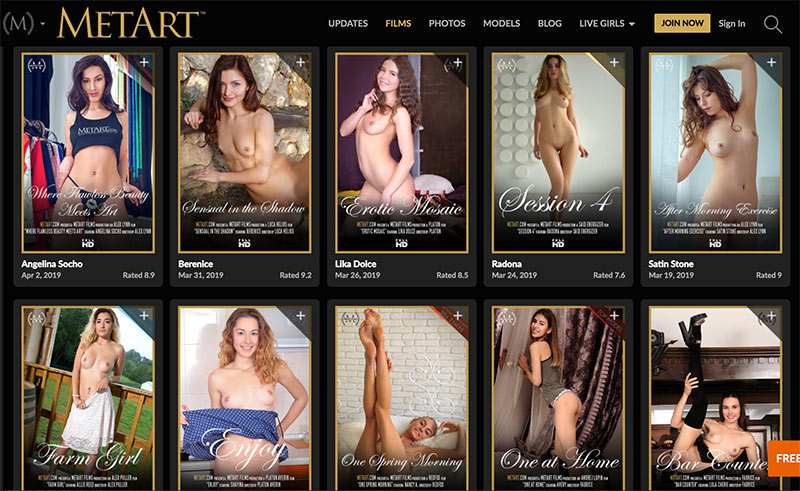 MetArt Categories
Because of the nature of the site, MetArt doesn't have any traditional porn categories. Most of their material is basically a strip tease. The girls start the video or gallery fully clothed, then run their hands over their bodies as they slowly undress.
The site mixes things up by having the models engage in other activities while they're stripping. For example, we watched a video of a girl getting naked as she "plays" table tennis. One of the most popular photo shoots is a model stripping on and around a paddleboard.
As porn goes, this is pretty tame stuff, but it should appeal to a wide audience of men and lesbians. Straight women and gay men will want to look elsewhere, since all of MetArt's models are female.
One exception to this rule is the MetArt shop. They sell videos and DVDs from their sister site, SexArt.com, and most of these videos are traditional porn such as blowjobs, masturbation and vanilla sex.
Star Power
The girls on this site aren't pornstars. They're erotic models, and we've never heard of any of them before. Most of the models are Eastern European, but there are a small selection of asian models as well. Be warned: some of the European girls have hairy armpits.
Network
MetArt.com is the flagship site of the MetArt network. Affiliated sites include SexArt.com, which is an artistic porn site, and MetCams.com, which is a fairly standard live cam site. They also own MetArtX.com, which hosts artistic masturbation videos.
Subscription
The standard subscription costs $29.99 per month and automatically renews every 30 days. They also offer a single-month package for $39.99 which does not automatically renew. Basically, you get a discount for auto-billing.
If you want to save even more, a 12-month package costs $99.99, which works out to $8.33 per month. This package will automatically renew.
Autobill warning: Whether or not you subscribe to a package with auto-billing, the site will try to sign you up for a subscription to MetArtX.com for an additional $29.99 per month. This subscription automatically renews every 30 days. You can opt out of this by selecting "No, thanks" in the dropdown box.
The Money Shot
MetArt lives up to its name — some of their images would be right at home in a museum. This is very high quality, well-shot erotica that's worth checking out. It's also a niche site; you won't find any actual penetration here. Memberships are relatively expensive, but if artistic nudes are your thing it's well worth the price.