User Rating:
StufferDB is an image board and fetish forum for the stuffer and gainer community. It was registered in the Bahamas in 2015 as an independent site, and is not part of any network.
As of February, 2019, StufferDB.com is the 15,392nd most-visited website in the world, the 1,183rd most-visited adult site, and the 6,280th most-visited website in the US. Its Alexa ranking is 22,826th worldwide, and 9,334th in the US.
StufferDB Content
StufferDB is a site where stuffers and gainers share their progress in photos and videos. For people who aren't familiar with this lifestyle, a stuffer is someone who gets turned on by their partner, the gainer, gaining weight, usually in the stomach area. If you're not into BBW girls, you're not going to like this site.
StufferDB features over 130,000 image galleries and videos. Almost all of it is amateur content, and most of the pictures are of a woman's belly or ass. Before and after photos — showing how much weight a woman has gained — are also very popular.
The top of the homepage shows the site's main image categories, followed by thumbnail previews of the most popular image and video uploads of the last 2 weeks. Clicking on an image gallery will take you to a slideshow, while clicking a video will take you to the video player.
There are no live cams on this site. Although there's a section for BBW cams that's disguised to look like it's part of StufferDB, it's actually a third-party cam site. There are also no games, erotic stories or VR porn.
Image and video quality varies widely depending on the uploader. None of the content is in HD, though, and all of it has a very amateur feel, which we suppose is part of StufferDB's appeal. Never once will you question that these are regular, everyday people showing off their bellies.
On mobile, StufferDB collapses thumbnails into a single column. In theory, this should make the site easier to view. In practice, this makes for a lot of scrolling, since there are so many individual thumbnails on the main page.
With the exception of the sneaky webcam ads we already mentioned, there's no advertising whatsoever on StufferDB.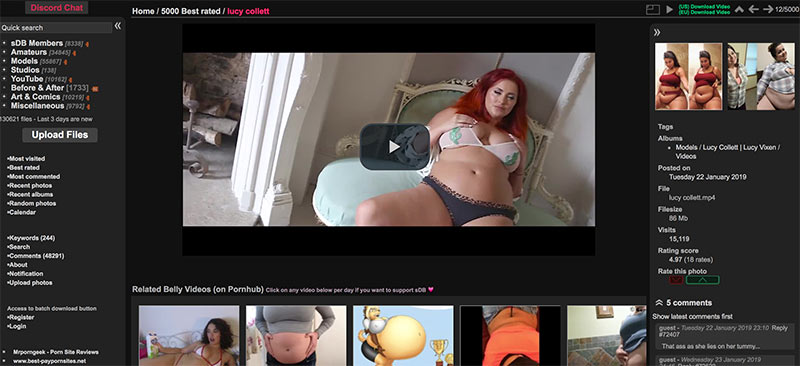 StufferDB Categories
From the left side of the page, you can quickly access different categories of porn. Since everything on this site is oriented to the feeder/grower community, all of these are BBW images and videos. They include amateurs from other sites, professional models, drawings, YouTube videos and before and after comparisons. There's also a category specifically for StufferDB members to share their homemade smut.
The basic text search only allows you to search for users, not for categories or keywords. In a way, this makes sense, since this is a niche site that's all about connecting the feeder/grower community. On the other hand, a keyword search is a pretty basic feature that would be easy to implement, and it's disappointing that StufferDB doesn't have one.
This is strictly a feeder/grower site oriented towards straight men who love to feed and straight women who love to be fed. Lesbians, gay men and people who aren't into BBWs will prefer other sites.
Star Power
While there are a couple of professional models on StufferDB who will be familiar to feeders and growers, the real star of StufferDB is the community. The comments sections, forum and discord chat are extremely active, as you'd expect from a site where a lot of the users upload their own pictures.
Network
StufferDB.com is an independent community site. It is not part of any established porn network.
Subscription
There's no subscription required for StufferDB. Anyone can view pictures and images for free. That said, the community is the main attraction here, and you'll need to create a free account if you want to get involved. Members can comment on other users' uploads, chat in the forums or Discord, and even upload their own stuff.
The Money Shot
StufferDB is exactly what it says it is: a website to watch girls stuff themselves and get fat, and chat about it with others. If you're into that, there's certainly plenty to see. On the other hand, this site suffers from poor video quality, a sloppily-designed mobile site, and a limited search feature. This site has a great community and lots of content, but it's not very polished or well designed.