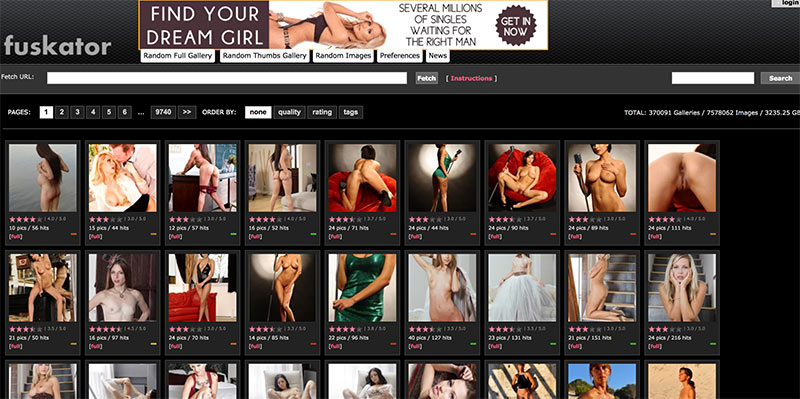 User Rating:
Fuskator is a free porn website specializing in erotic still images and photography. Unlike most free porn websites, which focus on video streaming and other types of content, Fuskator exclusively specializes in pornographic images and image sets. These images and pics range from softcore, nude models to hardcore images depicting explicit sex acts, similar to porno magazines like Hustler. With a global Alexa ranking of 8,257 as of the time of this review and a ranking of 4,878 in the United States, where it is the most popular, Fuskator is a surprisingly popular porn website.
Fuskator Content
Fuskator, unlike your typical porn website which focuses on video streaming, is exclusively dedicated to adult image sets and still photography. Fuskator does not offer any pornographic videos or live cams. Fuskator doesn't even offer animated GIFs, as most porn websites that focus on still images do. All of the content on Fuskator revolves around still pics, many of which are from high quality, professionally produced photo shoots featuring working models, although many are also amateur images that appear to have been taken from a phone. The content ranges from softcore nude and topless shoots featuring just the one model, to hardcore photo sets depicting typical explicit sex acts, such as blowjobs and full penetration, similar to popular pornographic magazines like Hustler and Private. Images typically come in sets of a dozen photos or more, although this greatly varies by type of content and uploader.
Fuskator Categories
In a startling change from most porn websites, Fuskator does not appear to offer any categories to browse their content by. As this is a common and expected feature of most porn websites, Fuskator's absence of this feature is a notable omission that some users may find to be a dealbreaker. There is still a search bar that users can employ to sort content by, but this tends to be more cumbersome than simple categories that users can filter Fuskator's huge library of approximately 7.5 million images by. This is a definite downside to using Fuskator, and a very easy way they could improve their website. Users should know about this before bothering with the website.
Star Power
While many of Fuskator's photo sets feature professional models, many of them are not well-known porn stars, as better known models and entertainers tend to focus on video work rather than still photography and image sets. Users looking for an experience that will give them access to popular and well-known models are unlikely to find what they are looking for on Fuskator, as much of the content features performers who are either unknown or amateur.
Network
Fuskator appears to be independently owned and operated and is not associated with any other adult entertainment network, producer, or studio.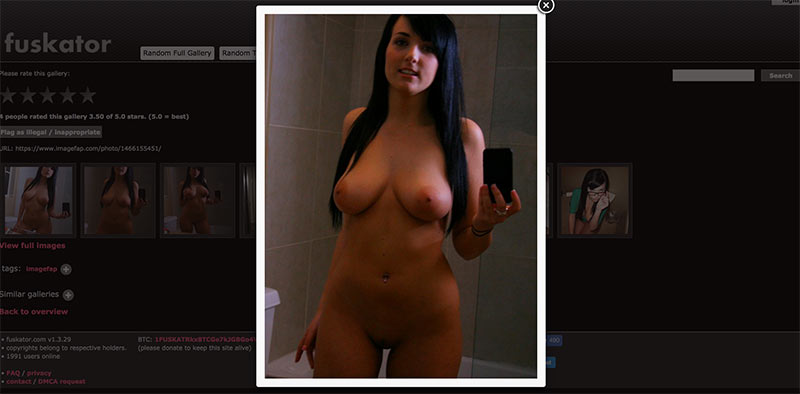 Subscription
Users of Fuskator are encouraged to sign up for a free membership account, which will allow them the notable privilege of being able to upload photos and photo sets to the website, as well as comment and rate other users' content. In fact, it seems that the vast majority, if not all, of Fuskator's huge library of content comes from the users, making Fuskator a very community-based experience. Users who are interested in this kind of community experience may find Fuskator to be an appealing choice, but for those who couldn't care less, using Fuskator may not be worth it, as they will be missing out on most of the appeal. There does not, at this time, appear to be an option for a paid premium account.
The Money Shot
There are no videos here, and as a result, most of the models and performers featured in Fuskator's content are not particularly well-known. While Fuskator's website is generally modern, well-designed, and easy on the ads, there is no option to sort content by popular categories, a huge omission on the part of Fuskator that may be a dealbreaker to some people for this website, despite their inclusion of a search bar. The prime appeal of Fuskator is the community element, as most of Fuskator's enormous (approximately 7.5 million images) content library appears to come from independent users uploading their own pictures. Users who are interested in this kind of interactive community and experience may find Fuskator to be an appealing choice, but for everyone else, there will be a very limited appeal for Fuskator, as many basic features of popular porn websites are omitted entirely.