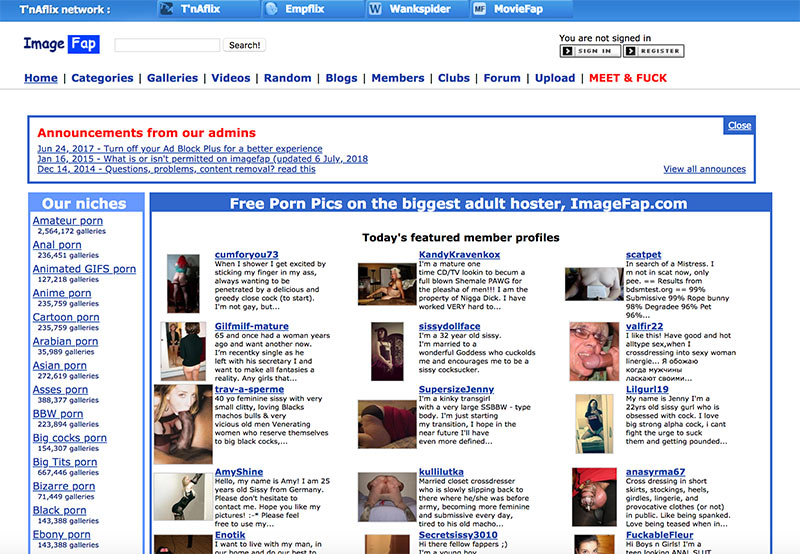 User Rating:
ImageFap is a user-uploaded image and video site that was registered in February, 2006. It's part of the T'nAflix Network, which includes TnAflix.com, Empflix.com, MovieFap.com, and their affiliated gay and fetish sites.
As of January, 2019, ImageFap.com is the 287th most-visited website in the world, the 25th most-visited adult site, and the 157th most-visited website in the US. Its Alexa ranking is 1,243rd worldwide, and 817th in the US.
ImageFap Content
ImageFap is an X-Rated image board and forum with a small video gallery. The content is all user uploaded. Most of the photos are amateurs, although some of them are celebrity and professional content that's in the public domain.
The main page displays previews of featured member profiles at the top. Clicking one of these previews will load the member's entire profile. There, you can view any photos or videos the member has uploaded, or send them a private message.
On the main page, beneath the member profiles, you'll find thumbnail previews of the latest videos. These are free to watch, and average about 1-2 minutes in length. As is the case with most amateur porn, quality varies widely, with some videos that look almost professional, and others that look like they were filmed with an 80s camcorder. Videos are stored in MP4 format, so they're easy to download. Simply right click and save them to your device.
If you keep scrolling past the videos, you'll finally come to the latest image galleries. Thumbnails of the first few images in each gallery will be displayed in a row. Clicking any of them will load a slideshow, which you can navigate using your mouse or keyboard. Galleries vary in size from one image up to dozens of images, and generally share a theme. There's no download button for images, but you can save them the same way you save videos from this site. Just right click them and select the download option.
There are no live cams, games, VR porn or erotic stories on ImageFap.com. It's strictly an amateur picture and video site. ImageFap's mobile site loads well, and is basically a scaled down version of the desktop site. Because this site is free, there are banner ads on both the mobile and the desktop version. These are relatively unobtrusive, and there are no popup ads.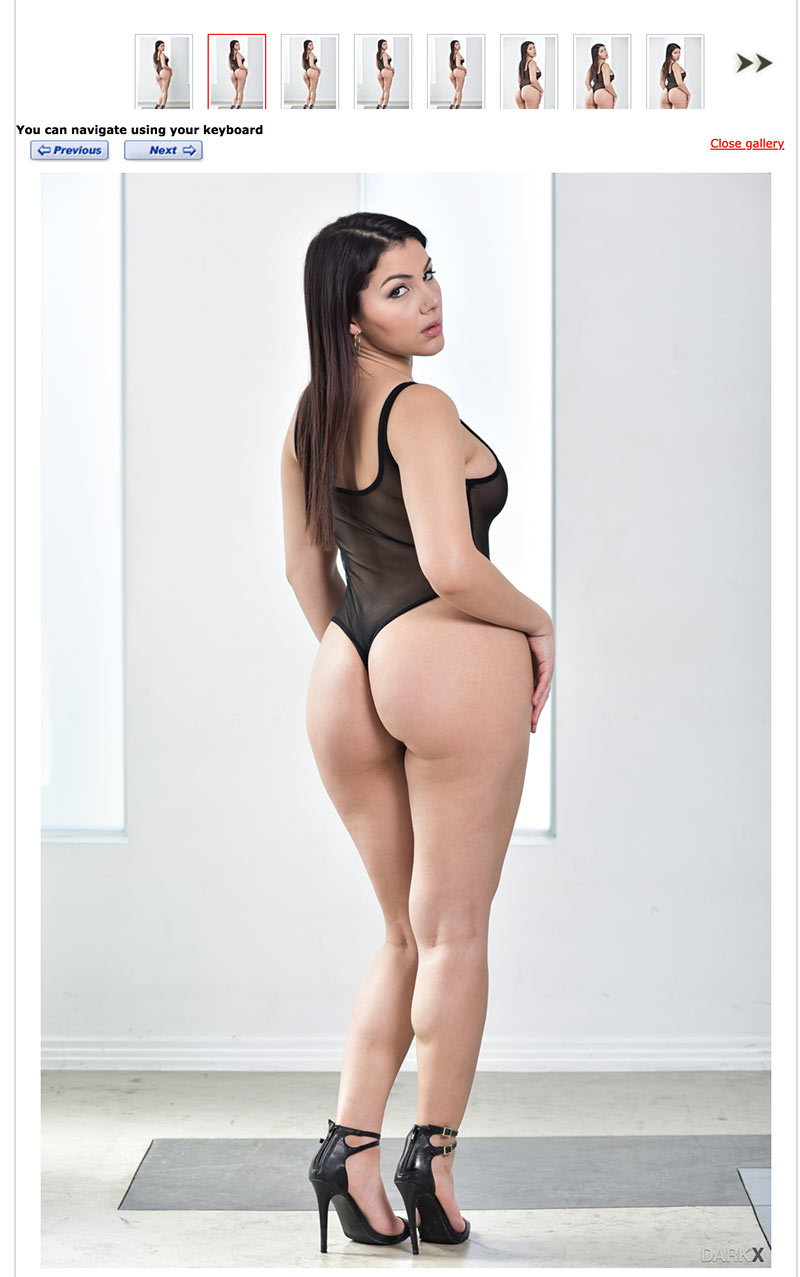 ImageFap Categories
With dozens of galleries a day being added to ImageFap, the easiest way to find what you're looking for is to use the Our Niches box on the left side of the site. This provides links to 74 different categories. Full disclosure: Old Men Porn is currently empty, so there are technically only 73 categories.
Popular categories include Voyeur, Homemade, Feet, Flashing, Big Tits, Bondage, Cross Dressing, Lesbian and Captions. This last one is something we haven't seen before. Basically, it's a picture, typically a work-safe picture of a celebrity, with a caption that's a piece of raunchy flash fiction.
There are also active gay and transsexual/transvestite communities on ImageFap. Girls, guys, couples, and everything in between; no matter what you like to jerk off to, you'll find it here.
Star Power
ImageFap's star power comes from its users, who upload a decent selection of celebrity and vintage photos. The celebrity photos are either stills from sex tapes — what's up, Paris Hilton? — behind the scenes work-safe photo shoots, or fakes. Some of the fakes are pretty good, and include Ariana Grande, Sarah Hyland, Kaley Cuoco, Emma Watson, Sophie Turner and more.
For copyright reasons, you won't find many current porn stars on this site. That said, you will find tons of vintage porn photos. In addition to past stars like Erica Campbell and Ginni Lewis, there are also photos of old Playboy issues, old-timey Victorian porn, and even ancient artwork like Greek vases. If someone in ancient Rome drew a dick on a wall, there's likely to be a picture of it here.
Network
ImageFap.com is part of the T'nAflix Network. Other network sites include TnAflix.com, MovieFap.com, Empflix.com, porn search site Wankspider.com, and their affiliated gay and fetish sites.
Subscription
No subscription is required to view any of ImageFap's content. That said, this is a community site, and you'll need a free account in order to post comments or send messages to other users. Members can also save photos and videos to their own custom galleries for easy access.
Ultimately, this site is made by and for exhibitionists. If sharing your own sexy photos gets you off, a free ImageFap account can be a great way to indulge your kink. When you first post pictures or videos, you'll be asked to send a verification photo to prove it's actually you. The process is quick, and takes less than a day.
The Money Shot
If you're into amateur porn, ImageFap is a solid porn site. It loads quickly, it's easy to navigate, and it's 100% free. While it does fall victim to the scourge of amateur sites — lots of grainy pictures and videos — that's to be expected, and with this much content it's easy enough to find the good stuff. The ImageFap community is active, so it's a great place for voyeurs as well as people who just want to jerk off. If you want to bust a nut on an amateur's butt, ImageFap is a solid porn site.