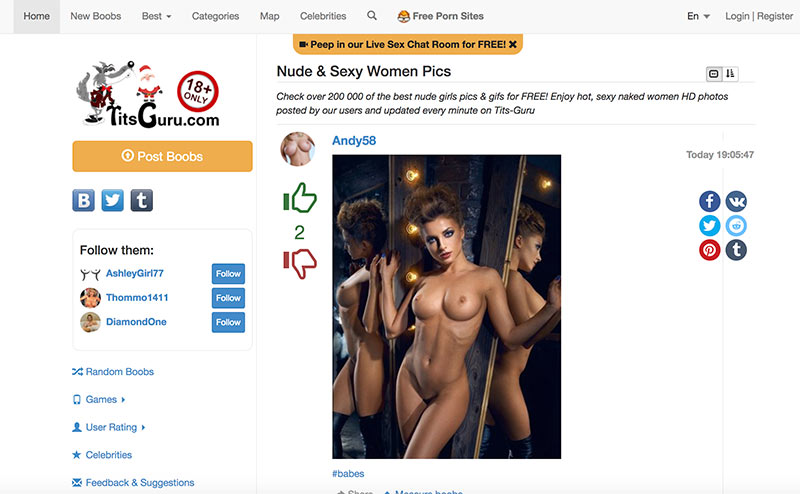 User Rating:
TitsGuru is a free softcore porn website specializing in still photos and GIFs that feature a variety of female models and emphasize their breasts. Unlike most free porn websites, TitsGuru utilizes a website design similar to many social networking websites, with a main "feed" on the front page displaying the newest and most popular content. Users are encouraged to sign up for free profiles, and can then upvote or downvote submitted content, similar to popular websites like Reddit and Digg. With a global Alexa ranking of 33,380 as of March 2023 and a ranking of 23,518 in the United States, where it is the most popular, TitsGuru is a fairly popular porn website.
ImageFap Content
All of the content featured on TitsGuru is comprised of still photography and animated GIFs, unlike most porn websites which mainly feature video streaming. As the name implies, most of the content displayed on TitsGuru emphasizes the subject's boobs, and within this niche there is a wide variety of content to be found. TitsGuru employs a social media-style web page design, and users are highly encouraged to sign up for free profiles that will allow them to submit their own content and interact with other users. All of the content featured on TitsGuru appears to be softcore.
Much of the content featured on TitsGuru appears to be sourced randomly from other pornographic websites. Many of the pictures featured are photoshopped nude fakes of famous actresses. TitsGuru itself does not appear to produce any of the content they post, and thus, the quality of content featured can vary widely, although on average the quality appears to be fairly good. TitsGuru advertises a total collection of over 200,000 photos and GIFs, so users interested in this type of content should be likely to find something they enjoy with ease.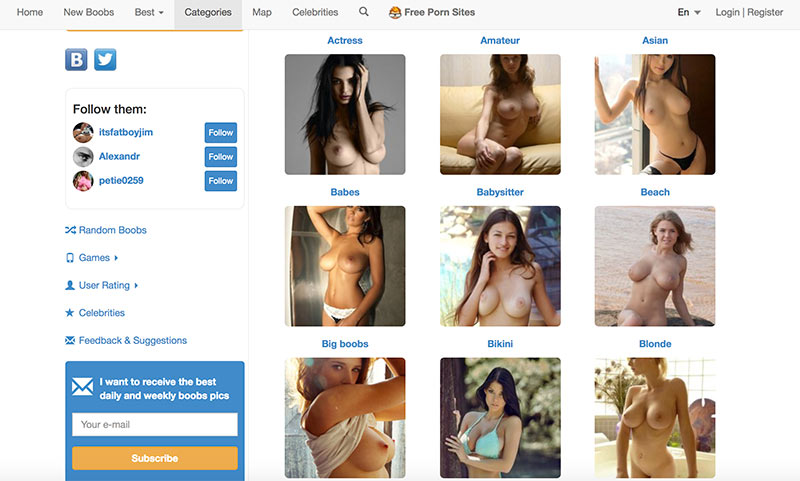 ImageFap Categories
While most of the content featured on TitsGuru emphasizes breasts, there is a wide variety of genres to pick from within this niche. Popular genres represented include Asian, Voyeur, Redheads, Latina, and MILF. In addition to this, there are a large number of niche genres present, such as Socks, Yoga, Smoking, Brides, and Selfies. Users are also able to sort content by celebrity featured, Babe of the Week and Month, and by geographic location, making use of an interesting and uniquely clickable "map" feature which sets TitsGuru apart from the competition in this small way.
Star Power
TitsGuru features a number of notable porn stars on their website, although as all of the content featured is softcore, none of them are depicted in their usual element. There are also a number of actresses featured on the website, although most of the photos provided of them are photoshopped fakes. Notable performers and models, whether porn stars or not, typically come with a profile that displays a number of stats about them, such as height, weight, birth place, breast cup size, eye color, and so on. This level of detail is an interesting addition for anyone looking for content featuring well-known models, although users should be aware that much of what is provided may be fake, especially for non-pornographic actresses.
Network
TitsGuru appears to be independently owned and operated and is not associated with any other adult entertainment network, studio, or producer.
Subscription
TitsGuru greatly emphasizes the social aspect of their website, and users are strongly encouraged to sign up for free profiles that will enable them to access a number of features, such as the ability to upvote and downvote posts, the ability to comment on content, and the ability to upload their own pictures and GIFs. Much of the content featured on TitsGuru appears to be sourced from users of the website, meaning that TitsGuru is mostly a community-driven effort. Users looking for a porn website with a strong social aspect will likely find TitsGuru to be a good choice. There does not appear to be an option for a paid premium account at this time.
The Money Shot
TitsGuru is a softcore porn website that mainly deals in still pictures and GIFs of women with large tits. The website strongly emphasizes community-driven growth, with users highly encouraged to sign up for free profiles and a website design inspired by popular websites such as Reddit and Digg. Much of the content appears to be sourced from this community, so users looking for a highly interactive experience will find TitsGuru a good option if they can deal with the lack of video. Overall, TitsGuru is an interesting option that does many things differently from most porn sites. Some of these work well, others less so, but either way, the content available on TitsGuru speaks for itself, and users should find it a serviceable alternative to more mainstream porn websites.