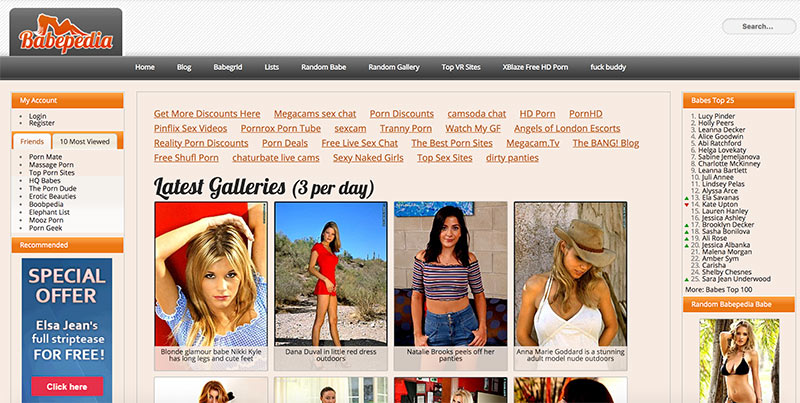 User Rating:
Babepedia is a free porn website that exclusively features still pictures and photography of beautiful, naked women. Unlike most free porn websites, which emphasize video over everything else, Babepedia trades entirely in professionally produced photo sets, most of which, if not all, appear to be softcore, solo nude sets rather than the hardcore type of pornography featuring explicit sex acts that is the norm for most free porn websites. With a global Alexa ranking of 26,586 and a ranking of 20,502 in the United States, where it is the most popular, Babepedia is an extremely popular softcore picture site.
Babepedia Content
All of the content featured on Babepedia focuses on softcore solo nude photo shoots and sets. There are no videos to stream here, although Babepedia lists a link to a sister website which offers live cams. Other than that, though, all of the content featured on Babepedia is exclusively comprised of still photos and softcore action, and while this may be a downside for some users who are accustomed to the hardcore action of most porn websites, the models and performers featured are no less beautiful, and viewers who can deal with the lack of video streaming or hardcore content will find Babepedia to have a wide array of options to suit their needs.
Babepedia Categories
Babepedia has a somewhat small number of categories by which users can filter and browse their content. As the content on Babepedia is exclusively softcore, this means that popular genres on most porn websites, such as Anal, Orgy, and Creampie, are obviously not featured here. Rather, the genres that are available tend to focus on the physical features of the models in question, such as Redhead, Middle Eastern, and BBW. There are only about a dozen or so of these categories to sort by, which is a little dissapointing considering the insane amount of content on offer.
Star Power
As most well-known porn stars tend to make their living in the hardcore video and movie market, Babepedia suffers from a lack of famous porn stars and adult entertainment models. While Babepedia does have an option to sort content by models, the names won't be familiar to those who aren't accustomed to the niche world of softcore nude photography. These include names such as Leanna Decker, Alice Goodwin, and Holly Peers. In addition to these names, there is also a fair amount of content featuring amateur performers, as well as an even smaller number of content featuring celebrities outside of the porn and adult entertainment world, such as Kate Upton and Sarah Hyland.
Network
Babepedia appears to be independently owned and operated and is not associated or affiliated with any other third party adult entertainment studio, network, or producer.
Subscription
Babepedia gives users an option to register for a free user account, which after doing so will grant them a number of bonus features, such as the ability to upload photos and save their favorites, as well as comment on and vote on content already featured on the websites. There does not appear to be an option for a paid premium profile at this time.
The Money Shot
Babepedia is a free porn website that, unlike most other porn websites, only offers users softcore content in the form of still photography. In fact, Babepedia has much more in common with magazines like Playboy and Juggs than it does any kind of hardcore porn website, and their exclusive focus on still photography is another way that Babepedia sets them apart from the competition and serves their niche. While many users, especially those who are used to the hardcore video streaming content that is standard for most porn websites, may find Babepedia to be lacking, those who are interested in a more subtle approach to adult entertainment content may find Babepedia to be a refreshing alternative to the average porn website. Overall, Babepedia is an interesting choice in an industry that seems overrun with the same type of content, and is well worth checking out for users looking for something a little different.