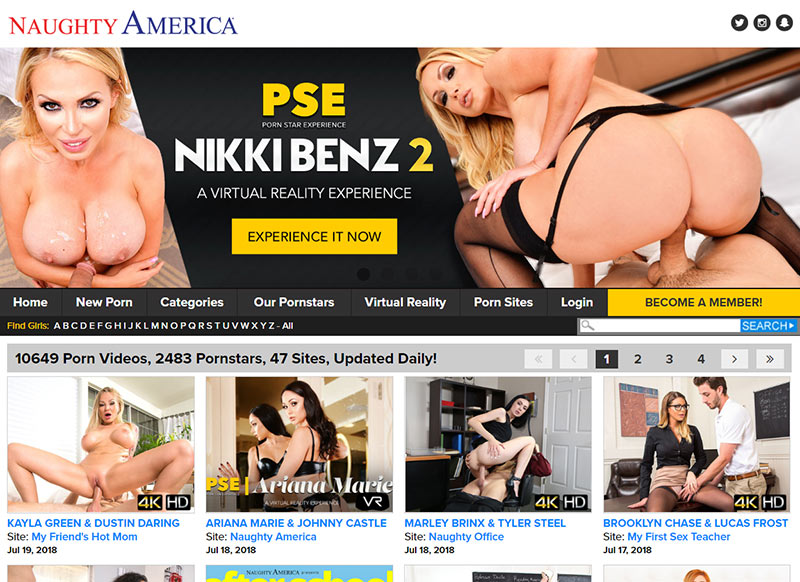 User Rating:
Naughty America went live in 1998, under a different name, and re-branded as Naughty America in 2004. Since that time, it has been home to high quality porn videos and DVD productions. Over the years, the site has grown into a network of 47 sites, featuring some of the top pornstars in the industry over the last decade and a half. The sites are primarily male/female and mixed threesomes and foursomes in nature, though there is some lesbian content as well.
Naughty America is in the top 4,000 sites globally across all categories based on traffic, and in the top 2,000 in the US. It serves as the network hub or top-level domain, through which all contributing network sites' content can be viewed.
Naughty America Content
The Naughty America network is made up of video content dating back to the early 2000s, across the 47 different sites in the network (all of which were started at different times). Older videos are in SD, with the majority being in HD, and newer videos are in 4K Ultra HD. The site also has a focus on VR technology and VR, POV experience videos, compatible with most major headsets and poor-man's VR (including Google Cardboard and similar). The network receives multiple updates daily, and currently holds upwards of 10,000 scenes. Videos vary in runtime, from 20 to 50 minutes, with the average being around 35 minutes in length.
In addition to the video content, the site also has a swag shop, where you can purchase imprinted clothing merchandise.
Content on the network is largely heterosexual oriented, with mostly male/female and mixed threesomes and foursomes content, with one or two sites featuring lesbian content. There is little to no solo female, and no solo male or gay male content (though the company does run a separate gay network of 4 sites). There is also no transsexual content on the network.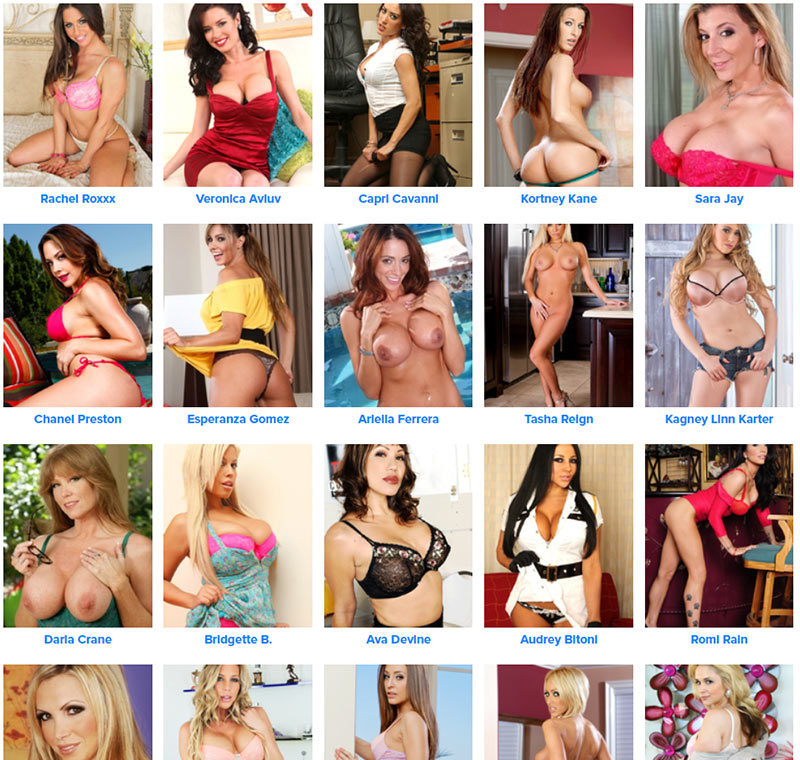 Naughty America Categories
The video categories include typical mainstream hetero categories and limited mainstream fetish content. By and large, the videos are male/female scenes, or female/male/female threesomes, with a minority of content being male/female/male threesomes, foursomes/orgies, or female/female. With that context, there are many variations and themes.
The most populous categories, based on the number of scenes bearing those category keywords on the network, include Blow Job, Shaved, Tattoos, Brunette, Deepthroating, Fake Tits, Natural Tits, American, Blonde, Big Dick, Small Tits, Cum in Mouth, Bubble Butt, Caucasian, High Heels, Big Ass, Ball Licking, Ass Smacking, Ass Licking, and about 70 or 80 more.
TVideos can be searched for directly via a search box, browsed by release date, category/keyword, or porn star. Content is also organized based on originating site. However, content is also locked behind individual channels (see the Subscription section for more information).
Star Power
At present, Naughty America's network stats include a catalog of over 2,400 female models. Many of them are top-level pornstars, ranging from teens to MILFs. Some of the top performers that are featured on the network (based on member's popularity rankings) include Nicole Aniston, Julia Ann, Emma Starr, Phoenix Marie, Ava Addams, Brandi Love, Lisa Ann, India Summer, Lexi Belle, Kendra Lust, Jayden James, Rachel Starr, Jenni Lee, Madison Ivy, Jessica Jaymes, and many, many more.
Network
Naughty America is the top-level site in a network of 47 sites. All content from the various sites in the network are aggregated on Naughty America, and viewable through the site. The sub-sites can be accessed to directly view that site's content. As with many networks, the sub-sites aren't really sites in and of themselves – merely landing pages that route you back to Naughty America to view the content. Please bear in mind, however, that content is not a guarantee of membership, and much content is locked away behind individual content channels for additional fees (see Subscription for more information).
Some of the other sites in the network include My Friend's Hot Mom, My First Sex Teacher, Seduced by a Cougar, My Daughter's Hot Friend, My Wife is my Pornstar, Tonight's Girlfriend, Wives on Vacation, My Sister's Hot Friend, Naughty Weddings, and many others.
Subscription
A few of the latest videos have teaser trailers that are free to view, but, as with most sites and networks, the content requires a subscription. Subscriptions are tricky here, so bear with us.
The basic subscription provides access to the most recent month's scenes, as well as some other basic features – generally, a cross-section of around 50 videos that rotate on a weekly basis, including the newest releases from the month. Many of the network sites' contents are locked behind "channels", that can either be purchased for an additional monthly fee or a one-time payment for lifetime access (on a per-channel basis). This means, though the subscription below appears inexpensive, much of the content requires additional payment.
This information has been changing rapidly since April 2019, and therefore we cannot guarantee the accuracy of how many videos are currently offered with basic membership, or the number (or cost) for channel access, so use caution.
We do the math so you don't have to! Below you can find a comparison of the different subscription plans available and our recommendations.
Porn Elxplosion Advice: This is one of the cases where we highly recommend you check out the trial membership, to get a sense of the overall costs of the content you want to get at, which you can only see (the channels and corresponding prices) as a member. While the 1 year deal is certainly tempting (and should be taken advantage of if you intend to stick around), take a peek first with the trial membership and add up your potential costs before you commit to spending a ton of money here.
We always recommend signing up for trials with a Visa, Amex, or MasterCard gift card, with a small balance, in case you have trouble cancelling or forget to cancel before the auto-renewal.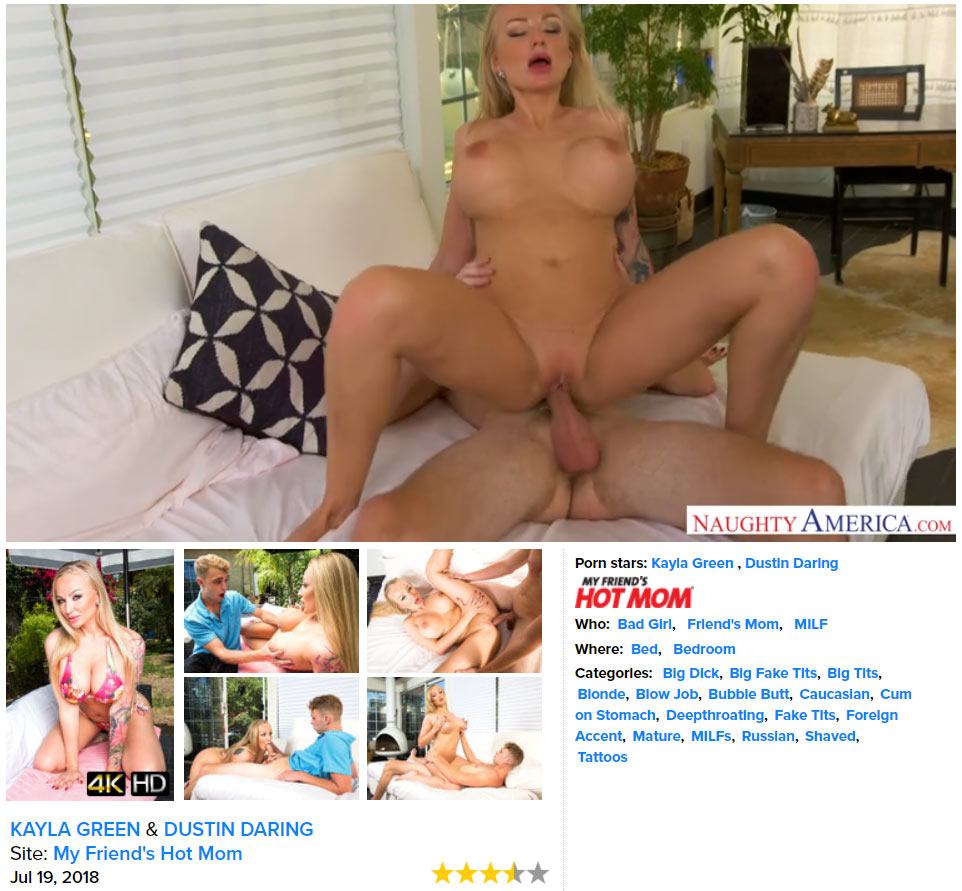 The Money Shot
Naughty America used to be a great deal, but their current pricing scheme is, in our opinion, misguided. Monthly access to a single channel can run as high as an additional $20-30, or one-off fees of $50 for lifetime access. With the number of content channels, you can run up a bill near $1,000 very easily, compared to many other networks that give you all content in their network for one subscription base price. The content is generally great here, but until they fix their current (and recent – only since April 2018) pricing mindset back to something more reasonable, we recommend caution. Only sign up for a trial and figure out how much you might have to pay monthly or one-time-only in order to access the content channels you want. Also, beware and uncheck the default cross-sell when you sign up, or you'll get hit with another monthly charge for another site. We don't approve of these kind of tactics or pricing schemes, they make our dicks soft and pussies dry.