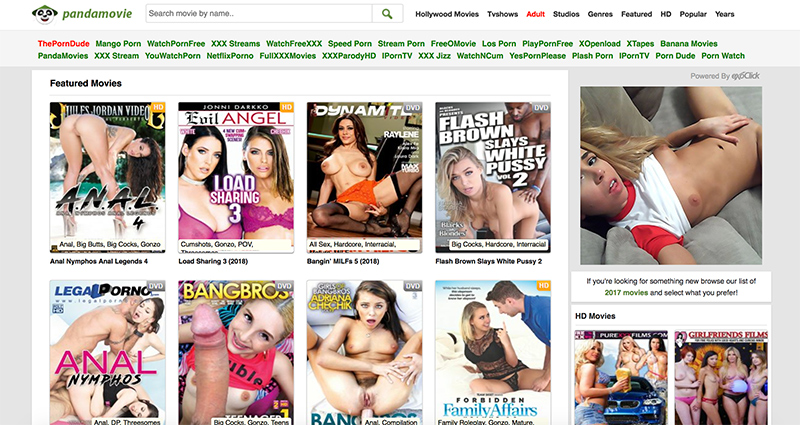 User Rating:
PandaMovies is a free porn tube website that offers streaming for both adult video clips and full length films. Unlike many other tube websites, PandaMovies is unique in that the full length movies on offer are a main attraction for viewers, whereas shorter clips are the norm for most similar sites. Despite this, PandaMovies suffers from a number of serious flaws that make it a poor choice for porn enthusiasts, including serious issues with intrusive pop up ads and a lack of overall selection. With a global Alexa ranking of 45,565 as of February 2023 and a ranking of 18,540 in India, where it is the most popular, PandaMovies is a somewhat popular porn website.
PandaMovies Content
PandaMovies, in a different style from most other porn websites, emphasizes free streaming of full length porn movies, rather than shorter clips. Clips are available as well, but the prime feature on display here are full length movies. New and featured movies are displayed prominently on the website's homepage, complete with original cover art and title, giving a very polished impression at first glance. The movies themselves are free and of decent quality, although they don't seem to be of particularly high definition. Currently, PandaMovies has a respectable collection of about 40,000 full length movies to view.
Despite the website's overall polished and modern look, PandaMovies suffers incredibly from intrusive ads. Users will be faced with far more pop up ads than is normal for a porn website, and this can make for a frustrating and disappointing streaming experience. Users intent on using PandaMovies would be well advised to have fully updated and robust security and adblocking measures on their devices in order to have an optimal streaming experience.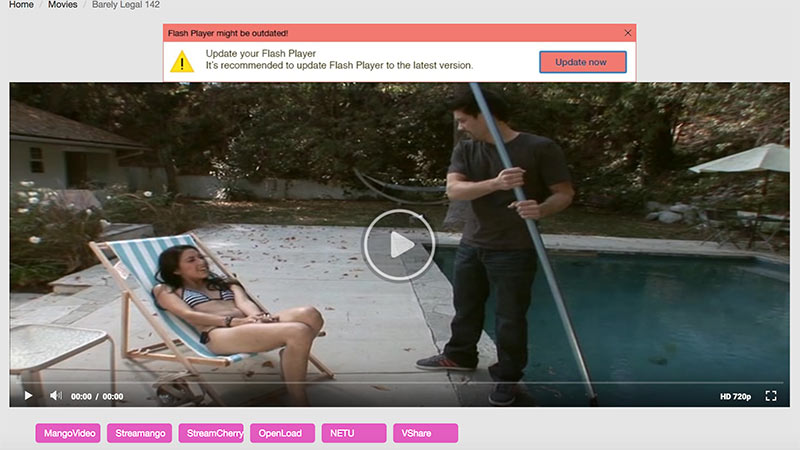 PandaMovies Categories
PandaMovies offers a large variety of categories by which to browse their content. These include favorite genres such as Anal, Big Ass, MILF, Latina, and others, but also includes niche genres such as Lactation, Footjobs, Gonzo, Pregnant, and Hairy. In addition to this, users are able to sort movies by different factors, such as Year and Studio. This extra feature is an especially nice touch that allows viewers an extra layer of control over what they see.
Star Power
As PandaMovies sources all of its content from professional third party studios and producers, much of the content available features well known porn stars. Adult performers such as Alexis Texas, Gia Steel, Khloe Kush, and Alina Henessy are all featured in movies and clips featured on the website. Given the very professional and polished nature of the content available on PandaMovies, visitors should have no issue finding their favorite porn star.
Network
PandaMovies appears to be completely independent and is not affiliated or associated with any other adult entertainment studio, network, or producer
Subscription
PandaMovies does not offer any paid or free membership profiles at this time. All of the content featured is 100% free to stream without the need for a membership profile or paid subscription.
The Money Shot
PandaMovies is a very promising porn tube website with a great deal of flaws that need to be worked out before it can grow. On the positive side, PandaMovies does something very unique in offering full length porn movies for free. It does so with a professional, sleek presentation that makes browsing for content a joy, and the total number of free full length adult videos is very impressive, at approximately 40,000. Additionally, users can browse for movies by studio and year released, a nice perk which definitely goes in favor of PandaMovies.
On the downside, PandaMovies is littered with ads, moreso than most adult websites, making what should be an easy and enjoyable browsing process a bit of a pain. Users set on using PandaMovies will absolutely want to make sure their antivirus software is up to date, and may want to invest in a good adblocker to boot. Additionally, users are unable to register for any kind of account. These aren't necessarily dealbreakers, but they are easy ways PandaMovies could improve and better serve their audience.