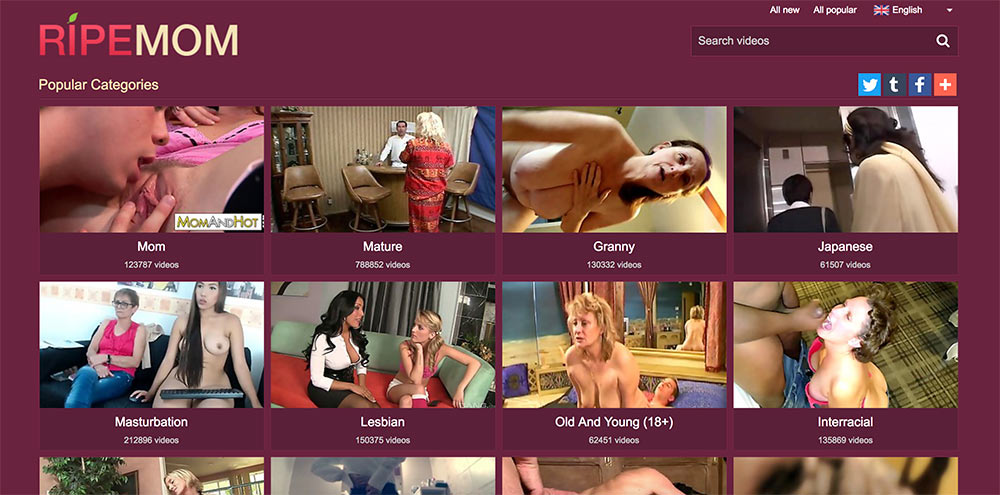 User Rating:
Ripemom.com is a free porn website specializing in MILF and Mature porn videos. Although this appears to be their primary niche market, Ripemom features many videos in other genres, including Lesbian, Interracial, Amateur and Creampie. Although the total number of videos featured on Ripemom is unknown, most categories list total numbers in excess of 100,000, meaning there are likely more than a million videos accessible through Ripemom. It should be noted, however, that unlike most free porn sites that host video on their own servers, Ripemom merely provides links to other free porn websites, such as Pornhub, and collects these links on their own website.
Ripemom appears to be independently owned and unaffiliated with any other studio or producer. While its status as a porn indexing website means it links to dozens of other porn websites, Ripemom itself is not part of any larger adult entertainment network. With a global Alexa ranking of 93,665 as of November 2019, Ripemom is not especially popular. Interestingly enough, the overwhelming majority of its traffic (roughly 40%) comes from Japan. This is far more than the second and third place countries in terms of traffic volume, which both represent less than 10% of Ripemom's traffic.
Ripe Mom Content
As with most free porn websites, Ripemom features a large number of free porn videos for users to view. A total number is hard to determine, but individual categories typically list a total number of videos in excess of 100,000 each, meaning Ripemom potentially has more than a few million videos available through its website. However, unlike most porn websites, which host videos on their own servers, Ripemom acts more as a porn indexing website, sending users to the original host website when they click on a video. While this allows for a greater number of potential videos for users to choose from, it provides a hit-or-miss experience in terms of the quality of the video and the original host website. Rather than giving users a consistent experience, using Ripemom becomes a crapshoot, with featured videos being sourced from reliable websites such as Pornhub in addition to far more disreputable and potentially dangerous websites. This means that users should take extra caution when using Ripemom to ensure that they don't expose their device to websites that may host malicious malware.
On top of this, the design of Ripemom itself is not particularly appealing. The user interface appears outdated and rushed, with little thought put into the user experience, and the categories featured have no identifiable pattern of organization. Finding the video category you want can be a pain, particularly if you're looking for a more niche interest, as the categories are not alphabetized or otherwise planned out. There is a search bar feature, as with most other porn websites, so this mitigates some of the frustration that comes with a lack of planning, but on a whole, Ripemom's site design is poorly considered, especially when compared to competing websites that have very sophisticated designs.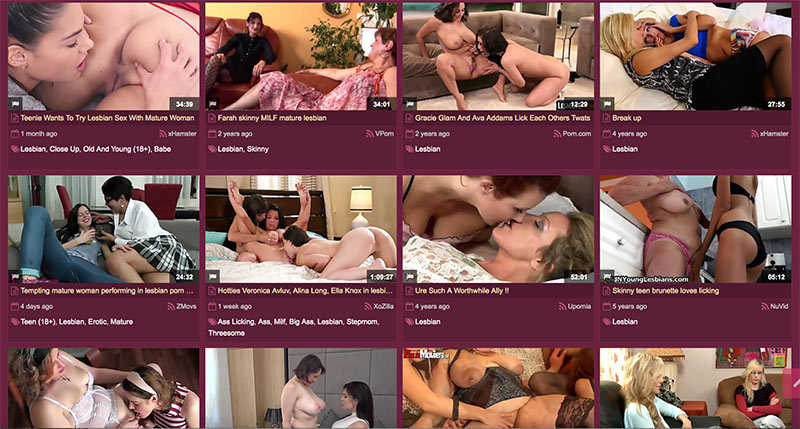 Ripe Mom Categories
As the title would suggest, Ripemom seems to specialize in the MILF and Mature markets, or at the very least, target consumers of those genres. The overwhelming majority of videos featured at the top of the website are dedicated to older performers, with MILF, Cougar, and even Granny taking precedence over other popular categories. Even categories seemingly unrelated to these genres tend to feature older performers in their category thumbnails. Despite this, it is possible to find content of all kinds through Ripemom, given their extensive sourcing of content from dozens of different websites. While the primary featured categories do not seem to be alphabetized or categorized in any particular way, the bottom of the front page features a list of alphabetized tags that users can employ to better find the kind of content they are looking for.
Star Power
Given Ripemom's extensive indexing of content from third parties, there are a large number of videos with notable stars, as is regular for most free porn websites. However, unlike most other free porn websites, there is no categorization of videos by performer, a popular feature that is found on many other competing websites. Most of the performers featured, however, appear to be lesser known, and as Ripemom doesn't host videos on its own website, there is no option for users to upload their own videos.
Network
Ripemom appears to be independently owned and is not affiliated with any other studio, producer, or distribution network. However, given Ripemom's reliance on other free websites for its content library, it contains links to dozens of other free porn websites, making an unofficial "network" of sorts with these websites.
Subscription
Ripemom is completely free to use and there are no user accounts, free or otherwise, which users can sign up for. Likewise, users cannot upload their own content, either.
The Money Shot
Ripemom is another example of a "porn indexing" website that boasts a massive collection of content without actually hosting that content itself. While those numbers may seem impressive at first glance, sites like Ripemom ultimately reveal themselves to be sub-optimal choices for users, as the experience of viewing videos in practice varies greatly in content with each given video. This lack of consistency, and Ripemom's apparent redundancy as a middle man, makes for a low-quality and occasionally frustrating experience, especially considering the vast number of much better and far more consistent free porn websites available for use.