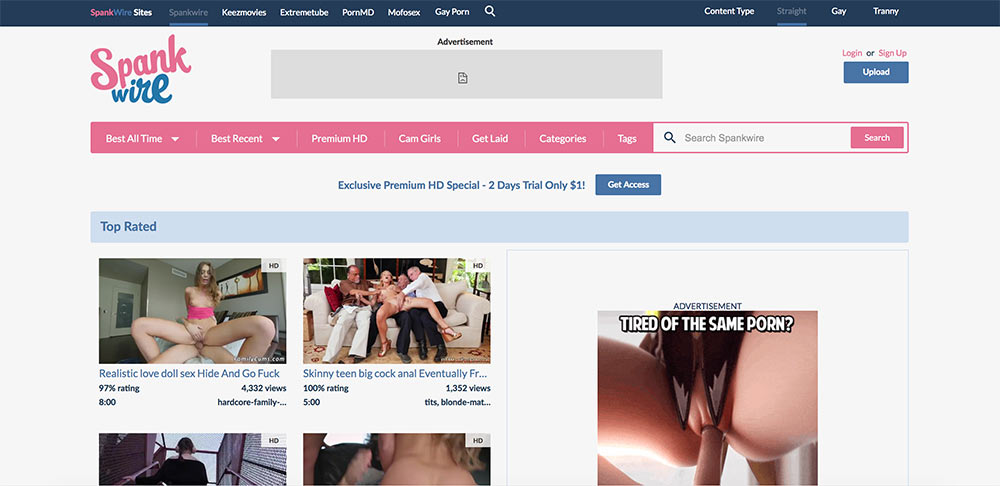 User Rating:
Spankwire is a huge free tube site that offers content catering to essentially any sexual slant you may be craving at the moment. From amateurs to niche fetish, you're almost certain to find something here that appeals to you. Let's take a closer look and see if it really pleases as much as it claims to.
Spankwire Content
Spankwire is a very, very large site with tens of thousands of videos to choose from. They don't cater to a specific niche, but instead do their best to hit all possible bases, much like what Pornhub and other large tube sites attempt to do.
The categories of videos are clearly presented as soon as you arrive at the site. The homepage has some videos broken down between popular, trending, and recently added videos. The top bar allows you to further investigate categories and content. There are also specific places where you can look at all time best videos, be it most liked, most viewed, etc. This sorting option is also present when in specific categories. Content can be further divided by gay, straight, or tranny tabs on the top left of the homepage.
There are no hard paywalls, though you'll notice some soft ones, especially if you're looking for specifically HD content. However, the site is largely completely free aside from this, which is always welcome!
The site also has a branded cam site, so if the cold, lonely feeling of watching pornography isn't enough to get you going, then perhaps the warm smile of a friendly model who almost certainly only sees you as talking money might be a nice change in pace for you! As with all cam sites, be prepared for additional costs associated with this kind of service.
Spankwire doesn't offer much different in terms of content, but what it offers it presents well, with plenty of content to view and choose from regardless of category or tag you're searching.
Spankwire Categories
There isn't anything too far out of the ordinary for a large tube site on the category side, though they are sorted well. You can search categories by how popular they are, how recently they were added, or simply look at an alphabetical list.
As we mentioned, the entire site has three broad category options you can choose from: straight, gay, and tranny. This completely alters the landing page to specifically that category, which is not a feature you'll frequently see on large tube sites.
Beyond those three options, Spankwire offers literally hundreds of categories that videos are divided into. Most categories have a large number of videos to choose from, though that does vary. More popular categories (like "Amateur") have far more videos than something a bit more niche (like "Arab Hotel"). Which, for the record, has 14 videos in it. Perhaps we just helped you find your next favorite video. You are welcome.
It bears repeating that within each category, regardless of size, you can further sort videos by most viewed, most popular, most commented, etc. It's always nice to know exactly which ebony video is the most popular, right?
Star Power
Spankwire does have a special category dedicated to searching and sorting by your favorite pornstar. You can search by either the popularity of your favorite performer or you can browse by alphabetical order.
However, this is where we noticed a huge technical problem with this particular sorting option. You're only ever presented with one page of search results. For example, if you search alphabetically, you'll only get one page of "a" names and that's it, without the option to click a new page and continue your search. The same problem arises when sorting by popularity. This is a significant technical problem on the site that left us extremely dissatisfied.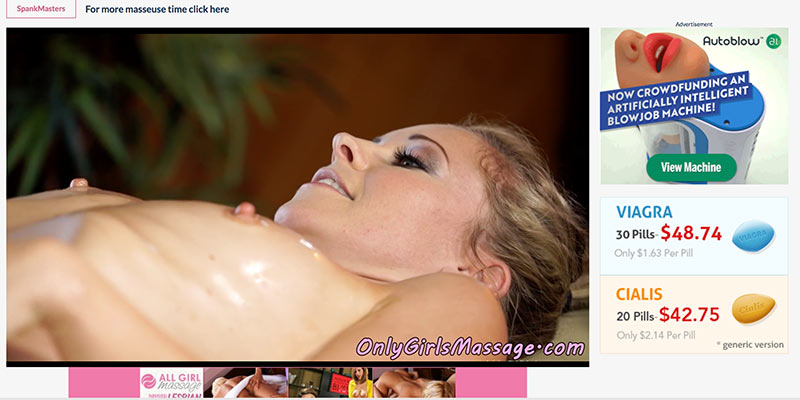 Network
Whereas it appears that Spankwire is in and of itself independent, it looks like it has partnered itself with several other tube sites. Those sites include KeezMovies, Extremetube, Mofosex, XXXselected, PornXS, and PornMD. There are referral links to each of these sites at the top of the page, but the sites themselves have their own copyright and appear independent.
Subscription
Spankwire does offer an HD subscription, which was actually hard to find. The FAQs say it can be found on the home banner, but we were only able to find it some of the time. Unfortunately, the subscription option is pretty damn scammy. It gives you promises of being "free forever" and that a credit card is only needed for age verification, but in the fine print details of the credit card page, it tells you the real story. For Spankwire Premium, you get a 2-7 day free trial, which afterward you'll be charged $39.95 per month. A little steep if you ask us. You can also find a branded Spankwire cam site if live models are your foray. Viewing models is free, but expect costs associated with currency purchase, tipping, private showings, and other miscellaneous expenses.
The Money Shot
Spankwire has been around since 2005, so it's easy to see how they accumulated such an impressive collection of videos. The free portion of the site is very impressive and very well organized. Even for niche tastes, we found it easy to locate whatever was needed to satiate our depravity at that particular moment.
The content is great, even if most of it is not in HD. Videos loaded quickly and easily and thumbnails offered a great view summary of any given video. The ad experience is not great, with several pop-up ads being encountered during the review. Be sure to have an ad blocker installed when you visit.
The pornstar search being broken is a huge disappointment, as a tube site of this size shouldn't having one of their highlighted features broken. However, the searches that are made visible show exactly what they're supposed to; a collection of videos that include specific performers. At least you can easily view the most popular!
Between the sheer volume of content and the fantastic organization of the site, Spankwire is pretty damn decent free tube site and is definitely worthy of a few wanks of your time.