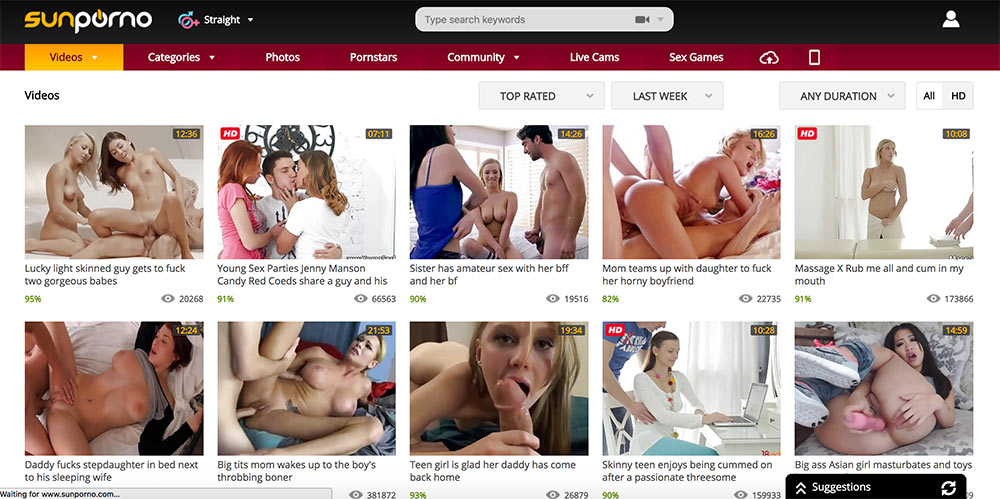 User Rating:
SunPorno.com is a free streaming porn tube site offering hundreds of thousands of mainstream XXX videos. By the numbers, SunPorno is the 4251st most trafficked website on the internet, with the majority of its traffic coming from Germany, as opposed to the US, which is almost always the number 1 consumer of adult media. SunPorno saw 12.61 million hits in 11/2018 and is listed as the 351st most trafficked Adult site. SunPorno does not appear to have any significant network or studio affiliations, setting them apart from media giant MindGeek, the owner of well-known sites like Brazzers and PornHub.
SunPorno Content
SunPorno hosts approximately 415,500 videos by my count, which isn't huge by major tube site standards, but also isn't tiny either. The main page jumps straight in with the most recent video uploads, but also provides the option to sort them by most viewed, duration and most favorites, along with further filters for time windows of the last 2 days (kinda odd), weekly, monthly and yearly. There's also an additional duration filter for 0-10 minutes, 10-30 minutes, and 30+ minutes. The main video header also offers an HD toggle as well for results.
The drop down side menu hosts additional filters and toggles, including the Straight/Gay/Transgender option, which is surprisingly progressive since most sites use the terms Shemale or Tranny, which the transgender community definitely considers slurs, so bonus PC points. Below that are links to suggested videos for registered users, along with favorites and view history. The remainder of the sidebar also includes the top trending categories.
Video links offer full video preview on mouseover, which is an A Fuckin Plus feature, and video link previews include lots of additional data like duration, upload date, views and whether the video is HD. Searches get the same filter options seen throughout the site, but also get an extra sidebar showing 10-15 related searches to help narrow or expand your search. The media player itself is very basic, with stop, start, volume and full screen buttons. No resolution or fancy options to mess with. There's also no preview image when scrubbing forward or back in a video, meaning you just have to guess where you're gonna land and eyeball it. Video pages include plenty of additional data, like the like/dislike ratio, views, download options, and comments. Videos also include category and model tags, but it's up to user to add these tags.
There's even a pretty well maintained photo gallery, which is becoming increasingly rare in this day and age. Pics are arranged in galleries and can be searched by tags/categories and arranged by most popular and most viewed.
It's not all sunshine at SunPorno though, there's also plenty of ads, like suspicious pop ups in new windows for extra-sketchy looking porn sites (protip: If you didn't enter the URL, don't click anything). There's also the usual banner ads for penis pills, hookup sites, and links to that damn Cum 6 Times in 5 Minutes browser game with the Overwatch and Disney characters. There's also a quarter-page in-window animated ad that shows up pretty often, offering additional links to cam sites and copyright-flaunting CGI games.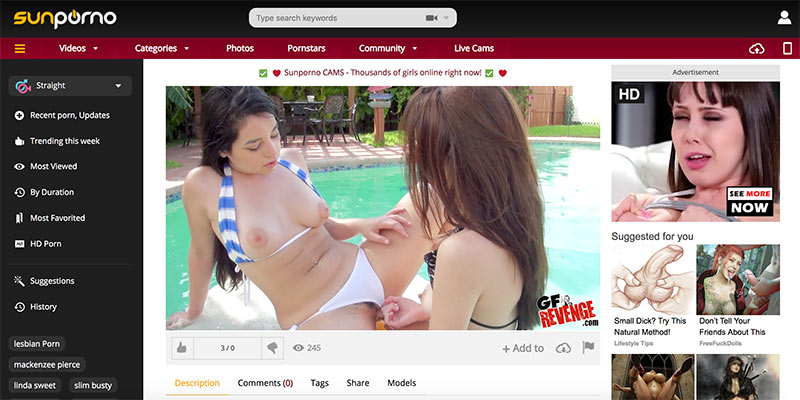 SunPorno Categories
I count 312 categories on SunPorno, which is way too many, but they're more tags than whole categories. They host the usual suspects like Big Tits, Big Butts, MILF, Teens, Squirting, Bondage, etc. There's a bunch, so some terms will overlap like anime/Hentai, female ejaculation/squirting. They also get hyper specific, with 4 BDSM categories – BDSM, BDSM Art, BDSM Fucking Machines and BDSM Mummy(what?). All the usual stuff plus lots of uber specifics like Electricity Torture, Fully Clothed, Gas Masks, Jeans, and Old Farts (of I clicked it!)
Star Power
SunPorno hosts 1690 porn stars, and whenever you click the link it always lists them by most recent. The full filter options are most recent, most popular, and A-Z listing, so there's only one option that will show models you recognize. There's also a sidebar listing the top 30 models in case you can't find the Most Popular button. Just about all of the heavy-hitters like Lisa Ann, Riley Reid, Angela White, etc are all featured here, along with a ton of performers I've never heard of, and some old favorites from the old days like Cathy Barry. Each features a preview image with the number of videos, ranging from a couple to a couple hundred. Profile pages for models include total page/video views along with a TON of biographical data, including date of birth, measurements, zodiac sign, social media accounts, and primary website. All that data is followed by all videos featuring the performer, arranged by your choice of date, duration or popularity.
Network
SunPorno is not affiliated with any other production, distribution or studio sites outside of advertisements.
Subscription
SunPorno memberships give a Facebook style profile, complete with activity wall, favorites, messages and friends along with the option to upload media. I already have a friend request from a member in the Czech Republic named Karlos whose profile is in Czech and has 1000+ friends for some reason on the 351st ranked porn site on the web. There's also a Community Home tab option that shows a video of the month, LATEST COMMENTS ENTIRELY OUT OF CONTEXT (I can't be the only one that finds these hysterical), top 12 videos and top 20 members by uploads. There's also a fully searchable catalog of members that can be filtered by recent, most popular, videos added and currently online. I count over 180,000 members, that's a decently sized community.
The Money Shot
SunPorno does a lot of things right for a free streaming tube site. It's really put together nicely with tons of options, plenty of media, premium video preview features and some unintentional humor. The ads are kind of a turnoff, but it's the same spammy browser games and fuck grandmas links that show up on all of these sites. So I guess it gets a B overall.