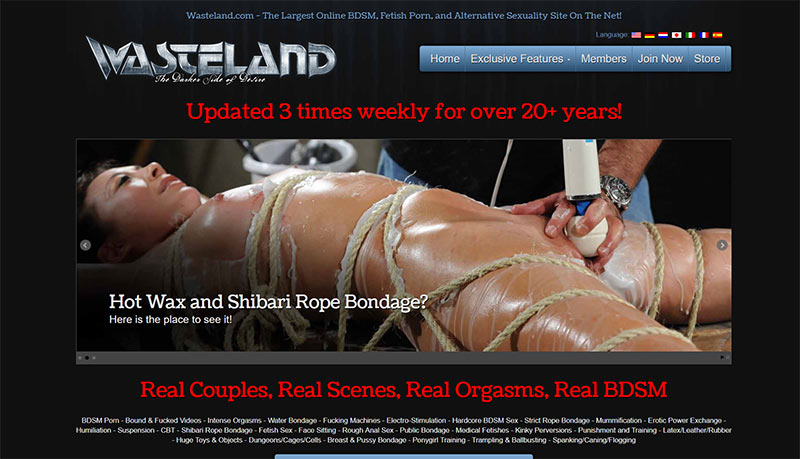 User Rating:
Wasteland is one of the original destinations for BDSM and kink content online. It's been around since 1994 (in much more primitive form, of course), providing a home for kink enthusiasts online. With high-quality original productions, a library of curated movie content, photos, stories, how-to-guides, and much more, this isn't just another porn site, but a true BDSM and kink enthusiast community (that happens to have a ton of sexy and erotic content, too).
Accolades abound for Wasteland, which has been winning awards since the early days of the Internet. Particularly notable are awards for education, niche/specialty/alternative sites, and its induction into the AVN Hall of Fame. Naturally, BDSM and kink aren't for everyone, but Wasteland helps both beginners and veterans alike to explore this category, and, as their tagline says, "The Darker Side of Desire". At present, Wasteland is in the top 300,000 sites globally by traffic across all categories, according to Amazon's Alexa service, and in the top 100,000 in the US.
Content
There's so much content at Wasteland it's hard to know where to begin describing it! Of course there are lots of movies - the mainstay of most premium porn sites - but there's so much more than just that. Highlights of the content available at Wasteland include:
Over 1,500 original and exclusive movies covering a wide range of BDSM and kink topics
An insanely large curated collection of BDSM, bondage, fetish, Japanese, and shibari BDSM videos and streaming content
Over 2 million images representing over 2 decades of original content
A virtual world/3D game that lets you express your kinky desires, with regular live events every week
New focus on adding VR content for major headsets
Erotic and kinky stories, cartoons, podcasts, and audio books
A vibrant online community focusing on kink and BDSM
Significant educational content, including how-to guides and tutorials
Toy, DVD, and fetish gear shopping with discounts from major retailers
BDSM personals and dating
Regular contests, polls, and surveys
Resources, guides, and event/domina/club listings
Profiles of major players in the BDSM and kink scene
Interviews, articles, and much more
In addition to the wealth of content, there are regular updates 3 times a week, with new content being added from in-house sources, as well as ever-increasing additions to the catalog of curated third-party content.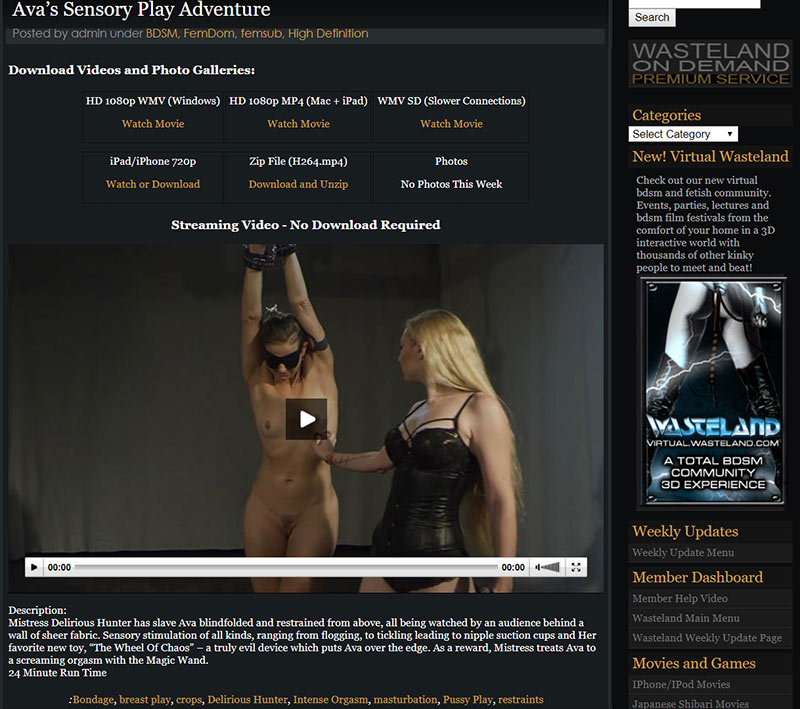 Categories
The categories of content found on Wasteland pretty much cover everything relating to BDSM and kink. Videos are tagged with the categories of acts that are included, along with key performers in the scenes. What's more, videos are available for download in a number of formats, including Windows, Mac, iPad/iPod, SD for slower connections, iPhone format, and more. They can also be viewed through streaming on the site. There are also videos across regular, non-kink porn categories available, free, rotating on-demand videos, bonus content, and much more.
Key kink categories covered on the site include:
General BDSM
Bondage
Water Bondage
Fucking Machines
Electro-Stimulation
Rope Bondage
Mummification
Power Exchange
Humiliation
CBT
Suspension
Shibari
Fetish Sex
Face Sitting
Rough Anal Sex
Medial Fetishes
Kink
Punishment and Training
Latex, Leather, and Rubber
Oversized and Huge Toys and Object Insertions
Dungeons/Cages/Cells
Breast and Pussy Bondage
Ponygirl Training
Trampling and Ballbusting
Spanking, Caning, and Flogging
Star Power
The site includes a mix of better-known performers and amateurs or lesser-known ones, from across the spectrum of age, gender, body type, fetishes, ethnicities, and so forth. Third-party content includes a lot of Japanese bondage, and major studio productions with industry stars and amateurs alike.
Some of the stars featured in Wasteland's original productions include Delirious Hunter, Cat Belmont, Goddess Starla, Jada Sinn, Vyxen Steel, Daisy Duxe, Bella Vendetta, Brook Rain, and many others. There are also a wealth of amateurs or lesser-known stars who go by only a first name…that we wouldn't mind getting on a first name basis with, if you know what we mean!
Network
Wasteland isn't part of a formal studio network in the traditional sense. It is owned and operated by the Phoenix Group, based in Massachusetts, which runs several other sites – many equally as venerable dating to the early days of the Internet. There is some minor content crossover or licensing from one site to the next, as well as some content provided by third parties, but by and large, each site is unique and explores different niches, with appeal to different audiences, and different membership/subscription programs.
Other sites operated by the Phoenix Group include Sssh.com, HardcorePunishments.com, SciFiDreamGirls.com, FemdomBride.com, ForbiddenEast.com, BDSMpad.com, Wasteland3D.com, and TribalMale.com.
Subscription
Like most premium adult sites, there's a ton of content available – it just requires a subscription to access. Prices are quite comparable to other top premium porn sites today, and in fact are a bit lower than some major studio sites.
You can sign up for a subscription via credit or debit card, bank transfer, or paper check through snail mail.
We do the math so you don't have to! Below you can find a comparison of the different subscription plans available and our recommendations.
Porn Explosion Advice: If you're new to BDSM and kink, you may want to go for a 2 day trial or the monthly membership to start and check things out. Trial memberships automatically renew at the monthly rate after that. It's easy to cancel online, or convert to a longer-term membership. If you know you like this kind of content, the 1 year membership option is the most cost-effective, at almost 60% less than the monthly cost.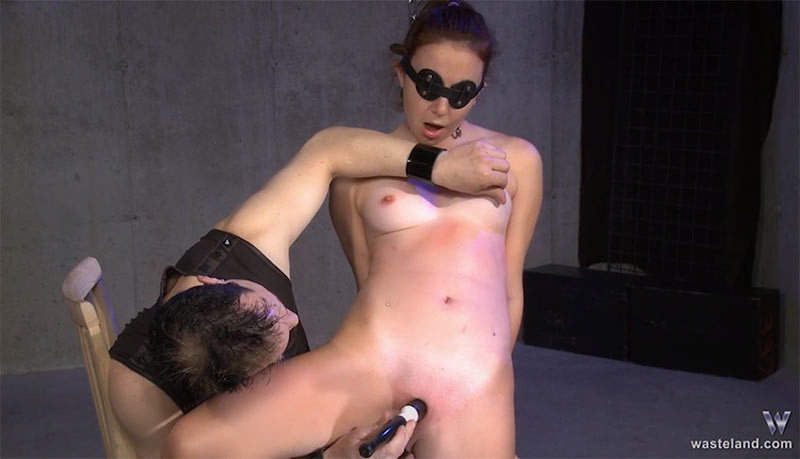 The Money Shot
Honestly, the depth of quality content at Wasteland overshadows any of the minor criticisms of the site, with regard to interface and finding videos, or updating some of the secondary aspects of the site (like event listings). Those areas could be better, but it's hard to focus too much on them, when you've overwhelmed with quality content. From a 3D virtual world to original HD movies, how-to guides, personals, third-party video content, over 2 million photos, and the de facto largest total library of BDSM and kink content online today, there's more here to do and see than you can easily take in, even across years of membership. And speaking of membership, the prices are generally on par with, or somewhat better than, many of the other mainstream porn studio sites around today. If you're into BDSM, kink, and fetish content, you'd be foolish not to give Wasteland a try. And you're not a fool, are you slave? Are you?!?! No, you're not. Good slave.