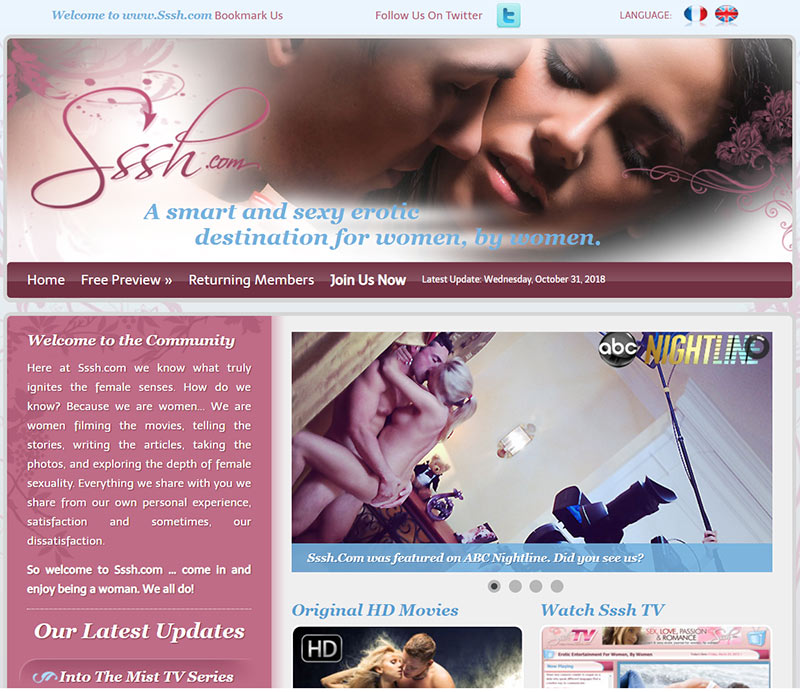 User Rating:
Sssh is one of the first adult Internet sites that was designed by women, for women. Dating to the early days of the Internet, most adult content has been designed for and marketed toward men almost exclusively. Female-friendly erotica and adult content has been gaining ground lately, but Sssh has been working on that front since 1999. It's no surprise, therefore, that they've won countless awards and been featured in many publications around the globe for their pioneering work.
The site itself offers a wide range of content and features. Unlike many adult sites, it's not exclusively filled with porn videos – there's much more to it than that. It's effectively a comprehensive home for women's sexuality and sensuality online. With articles, stories, tutorial and how-to guides, style, health, and fashion information, romance, passion, advice, quizzes, adult product reviews, online store discounts – and yes, high-quality erotica, including original movie productions – Sssh continues to redefine what adult content for a female audience looks like.
What They Offer
Sssh offers a kind of one-stop-shop experience for female sexuality online. Whether you're strictly heterosexual, bi-curious, or into girls, there's something for you on Sssh. It's really wonderful to see a site that includes lots of in-depth content celebrating female sexuality, in a way that more closely matches how women view themselves. Too many adult sites that purport to be female-friendly are still just repositories of X-rated videos. Not Sssh. There's so much more, including:
Original high-quality adult movies, focusing on sensuality and passion, across several categories (see Topics of Interest below)
Movie content from select partner sites
A virtual world available to explore via downloadable software
Various events, chat rooms, and panel discussions from sexuality experts and educators
Quality articles written by experts focusing on female anatomy, sexual response, sexuality issues, masturbation techniques, bisexuality, and more
Photo galleries and erotic stories across several categories
Links to online dating and kinky hookup sites
Online shopping with special deals through several major adult toy, movie, and novelty companies
Original sex toy reviews
Health and sexual fitness and style and beauty articles
Guides, articles, and original series focusing on sexual health, kink, sex positions, and more
Advice columns, quizzes, erotic audio stories, erotic horoscopes, and so much more!
In general, you'll find the site to be incredibly sex-positive, providing information, resources, and tips to help women embrace their sexuality on their own terms. There's plenty of explicit content, but a lot of softer, gentler, more sensual content, general information, advice and tips, too. In essence, it feels more like a sex-positive blog or electronic magazine than a conventional porn site – a much more rewarding, well-rounded, and fulfilling experience.
Most of the site features a simple rating system, to help you find content that suits your mood – one, two, or three lipstick kisses. Respectively, they mean 1) content is naughty, with some nudity and mild sexual situations; 2) content is naughtier, with full nudity and sexual situations, and 3) content is very naughty, fully explicit, and otherwise XXX.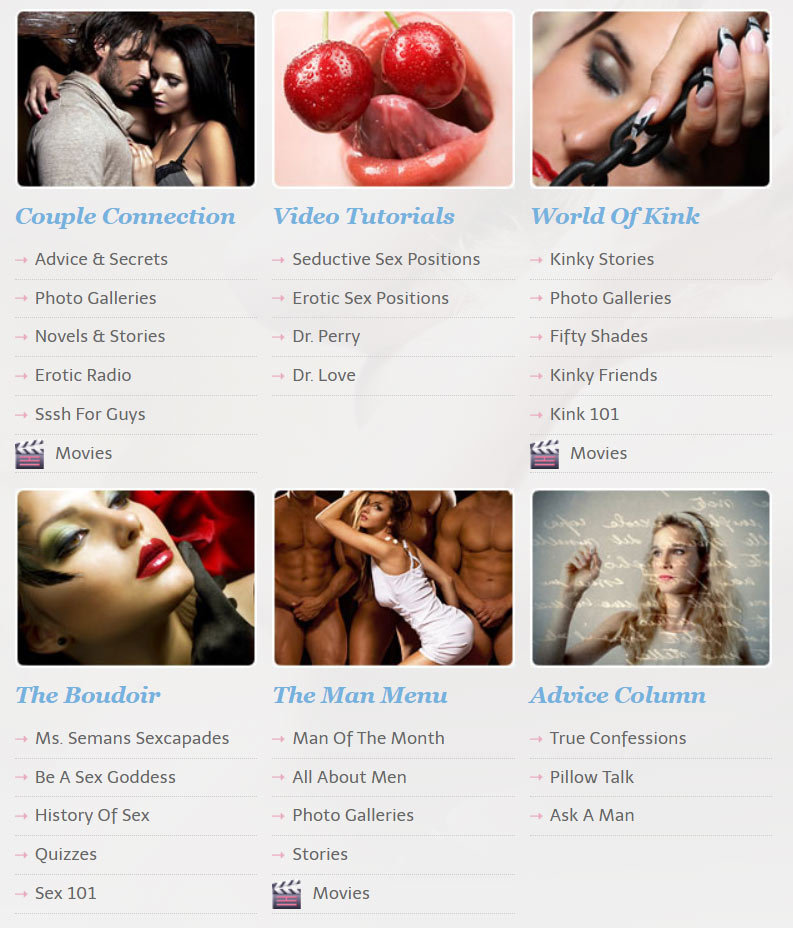 Topics of Interest
Aside from the aforementioned articles, erotic stories, and so forth, the video content on Sssh largely falls into a few distinct categories or topics. There's some cross-over, certainly, but roughly speaking, these are the most prevalent themes of the adult video content on the site:
Real couples making love
Original and third-party studio films with high production values and quality stories and characters to invest in emotionally
Self-discovery and sex tutorial/advice videos
Kinky content designed to let you explore your darker desires
Videos featuring hot guys stripping, teasing, and performing for women
Bi-curious and lesbian videos featuring the pleasure and gentle touch only a woman can provide
Panel discussions about the state of female-friendly porn, consent, kinks, pioneers of the female-friendly porn industry, bi-curious and bisexuality topics, the best sex toys for solo play or play with a partner, and much more
Vintage erotica from the earliest days of film through the present
Free and premium video on demand content from some of the best adult studios in business today
Seeing Stars
Many of the authors, educators, and experts featured on the site are well-known names in the field of female sexuality. Both male and female models in the photos and videos on the site run the gamut from amateur to professional adult stars. The movies especially feature a variety of attractive guys and girls. Many of the third-party films that are provided feature big-name actors and actresses within the world of adult entertainment. But by far some of the hottest content is from genuine, amateur couples. These expertly-filmed videos show the true joys of passionate, loving sex.
Network and Partnerships
Sssh isn't part of a formal studio network in the traditional sense. It is owned and operated by the Phoenix Group, which runs several other sites – many equally as venerable dating to the early days of the Internet. There is some minor content crossover or licensing from one site to the next, as well as some content provided by third parties, but by and large, each site is unique and explores different niches, with appeal to different audiences.
None of the other sites are as female-oriented as Sssh, however. Other sites operated by the Phoenix Group include Wasteland.com, HardcorePunishments.com, SciFiDreamGirls.com, FemdomBride.com, ForbiddenEast.com, BDSMpad.com, Wasteland3D.com, and TribalMale.com.
Subscription
While a free tour is available, like most adult pay sites, the main content on Sssh is available by membership only, through a paid subscription. Billing is handled in-house by credit or debit card. Like most sites, subscriptions automatically renew unless cancelled. Billing customer service is US-based and quite responsive, unlike many adult sites, which is a big positive if you ever need help.
We do the math so you don't have to! Below, find a comparison of the two different levels of VIP membership options, as well as current credit costs.
Porn Explosion Advice: The annual membership may be a larger investment up-front, but it's nearly 60% cheaper on a monthly basis than the monthly plan. If you like the content after the free preview or a trial, and want to stick around as a member, the annual membership is the best choice.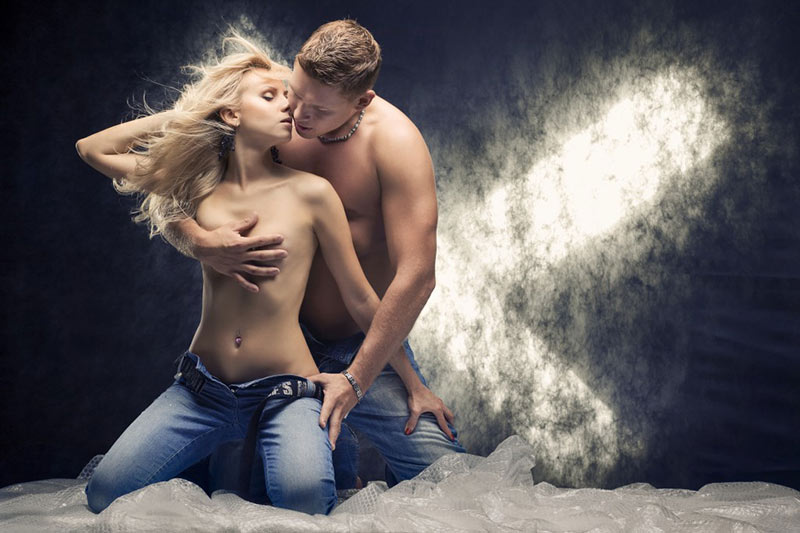 Reaching a Climax
Sssh has been around for a long time, and has won many awards – and for good reason. The original content, including movies, articles, guides, stories, tutorials, and so on are outstanding. Articles are written from a female perspective, for other women, and provide insight, advice, techniques, and much more. The site offers such a wide range of content focused on female sexuality that there's something for every woman here. Videos and photos are high-quality and high resolution. The toy reviews are thoughtful and useful, and the advice, quizzes, tutorials, and educational content is better than attending a month of in-person workshops. There are a few negatives, including some minor bugs on the site, and some areas that could use newer content or renewed focus, such as the live events/talks on the site, but that doesn't detract from the overall experience. At the very least, we encourage our female readers to sign up for a trial membership, either for the 2 days or a month, and see what the site is all about and has to offer – you might just end up hooked, with a new go-to home when you want to learn, explore, and express your sexuality.